'Hosta Mooch' on my Street
don_in_colorado
August 22, 2014
LOL At least he wants to be. This sounds like something out of the 'Garden Ettiquite' thread that Ken (I think) posted long ago, which makes it even sillier to me...
I have an annoying neighbor, fairly nice guy, but the annoying part is, starting this spring, when we're in my backyard chatting, he often has made a habit of saying things like "When you need to divide some of these hostas, let me know, I'll take some from you as opposed to you just throwing them away..." What? LOL I told him I have never divided them (except for my Grand Tiara and a couple others, but HE doesn't need to know that) and have no plans to do so. The last time he hinted at it, I referred him to Hallson Gardens and Naylor Creek! LOL
Don B.
P.S. He still has no hostas on his property. Maybe he thinks I'll change my mind. Maybe Hell will freeze over first. Hosta-mooch. New word for the day : )
Anyone have a 'Hosta Mooch' in the neighborhood?
P.P.S. If you're reading this thread, you KNOW who you are, BRENNAN from acroos the street!!! LOL
I am adding a random hosta pic, because why not? Pic is of the colorful legs of 'Riptide'.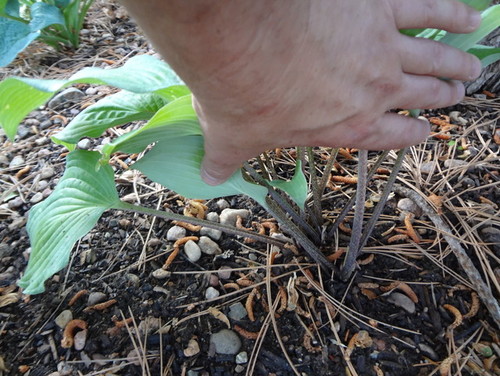 This post was edited by Don_in_Colorado on Fri, Aug 22, 14 at 15:55