Hostas being attacked...please help
Hello,
I've never posted here before, but I'm hoping to get some help with my plants.
Last year I planted 2 Paul's Glory, 2 Patriot, and 1 Fire and Ice in the back of my townhouse. Everything came back, but this year we had ridiculous amounts of rain in July, which the slugs seemed to like. I planted 3 beer and yeast traps next to them with some success, but the raccoons eventually acquired a taste for beer and slug cocktails. At that point, I temporarily stopped putting traps out there.
If you look at the pictures, it seems like there's more than just a slug and insect problem. The growth of the Patriots are severely stunted and take the most abuse, while the Paul's Glories are doing pretty well, under the circumstances. Also, the Fire and Ice isn't doing much, but I read that they're slow to establish. Even so, I might end up moving that one to the other side.
I've never seen so much destruction by insects, and at this point, I'm fed up trying to entice slugs and what I suspect are earwigs with beer. Stronger measures need to be taken, even if that means chemicals, which I hate.
As for the stunted and strange growth issue with the Patriots, I searched online last night and was wondering if I might possibly have purchased those two plants pre-infected with "Hosta Virus X." If you look at the pictures in the following website, they look similar in appearance to my Patriot leaves:
http://hyg.ipm.illinois.edu/article.php?id=371
So, should I destroy the two Patriots (if they look infected), and what would be the best way to kill those bugs? Thank you for reading, and I appreciate any help!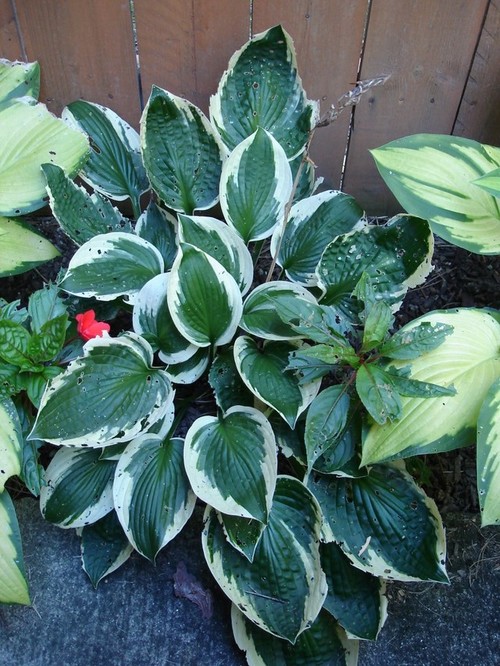 This post was edited by J_Powers on Fri, Aug 16, 13 at 22:07