Plant ID please
Found in a pot left by a renter that had moved. Stuck off by my garden shed with the various pots, poles, wire chunks etc for a year or so. It didn't do much there,' but it didn't die, and was not really cared for except water on the hot days. So it's passed my hardiness test. ;)
Finally planted it in this low box, where it's pretty shaded, morning sun, and moss loves to grow. It took off once settled and had real soil under it.. Seeds from the flowers blooming now germinate anywhere, including in cracks in the old concrete. It also sends out tiny strands that sometimes form a baby plant once it rests on the ground.
Easy to pull if in the wrong spot, and if lifted and placed to be used as a ground cover for existing potted plants, takes right off and fills in nicely.
Without the flowers it is very flat/low profile. It is all the darker green. The camera and the sun added that light green shade .
Weed or plant ? I love it either way.
ETA: Noticed it has crocus and species tulip leaves still sticking up there. Plus now I see a camellia seedling and either a weed or a baby maple. Good grief....apparently I need to go out there and weed. That's funny seeing it now.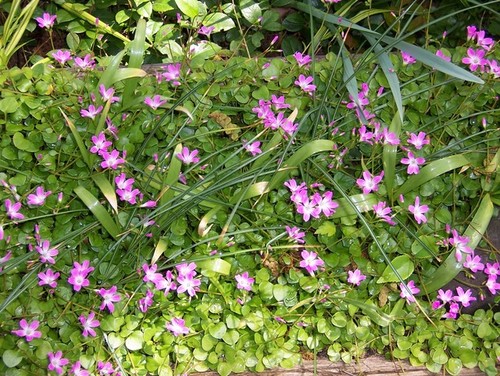 This post was edited by plaidbird on Sat, May 4, 13 at 1:20