low maintenance low water landscaping - please help!
laurell
(8 - Washington)
August 11, 2011
We FINALLY tore out some of the almost 40 year old junipers from the front of our house (half of them was 9 - 4 feet apart!). We are replanting the lawn (ugh - it'll come out in 2 years when hubby is over it and there's more money to do more extensive landscaping) but will be rebuilding an L-shaped berm and doing some plantings on it. For now, I'm going to do 3 clusters of plantings, one at each corner that can eventually melt into each other as funds become available and I develop a clearer understanding of the space without those horrific bushes there. We're having 10 yards of compost delivered (2-3 of which will be going on the lawn portion, the remainder will get stirred into the rocky sandy dirt) to build up a bit of a berm, and then I want to plant drought resistant plants (I don't mind watering to get things established, but I'd rather spend my time watering my more high maintenance beds in the back that have tons of flowers and vegetables). The area is full full full sun, as in it only gets shade when the sun is down.
I've chosen to go with a blue/purple/purple-pinky/white color palette for blooms (my back yard is a rainbow and at times it feels a bit disjointed). I've taken to thinking of the 3 separate corners as "vignettes."
I've included a couple pictures of the areas that will be vignettes, and the main grassy part, plus the rocky thing. The front picture shows the yard much as it sits tonight, the junipers along the side of the house are going in a few weeks, but hubby wants to get the grass going now, so we need soil, and he is insistent that the house not be sporting "a huge unplanted berm of dirt."
For the first vignette, which is next to the driveway, I have a vaguely mountain shaped piece of black slate, and a very sturdy (heavy!) rock to prop it up that I'm going to affix house numbers to, and hopefully at some point use a spot light to illuminate. Since this is the only area that is getting planted this weekend, the plan is a bunch of purple blooming sage, some english and french lavender (not the small varieties), and I plan to pick up some rosemary and hopefully another shrubby thing to put behind the slate that I can use elsewhere in the landscape (nandina maybe?) I have some thyme (a flat of it!) that I was going to use in the back yard, as well as 3 decently sized Mediterranean spurges that I bought and found out that their sap is mega nasty that I don't want around the dogs, so most of that will probably make its way into this vignette as well.
Vignette 2 will probably contain 1 smallish alaskan weeping cedar, several nandina, and some lavender(love me some lavender!), and various sedums that I'm able to track down at Flower world or something.
Vignette 3 will be a largish shrub that can survive under a fir tree (but still gets full sun) that can block out my view of the neighbor's trash cans, probably rosemary, etc, but I am really not terribly particular about this as long as it ties in with the rest of the landscape and is pretty low maintenance.
Along the house, we are planning a deck for this autumn, and a new (less soviet) walkway for next spring/summer so I am holding off on putting anything in those beds until I'm clear on what the space will actually look/feel like with the deck and steps and walkway in.
The overhead is the google maps view of the house, with the junipers in the yard, just so you have a better understanding of the layout of the front of the house.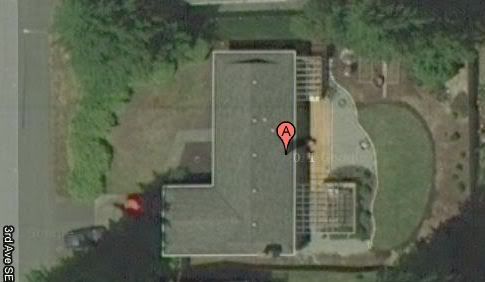 I am totally disjointed and completely neurotic. I apologize for the length of this post, but if you have any input, I'd really appreciate it, either with plant suggestions or things you see that are setting me up for a trainwreck. I am pretty young, and this is my 3rd year of home ownership/gardening and I'm trying my darnedest to avoid costly mistakes/headaches.