Organic Control for Voles - Castor Oil
Steve Massachusetts Zone 5b
October 20, 2011
I'm putting this in its own thread. Firstly, because it needs to be searchable and secondly, Richard Merritt of New Hampshire Hostas (from whom I learned of this control) recently posted a video and directions for this method on his website. Link below.
The video is rather long and rambling and includes a pileated woodpecker, but there is some essential information that is key for making this work.
Firstly, it should be done after frost and before the ground freezes. For many of us this time of year is already here or rapidly approaching. Secondly, you need to remove all the dead hosta leaves so that the material can soak into the soil and/or mulch. You want to give the area a good soaking so that it gets to the roots.
The formula is 2oz of Castor Oil and 2oz of Dishwashing liquid in a hose end sprayer for a large area. I'm not sure how large an area this will do but NH Hostas has a huge inventory. You can also do a small area with a watering can. The formula for that is 2 teaspoons of each with one gallon of water.
The critical part of this is to get full coverage. The results that NH Hostas had with this method were remarkable. Before using the Castor Oil treatment, they lost a large amount of their inventory, a large English Ivy bed and a large bed of ground cover Sedum. After using Castor Oil they had no losses in areas that were treated. What did happen was that the voles ate their lawn which was untreated.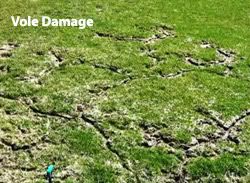 That's an impressive result for an organic method of control that is relatively inexpensive. I'll be spraying my gardens right after frost this year.
Steve
Here is a link that might be useful: NH Hostas Vole Control video