Soil Solorization for Creeping Charlie
elliedawn
(5)
July 13, 2014
I know that I need to optimize my soil condition, but it is a process. In the meantime, this year's sudden outburst of Creeping Charlie has led me to try some creative eradication methods.
My kill-everything-and-start-over-experiment: The intent was to kill off a patch of my yard and start over. I used mostly blue tarps, but also one black garbage bag and an old clear shower liner to cover the target area. What I found was, the area covered with the shower liner boiled everything underneath very quickly (a day or two). "Charlie" specifically burnt to a crisp, roots and all. The black plastic bag didn't work too bad, and the tarps worked least of all. I found out later that the clear plastic worked because of an organic pest and weed control method called soil solarization!
For anyone who is interested, I'm modifying my experiment on the next patch to include, mowing first on the lowest level. Using a garden rake to get all the roots I can pulled up and out and/or at least closer to the top to bake.
To some this may seem "knee jerk" but I do research, and I am listening to all who have experience and knowledge. There's just not a lot out there for "practical" organic Charlie removal.
To the person who suggested in an earlier thread to rake up the Charlie before mowing, I want to thank you. It is helping to at least keep some of it at bay until I can get rid of it.
I'm posting a picture of what I started with.
Anyone else have experience with soil solarization? I've noticed that it did not work for dandelions but they are the least of my worries right now.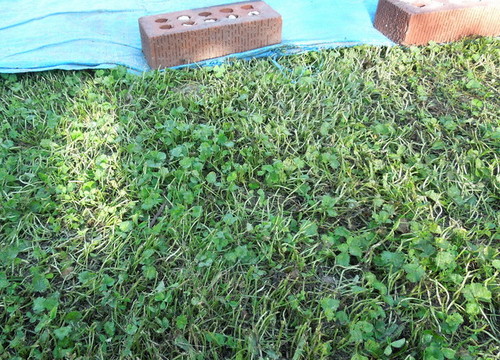 This post was edited by EllieDawn on Sun, Jul 13, 14 at 9:11