ice storm toll
christie_sw_mo
(Z6)
April 5, 2007
We're nearly done with our ice storm clean up. : ) The yard looks good and we were able to mow. There are still a few logs that need to be cut along the side of our yard but they're out of the way. Final tally:
We had four large Osage Orange (hedge) trees that were completely uprooted. One had a double trunk and looked like two trees. A couple of them fell toward and partially on our driveway. This one was leaning before the ice storm so I was actually kind of glad it came down. It made me nervous to stand under it.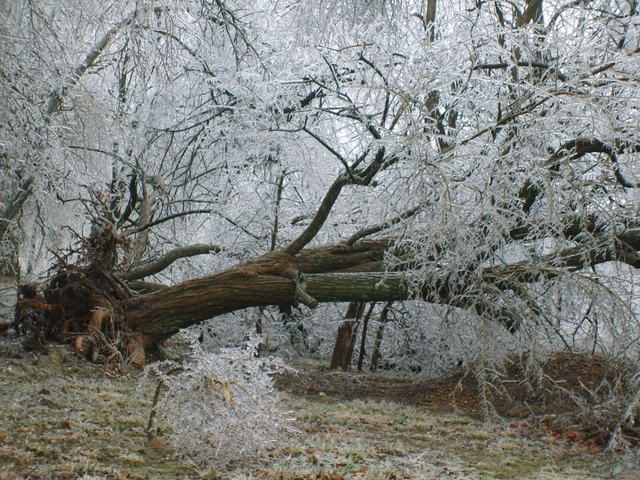 This shows the tops of two other hedge trees including the double trunked one looking down our drive way. My oakleaf hydrangea, Forest Pansy redbud and lots of perennials are underneath there. : (
I had to move and replant a lot of stuff so they could pull out the logs and stumps. It was hard to find and get to the perennials. I bagged stuff and kept it in my shed for a couple weeks then replanted it here and there around my yard. I found variegated Solomon's seal and other bulbs laying on top of the ground when they were done and replanted those too. I'll have some surprises when it all comes up since I didn't keep track of what's what. lol
My hubby and I were standing outside in the dark when we heard some limbs crashing down and then our power lines and pole came down too. It echoes and is such a creepy sound to hear limbs/trees cracking and falling especially at night. Our dogs were freaking out through the whole thing and we kept them inside a lot.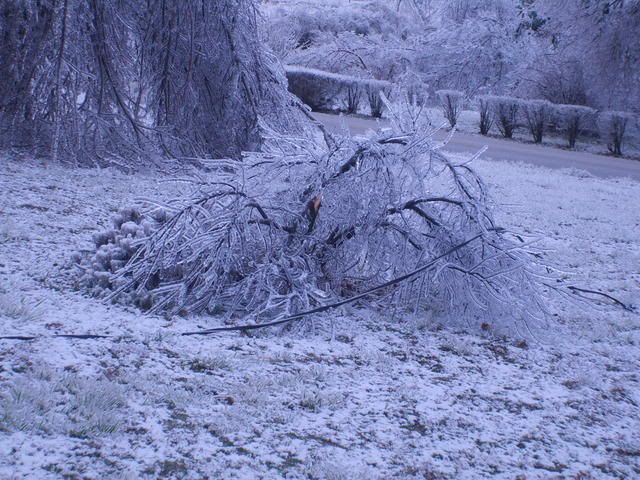 That's my Autumn Blaze maple tree in the background - Limbs still partially attached but touching the ground.
This is our Silver Maple in the back yard. It lost more limbs after this photo was taken and we decided to go ahead and have it cut down.
We also had a poplar and the Autumn Blaze maple that were badly damaged cut down (both in our front yard). We also had them cut down a sycamore while they were here, not mortally wounded but it was too close to our house by the patio. We did all the clean up ourselves to save money.
Total huge brush piles up over my head - 6.
Eight trees completely lost.
Two others that probably won't live but we left them - My Forest Pansy redbud that got squished by a crashing tree, (It had two limbs left, both hanging) and a Washington Hawthorn that got through the ice storm ok but got plowed by a tractor pushing a hedge root mass out of the way. : (
We have some other trees along the edge of the field that lost lots of limbs and look awful. They'll be weakened so there may be more to add to the total later.
The ice was an amazing sight. Some fences looked like a solid sheet of glass since the ice filled in completely between the wires. The trees had horizontal and curved claw-like icicles hanging down (and hanging up) because of the way the limbs kept sinking further and further.
I took lots of pictures of the ice storm but my teenage daughter LOST my memory card from my camera with dozens of unsaved photos on it of. It still had Christmas pics on it. grrrr The photos are ones she took with her camera and there were only a few.
Did anyone else get outside with their camera after the ice storm?