Elephant Rocks State Park
christie_sw_mo
(Z6)
June 28, 2009
Just wanted to share some photos from our family hiking trip in the Ozarks. We considered hiking in Colorado but chickened out. I don't think we're in good enough shape for that.
There's a one mile trail around the Elephant Rocks area that's pretty level and easy to walk on but we also spent a lot of time climbing on the rocks. My kids wanted me to take a picture of the "moon" rock. lol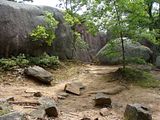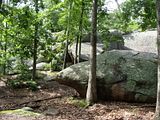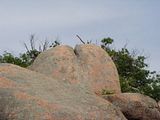 Much of the trail was through the trees and cool but climbing on the rocks in the sun got pretty toasty. I watched for wildlife/wildflowers to take pictures of but didn't see anything unusual.
Here is a link that might be useful: Elephant Rocks State Park