Another ID and a disease/infestation
I was hoping that someone might know what this is. It's a purchased plant, not one that I grew from seed but I lost the tag. No blooms yet.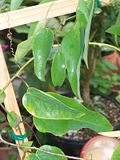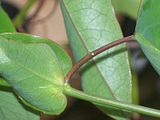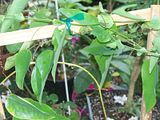 I have another whose foliage appears to have mite damage but I don't think there's any mites. I treated it with Forbid and there's been no change. It hasn't spead to any nearby plants and it's been going on for several months. The new foliage grows in fine but soon starts getting tiny dots that increase in number until the leaf becomes chlorotic and looks almost white. There's no sign of mites on the underside of the foliage and no webbing. I know that some mites are invisible to the naked eye but the Forbid should have taken care of them. The foliage stays on for a long time but does eventually drop.