End of winter pics, some winners, losers and surprises.
bradleyo_gw
March 10, 2013
We had a weird winter in which temps were 6F above normal in December, only 4F above normal for a wildly fluctuating January despite 4 days above 60F and 9 days above 50F, 3F below normal for February, and a horrible start to March. Our low for the year was 6F which occurred three different occasions, our only 3 events in which we were in single digits. I would have expected less damage considering many of these plants endured far harsher winters in my previous locale of Dubois, Pa., however these were all first year in the ground. Some of these results are surprising though especially considering when they were planted. Onto the pics...
Needle 1 hung out in total darkness under the protection of my compost bin with leaves for protection and wrapped in a blanket on the coldest night.
Here's where the surprises, at least to me, begin. All of the follow palms were protected in exactly the same way, leaf cages with frost cloth thrown on top from January 1 to yesterday.
This needle looks really beat up. BTW this and the previous needle were both blue pot specials purchased 3 years ago.
McCurtain, untouched, this palm was nearly destroyed with exactly the same protection in Dubois about 5 years ago. It really hadn't grown since so I decided just to let it ride. It looks spotless surprisingly.
These also look much better than the needles. One of these is a Louisiana, one is a regular minor, I've lost track over the years. I think this one is the regular minor.
I think this is the Louisiana.
The next plants were all completely unprotected. All were sprayed with Wilt-Pruf in early December and again in mid-January.
Fried Distyllium Blue Cascade. Planted in October. It looked good after the first 2 6F events, fried after the 3rd one a month later.
Same thing with BBB mag. Looked fine after first 2 events, 3rd event fried it. Hopefully it's because it's first year in ground but the last time my mag looked like this, it died to the ground. Lots of other Southern mags locally and all of them looked untouched.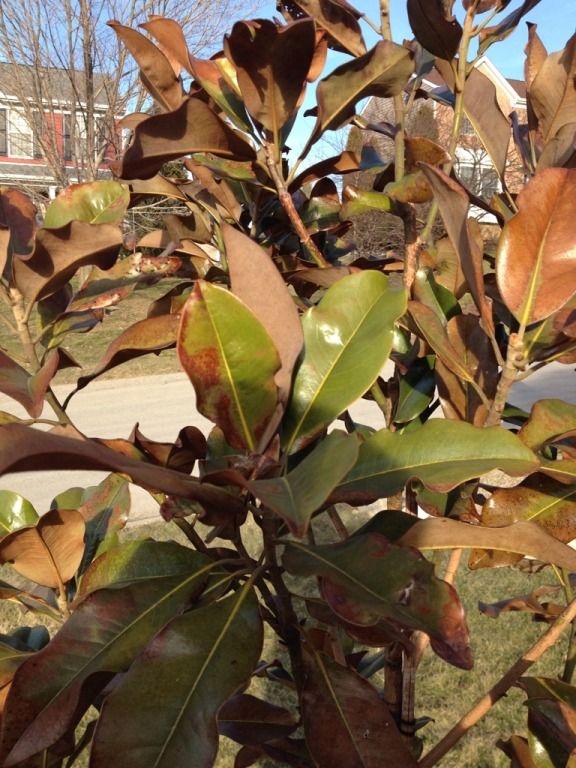 This was a Heaven Scent gardenia. It apparently now resides in heaven. Not surprising as I planted this in October.
Otto Luyken laurel, untouched.
Aucuba, I moved this plant from Dubois where it received little damage after it's first year there. It reverted back to first year damage.
Cast iron damaged, but will live.
Frostproof gardenia browned the least but may still be done. Time will tell.
Kleim's hardy doesn't seem very hardy here.
April Kiss camellia, spotless.
Confederate jasmine, still has some green on it, but probably dead. I'm surprised it stayed green as long as it did.
Cleyera, a little bit of browning at the top and a victim of deer nibbling, my biggest surprise as I planted this in October as well. I didn't think it had a chance, supposedly a zone 8 plant. Far outperformed many of the others which were rated 6 and 7.
Desert bed, no protection except agave which had moisture protection. A little surprised by the hesperaloe and gloriosas. No protection, buried in snow a few times and they look great.
And as my wife says, it would be spring if I wasn't digging a new bed. Well, I committed to to extension of the front bed, even as we still don't have all of the snow melted from the 6+" event the other day. As you can see, I already extended it once. No turning back now!