I dug up the Elephant Garlic.
wbonesteel
(7)
June 22, 2013
A pic of elephant garlic. The small bulbs in the pic are about the size of a softball. We kept four and took the others down to a local produce stand. What they don't sell, they'll give away to someone who needs a bit of change in their diet. Even if they feed them to the pigs, it's not going to waste.
So, the door is open, now, to make a couple of bucks from the extras in the garden. The owner asked about other things we're growing. I let them know about the regular sized garlic, the sweet taters and the fall tomatoes. Then, I invited them to stop by and see the garden.
We'll see how things go from here.
(Edit: The pic disappeared, so I reposted it.)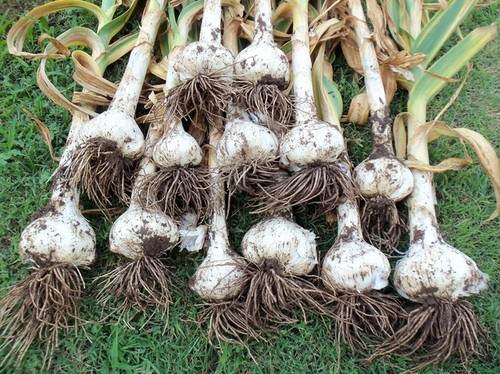 This post was edited by wbonesteel on Sun, Jun 23, 13 at 9:38