Sick Peony Clump
northerner_on
(Z5A ONCanada)
May 23, 2011
Hello everyone:
To give you a little background, this particular clump of peonies is one of about 4 along a 30 foot bed that has been in place for over 28 years (when we arrived). They have always come up and bloomed and we cut them back in the fall, and this is the first time we have had any problems with them. Today as I approached this clump to weed and remove excess buds I relized that something was wrong as shown in this picture below.
Closer examination showed that the visible wilting, was due to a blackening along the effected stems as in the picture below: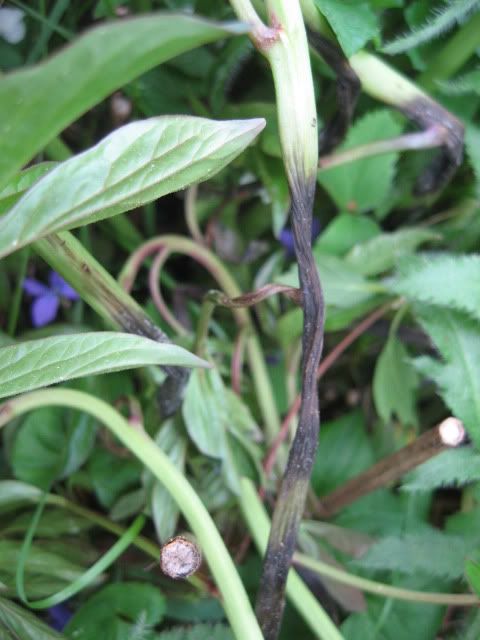 The picture below is a close-up of some of these blackened areas. In some cases it was along several inches of the stem:
As you can see, this blackening extends along the stalks, I can't tell whether it moves up or down the stalks. I have removed all the effected stalks (13 in all) down to the green part of the stem. None of them was blackened to the root. Can anyone tell me what is wrong? I do not want this to spread to my other peony clumps (about 10) which I use extensively for bouquets. You may want to note that at the present, these clumps require a good weeding, and have grass and wild violets congesting their roots and stems. Thank you in advance.
Notherner.
P.S. I live in Ontario, Canada.