Help needed with seedlings...
Hi
I want to have the communitys help to find out what happened to my my seedlings after my first transplantation,
and also what to do and not do about it!
To me they look like very chocked , but dont know from what!
Thing is, from my point of view , they could be either ,overfertilized, overwatered, or overexposed to light , cause when i think about what i did , i exposed them to all of this at same time when i transplanted the ,
It all happened so quick ,almost unbelivable
Yesterday i transplanted them , they were nice green looking at their leaves , with a slightly purplish tint as they have had all there life, and from what i've read , could be like "sun tan"
and now some leaves are almost black and extremly knurled , and some leaves have dropped off
ok , what i did was, i planted them in prefertilized pot/flower soil, and added some bone meal, and then i watered them with my usual mix of a pretty weak diluted organic tomato/chili fertilizer.
yes , when i think of this it sounds so stupid, and of top of this i leaved my fairly powerful (100w actual draw blue red led) growlight on for 24h after that,
so thats it , if anyone could distinguish the problem it would be very good to know
But most important ,what should i do and not do now when plants are in this condition ?
I did a quick panic provision and removed all that new fertilized soil from pots and switched to a dry and lean (poor?) soil and also left the plants drying up a bit without pots
my main concerns for not doing any worse is how to approach to strong light and to water , if the main problem is fertilizer , then maybe they need water to not get even moore burnt, but if they were overwatered , then of course, water them only makes it worse
please help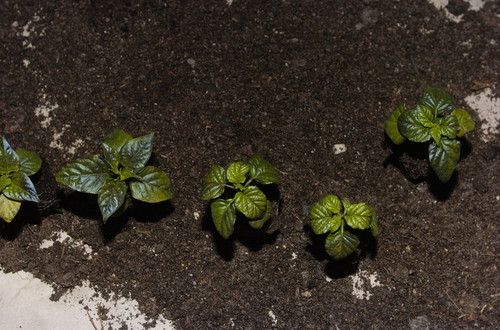 This post was edited by kristerh on Sun, Jan 26, 14 at 8:41