usda zone, heat zone, sunset zone
seysonn
(8a WA/HZ 1)
February 22, 2014
USDA zone, HEAT zone, SUNSET zone
WHAT ARE THEY AND HOW SHOWING THEM IN OUR PROFILE CAN BE USEFUL ?
USDA zone
Most of us are familiar with USDA zone numbers and we have included it in our user profile. For example my USDA zone is 7b. I used to live and garden in GA, where also my USDA zone number was 7b. You would think that by moving to WA, nothing has changed in my gardening situation !! NOT so . When it comes to SUMMER gardening thoss numbers have NO or very little meaning and relevance.
HEAT zone.
This zoning system, developed by AHS, divides USA map into 12 HEAT zones (1 to 12) What do those numbers mean?
The answer: They are based on the number of the days that Highs reach and exceed 86F. For example , N.Seattle WA area (USDA 7b) is in HEAT zone 1 and N.Atl, GA(USDA 7b) is in HEAT zone 7 . In Heat Zone 1 RARELY(1 or 2 days in a year) summer high goes higher than 86F, whereas in Heat Zone 7 , there will be 60 to 90 days where highs will reach and exceed 86F.
So this is very meaningful when it comes to summer gardening.
So, I THINK, if we want to communicate effectively here , in posting our gardening questions and seeking advice, we should state WHAT our HEAT zone number is, in addition to the USDA number, plus our location, as I have done it in my profile.
To find your HEAT ZONE number you can go to TEXAS INTERACTIVE . I am going to give you the link. And also see the HEAT ZONE map here.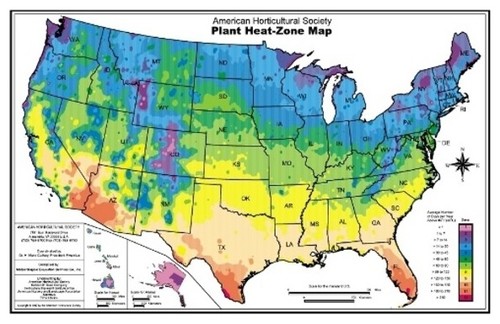 Here is a link that might be useful: Heat Zone
This post was edited by seysonn on Sat, Feb 22, 14 at 4:59