Next best steps for seedlings
brian6464
(4a)
February 28, 2014
So I have a bunch of seedlings as shown in the pictures below. They got a little leggy since I left them covered in trays a bit too long, but most look ok and are starting to get more color.
They are currently in my basement under a 6 bulb T8 light fixture on a 12 hour cycle.
While they have colored up a bit, they have not really grown at all since I put them in the basement. Ambient room temp is probably 55 degrees. I have yet to see any sets of true leaves. These all germinated between 5 and 8 days ago.
I'm in Minnesota, so I have 3 months before these go outside for good. I obviously have time, but just wondering what my best next steps are for these.
Should I have them in a room at a higher temp initially?
Should I repot them to 4 inch pots now and bury the little ones to just below the leaves?
Any tips or thoughts would be appreciated. Thanks.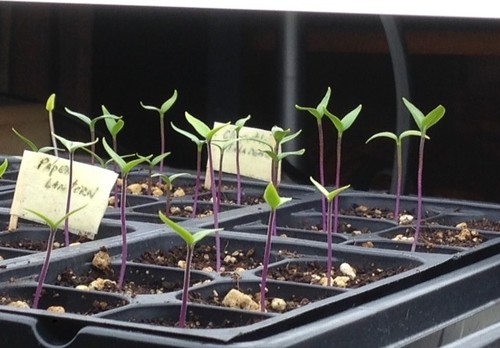 This post was edited by brian6464 on Fri, Feb 28, 14 at 21:35