Brown fungus (stemonitis slime mold) in herb planter
dorothywalker
May 11, 2014
Help! This brown fuzzy fungus has appeared since yesterday on my herb planters. I've ID'ed it as brown stemonitis slime mold, and I see it appears on decaying wood and it's harmless UNLESS EATEN. Great, since it's on my herbs that get EATEN!!! It's on the edge of the planter, on three of the herbs, and all over the soil too.
How do I get rid of it???
A little background, it's in cedar planters that were replaned and finished (in a food-safe finish) from old raised beds and planted in miracle gro potting soil. We just had two days of rain here in Atlanta after a blasting hot sunny week prior.
Please, please, please, no comments as to how cool the mold is. Every other thread I've read across the internet gets sidetracked as soon as someone mentions that. I just want to get rid of it. Science discussions later, please! :-)
Thanks!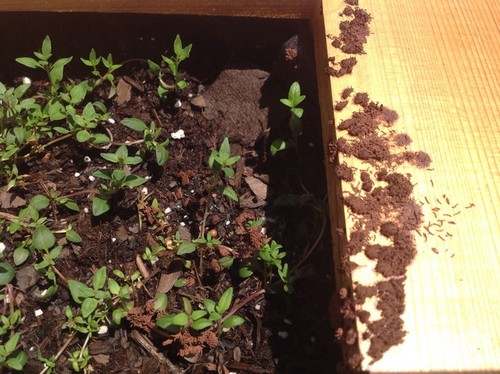 This post was edited by Dorothy0220 on Sun, May 11, 14 at 14:35