Tiny caterpillars destroying my zinnias?!
ga-garden
(8B)
May 14, 2008
A few weeks ago I spotted an ugly leaf on one of my Zinnias, when I pinched it off, I saw the underside was covered with these tiny caterpillar looking bugs.They were about the size of a baby's nail clipping. I killed them and thought nothing more of it. Now they are everywhere. Some are about the length of a dime now. In the morning and evenings you can find them in clusters, during the day I have a hard time finding them at all, and when I do they are alone. I am almost positive they are responsible for the damage. The plants that have no caterpillars have none of the damage. Additionally the leaves' undersides that have been engulfed in them were the ones that are damaged.
I found some egg masses of some sort on other zinnias today when taking pictures and I am assuming those are their eggs, maybe recently vacated, I dunno. I noticed a few young lady bugs too, which I hope will help. Anyone know what these are. I found none in the marigolds or the citrus tree that's smack in the middle of the small garden. Any help would be appreciated!
damage pic
eggs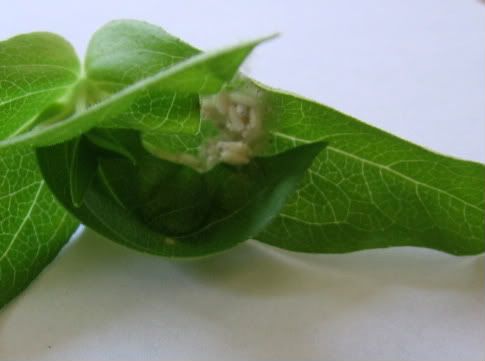 and finally the nasty caterpillar: