Pine shavings mulch
slowpoke_gardener
July 2, 2014
I am going to attempt to show my pine shavings mulch. Until Sat. I thought I was using oak shaving. I had heard that pine can make your soil to acidic and turpentine would leach into your soil, which could be true.
I started using shavings about 3 years ago as mulch, and then after a year or two I would till them into the soil.
When I went to get a load of shavings Saturday I notice the pile was split into two piles. When I ask the owner if anyone had spoken for the shavings, he told "no, I was the only one that used the pine because turpentine would leach into the soil".
I try to get all the free organic matter I can. I also try to watch for nitrogen deficiency and have a soil test from time to time.
Because I have shallow soil the last 5 beds I have made were like a donut. The hole in the center is for watering purposes. The hole is lined with a then layer of compost and then shavings, leaves or hay is placed in the hole to keep it from filling in. In some cases I have taken post hole diggers and dug holes in the center area which were filled some type of organic matter also.
This first picture is a bed I started last year for Seminole Pumpkins, it had the reservoir and post holes both in the center and mulched with pine shavings.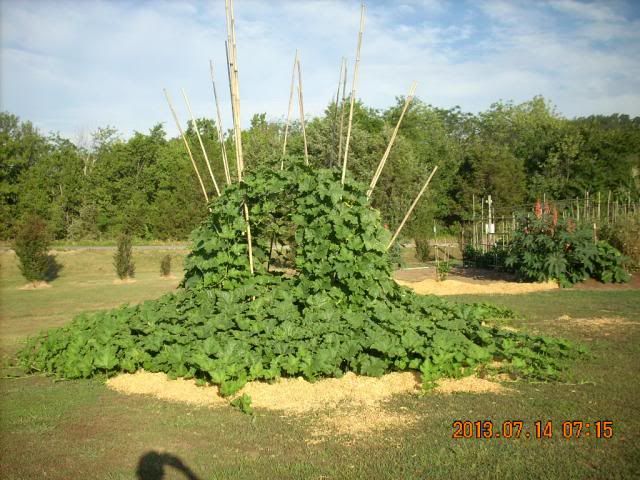 If you notice behind the pumpkins is my south garden. The empty spot is where onions and potatoes were harvested, and it also is partly mulched with pine shavings.
This next picture shows where I tilled in the shavings for this years Sugar Baby melons. The surface of the soil is about 3 inches higher after tilling in the shavings. Also note the compost I am adding to help with nitrogen deficiency.
I will try to show a picture of my melons next to show that pine shaving must not have hurt my plants too bad because I have melons that are 5 or 6 inches in Dia.
Note how high the plants look because of growing up over the pine mulch.
I also have pictures where I am trying to work with VERY sorry soil. That bed was started yesterday. I think it is the sorriest soil I have, but I wanted to see what I could do with it. If anyone is interested I will continue on with those pictures.