Bill will be so proud!
No-Clue
(So Cal Zone 9)
March 20, 2014
Hi Friends,
As some of you already know I don't root cuttings I kill them. Not on purpose of course but I just didn't have much luck w/ my brown thumb.
But then late last year after swearing up and down that I would never root another cutting, my sister bought home two red NOIDs from her friend and I also got Samirie. By the time I let them callused enough to pot them up it was late October. This time I just put all three resting in a 5 Gal pot in the corner of my garage. I didn't even bothered with the heating pad or anything. So there they sat all through the Fall and Winter without a glance from me. No water, no misting, no coaxing, and no threatening either.
I just spent the past month removing mulch and planting some annuals and perennials and finally I'm all done! The weather is warmer so I decided it's time to take out the cuttings and see what's going on.
NOID Cutting #1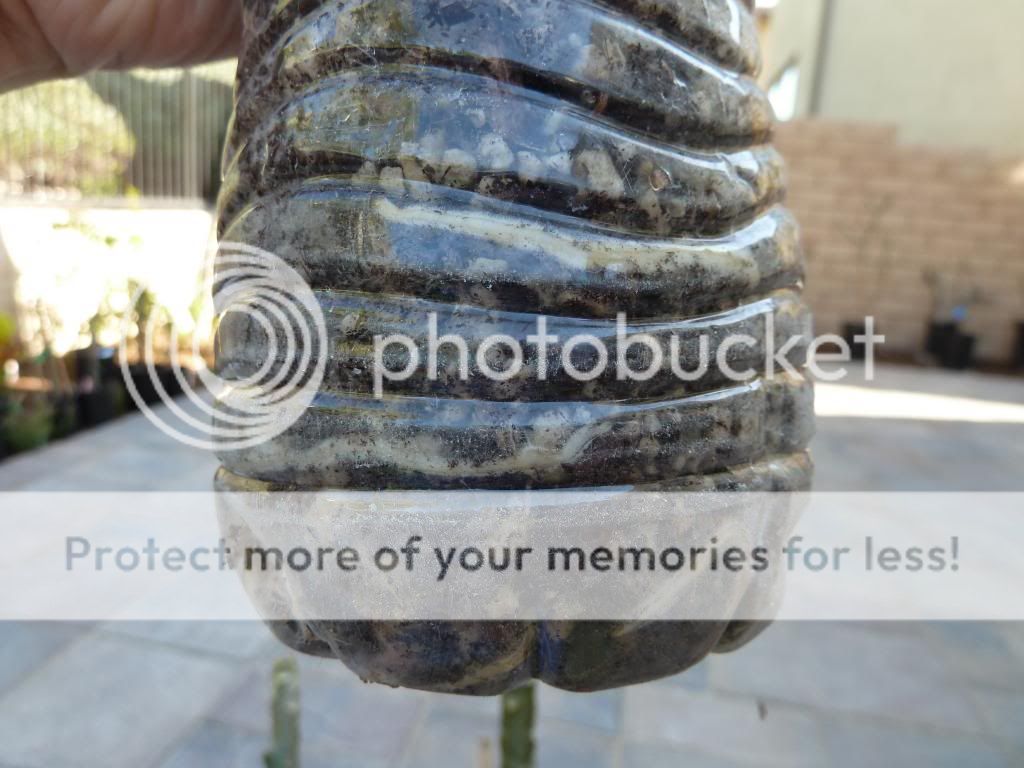 NOID Cutting #2
Samirie
This is where I'm so confused... NOTHING is happening up top but I got roots?? That's why I was SHOCKED to see roots at all!!
Looks like Samirie is pushing an inflo. Do I get to keep this or not? It almost killed me last year to have to cut off it's HUGE blooming inflo so I don't know if I can do it again!
Well, I think Bill is right. All three of my cuttings rooted because I left them completely alone. I did not mother-henned them this time. Plus, I really think the heat pad was drying out my cuttings before... because these three look completely fine and not at all wrinkly like all my previous cuttings.
Now I can say I rooted cuttings but please do not send me any cuttings. LOL.
So do they have enough roots for me to transfer them into 1 Gal pots or should I continue to neglect them some more?? Safe to water them now or no? See I was fully expecting them to not live but now that they rooted I'm so frazzled I don't have a clue what to do next? What should I do now? :)
Thank you!
Lynn