July Pics at the 'Quiet Resorts' of Bethany and Fenwick Island
wetsuiter
(7b/8a)
July 27, 2012
A few of you from the other palm forum know Rick. He took me on another ride around South Bethany Beach, Delaware today to see some pretty amazing palms, unexpected trees and annual flowers that are perennials now. He posted some of the same shots on the other site, but these are my pics.
A monster of a windmill in Ocean View. Must be at least 18' tall. Rick planted this as a 6' tall palm, so it had a good head start, but the trunk is probably 10' tall.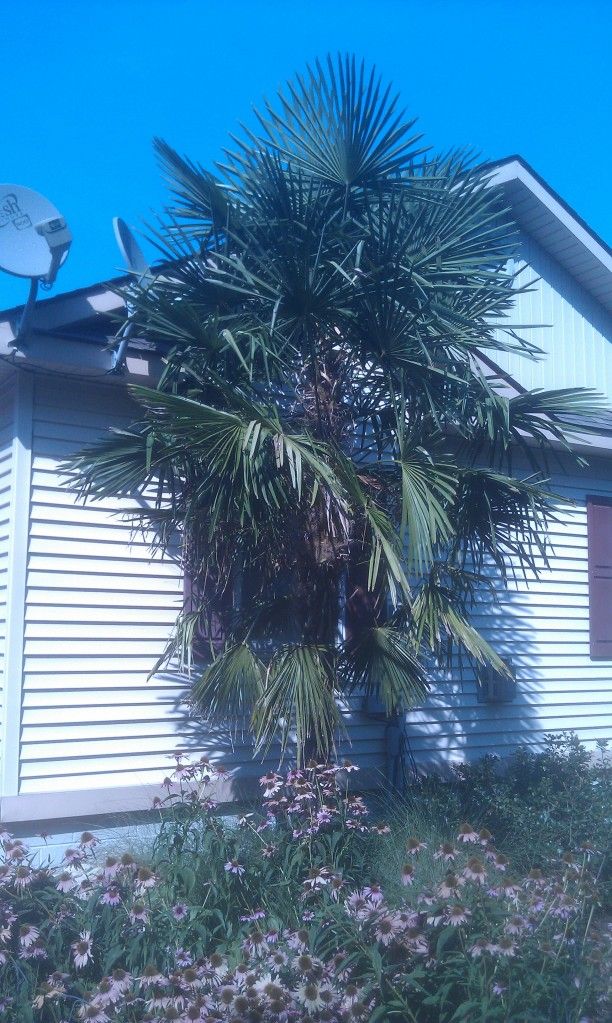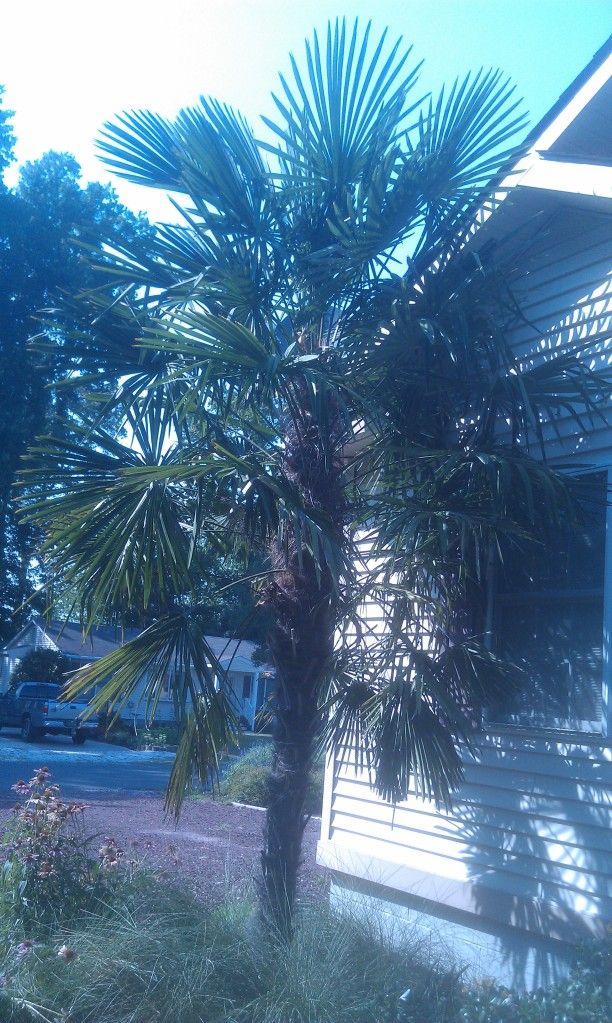 15 foot Red Bay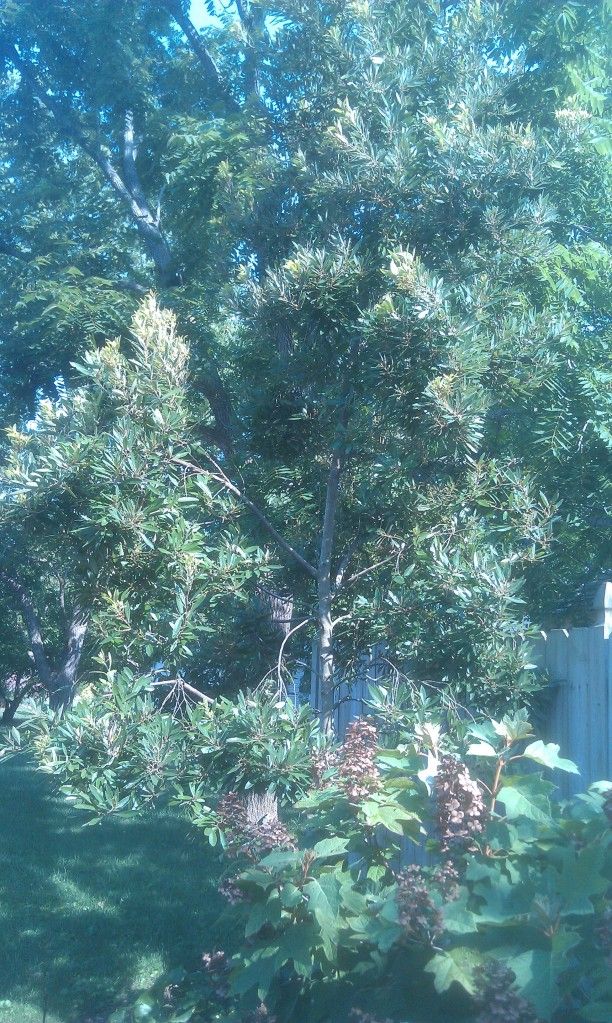 Mexican petunias are supposed to be an annual potted plant. Sorry, but the apparently only bloom in the morning and drop flowers by late day. These plants are at least 5' tall.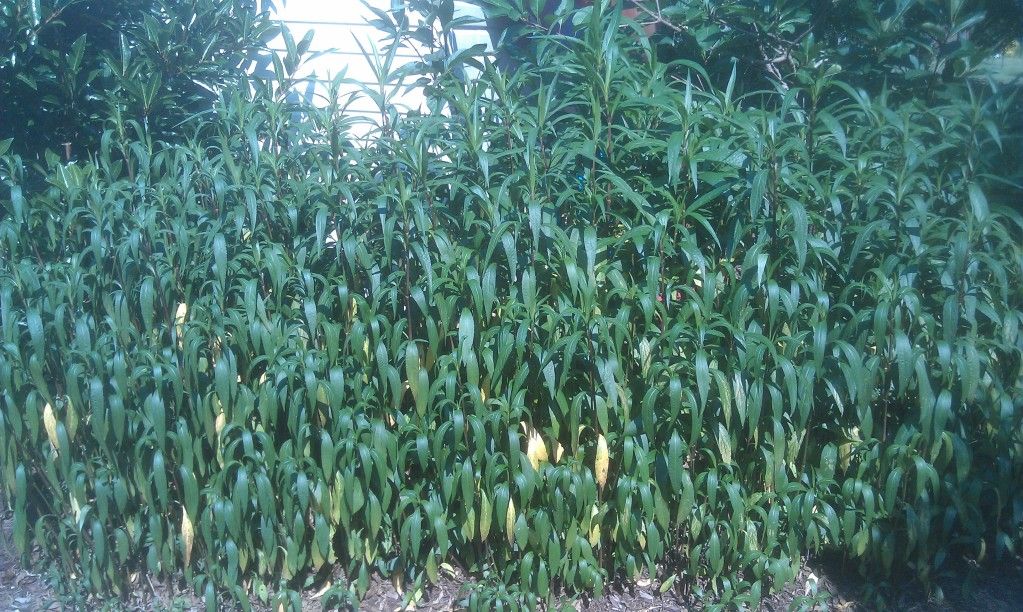 Don't recall the name of these, but apparently these aren't supposed to be hardy here either...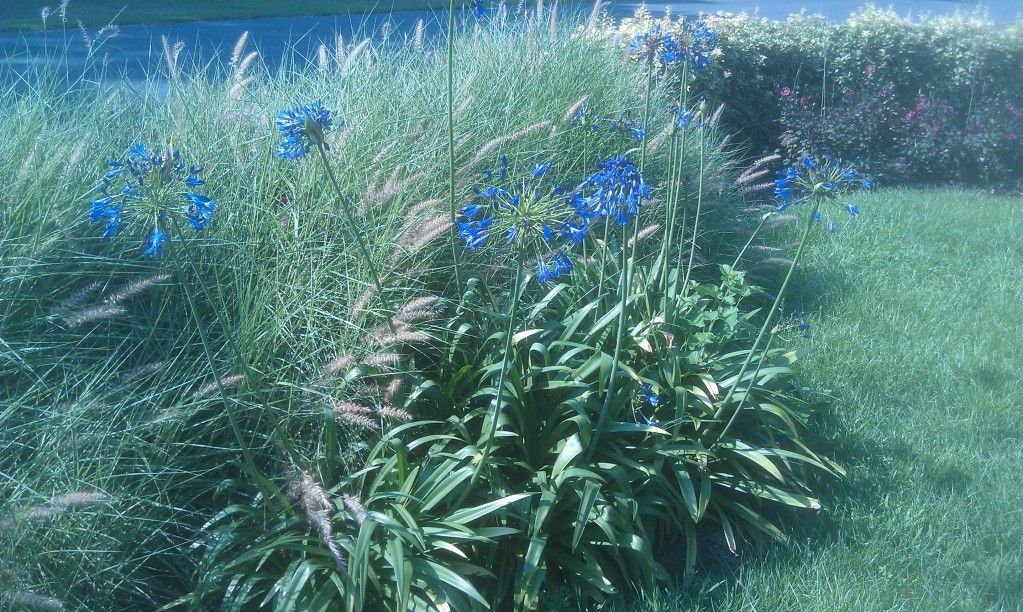 And here I used to dig up my dahlia corms every year...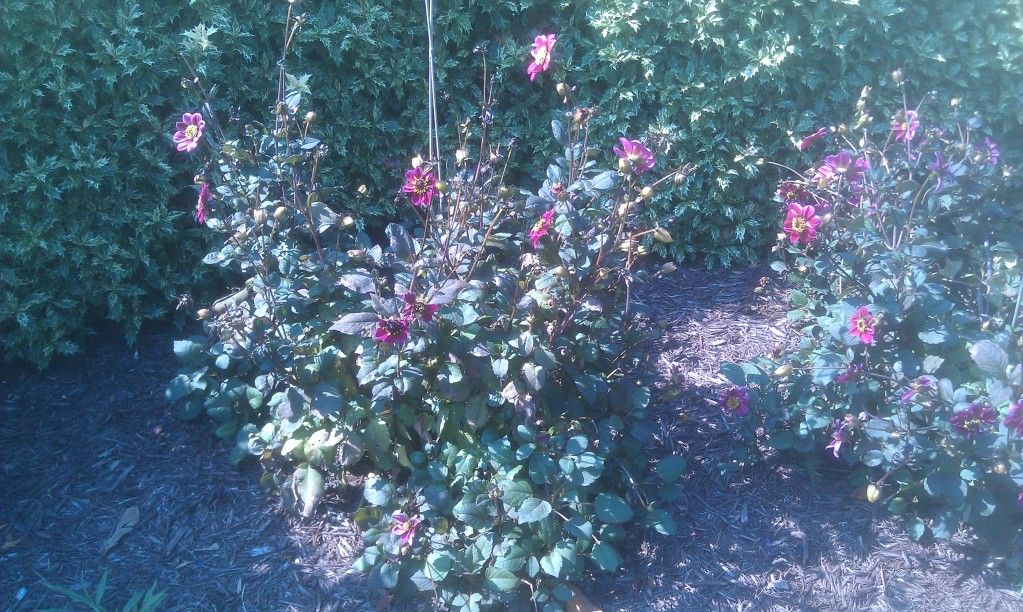 Definitely the tallest eucalyptus I've seen in our resort beaches. I've seen others that have a more circular/oval leaf, but these look like the ones I've seen in California with the long, tapered leaves with pealing bark. But also had more oval leaves. This tree is about 25' tall.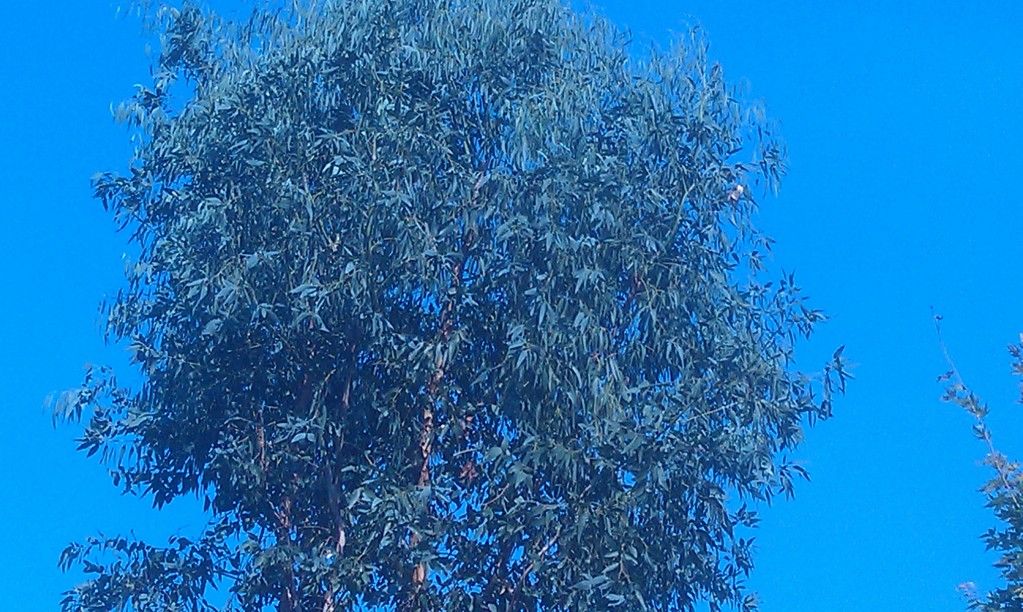 Black and Blue salvia, which is sold as an annual but apparently has been perennial at this house for the past five years.
Good sized pindo in South Bethany Beach. It does get wrapped in the winter. There are a surprising number of Pindos in Bethany. One is over 10' tall.
Typical scene from South Bethany Beach. Most tourists would never see these great neighborhoods since they are on the west side of the Coastal Highway. This area seems to have a very special micro climate with the proximity to the ocean, but not right on it, there is a salt water bay (Indian River Bay) just to the northeast that probably moderates cold winter winds a bit, and a thick canopy of loblolly pines which buffer winds too. There are some windmills, minors and oleander in this area, but there is TONS of palm potential here. Imagine this canal with tall windmills around the houses, instead of the usual suspects of border shrubs.
At the south end of our Atlantic Beaches is little Fenwick Island (not a true island, but a barrier island like strip attached to the mainland. Ocean City, Maryland is immediately across the state line (Starting at 146th street and dwarfs the Delaware Beach towns. It also shares the same barrier island-like strip of sand that Fenwick is on. Some of the mini golf courses in Fenwick, literally feet north of the MD/DE line, have some pretty cool palms and oleander. All out in the open, just a block off the beach.
This Washington Robusta wintered over this year with out ANY protection with only about 40% burn back. The central spike and inner fronds remained mostly green. A dry, mild winter helped, though we did bottom out in mid teens twice. No real aspirations of this palm surviving long term, but it certainly is fun to admire. I'm glad the owners didn't rip this out in favor of new tropicals like most places do. They seem to understand there are hardy palms and tropical palms. They have both.
Same Robusta with oleander that winter over easily.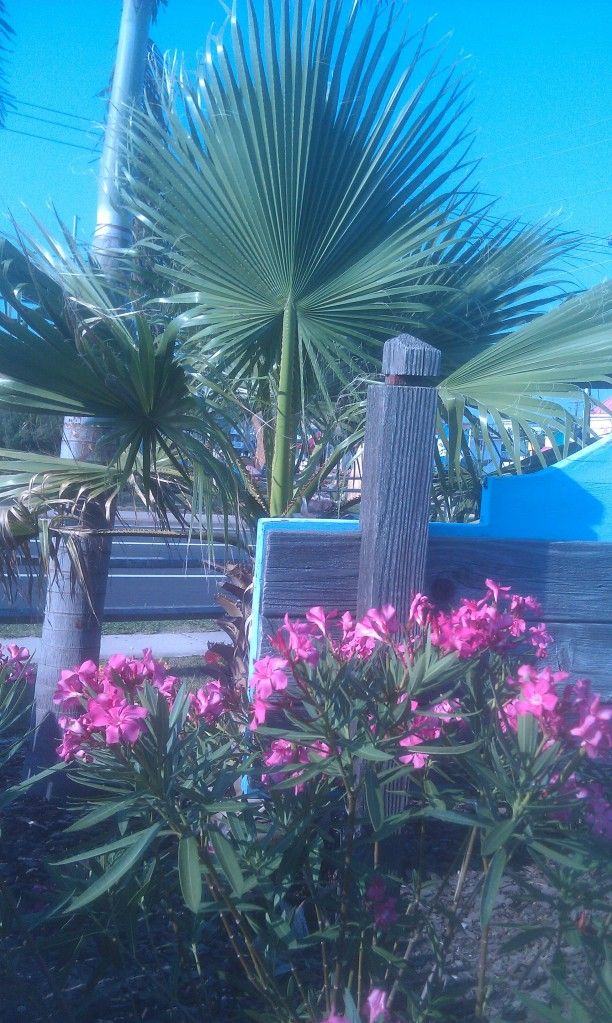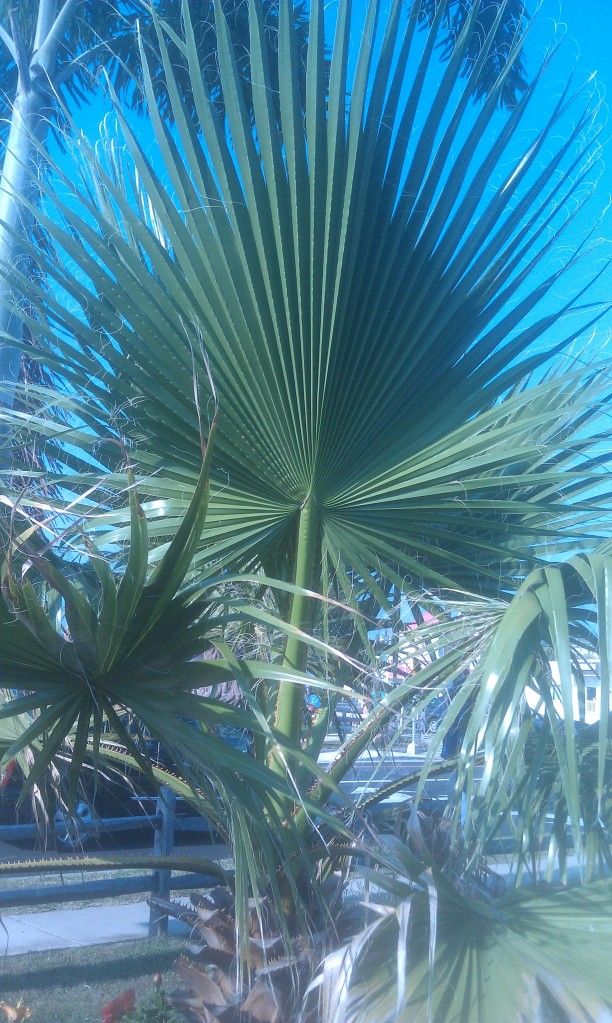 I've posted pics of this Sabal Palmetto on here before. It looks like it nearly doubled in height this spring/summer so far. It is probably close to 7' tall now and looks like it shot up at least two or three fronds this season. This palm has been the inspiration for me to plant 7 gal palmettos (from Gary's in NC) in my own garden. With good seating, pot raised palmettos have a pretty good chance of long term survival here. Sorry, the lighting is not best as the sun was behind this palm and I didn't want to play mini golf. My friend Rick goes to play gold just to get good views of the palms and oleander these two mini golf courses.
Pretty nice sized oleander. What is amazing about the oleander here is again, they are out in the open and only only a block back from the ocean. I know light pink and white are hardier, but I saw some cherry colored ones as well.
Ran down to the Ocean City Home Depot. Apparently the idiots at our HD sent all the windmills down there and I wanted to give two as gifts to my neighbors (unabashed palm agenda, I admit). HD must've cornered the market on Med Fans this year because they had so many of them at ours local HD and this one and they were marked significantly down to $32 for BIG 7 gal plants. If I had more room...
Two from my garden... My pindo wintered over well with burlap and Tyvek house wrap and a leaf cage...or so I thought. First emerging frond was very damaged and two of the most recent fronds from last season suffered some damage to their petioles an as they emerged higher out of the center, they both dropped, so cut them off. The palm has been recovering very nicely with three new healthy fronds emerging all at once. Before it dropped the fronds, it was taller than me at about 6' tall... them set it self back to waist high, about as tall as it was when I bought it spring a year ago. At this rate the palm should be taller than me again in the next few weeks with three or four more months of growing season left.
First blooms of the season from my "wild hibiscus". It's a very common type of hibiscus in the islands and Central America. I just call it wild because it's not as showy as the tropical hybrids and people use this for hedges and have seen it along road sides. Got cuttings from one of my military trips "south."
Egret Rookery from Bombay Hook NWR, near Dover, Delaware.
Field of wild flowers and chicken coops on in Central Sussex County.
Thanks for looking.