Houston Pre PSA Plumeria sale! Raspberry Sundae :)
Alisarom
(9b)
April 19, 2014
Hi everyone, I am a new member, and until now I have not posted yet, since I feel I do not have much to add to the vast knowledge that is so kindly shared here. But, this time, I hope this brings someone a little happiness :)
German Collazos, Houston PSA member, has a plant sale. Between 2 trips, I managed to buy 20 plants! Not sure how that happened :)
Anyway, he has sooo many diferent plumerias, I even made a list, I can share with you, if interested. But since I have read a few posts about the "famous" Raspberry Sundae, he does have a few left, I bought 2. He also has a few Mardi Gras, JL Hot Pink, Hilo Beauty, Nancy Andes Rainbow, I spied a Madame Poni in there too. These are all rooted plants, they start at around $20, some of them are a bit more.
German is a really, really cool person to talk plumerias with, I spent 2 hours in his backyard yesterday. Oh, and did I mention how awesome his backyard is?? I lost track of time and then found myself in a rush to leave, I forgot to take pictures of it, but I am sure I will be going back for more soon.
He is currently starting rooting a bunch of cuttings for the June PSA sale too.
Forgot to post his number, if anyone is interested.
7136704064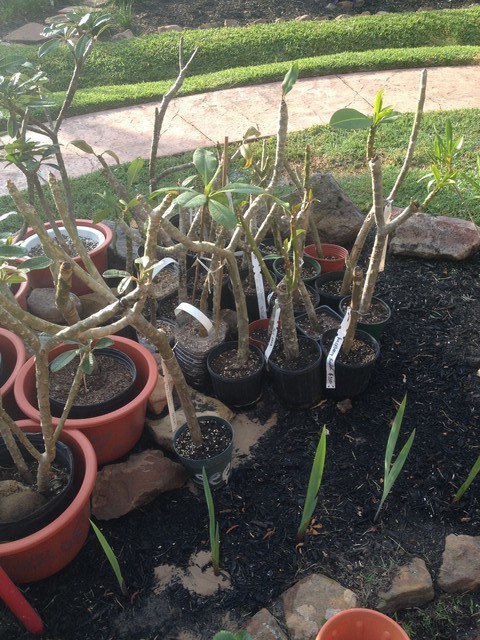 This post was edited by Alisarom on Sat, Apr 19, 14 at 12:38