Mystery plant, camellia and gardenia - what ails them?
mamimo
(Sunset 16)
June 5, 2011
Hi all,
I'm trying to turn an old neglected yard into a garden, and am baffled by several problems. I'd be so grateful if I can get some advice on any of them. I hope it's ok to lump all my questions into one post -- if it isn't let me know, and I can repost as separate threads.
1. Mystery disease on mystery plant
There is a 30-foot long hedge comprising of 10 of this plant. No one knows it is, but they look diseased and we were advised by a gardener to rejuvenate it by pruning it severely in early spring, which we did, trimming the whole thing from 15 feet to 6 feet. New growth is now showing, but they all have the same diseased leaves again. My questions are:
a. What is it? The new growth is red, older leaves are green and I thought it may be photinia. But the leaves are opposite with smooth margin. Does photinia has opposite leaves?
b. what ails it? I cannot find any bugs. The hedge is in full sun with lots of air circulation and doesn't get any water except what Mother Nature provides. What can or should I do to help it?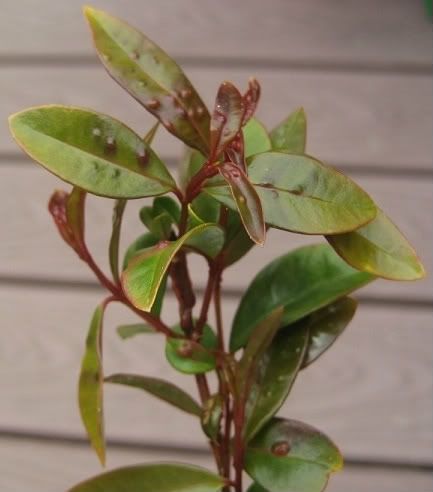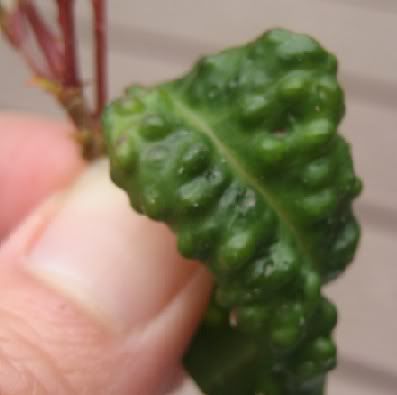 2. Camellia
Old sad plant in full sun, about 10 feet tall, with sparse yellow-green foliage. Retaining wall around it collapsed last year and was replaced by a concrete wall. Could it be root damage and/or ph change due to new concrete? I tried giving it liquid iron and fish emulsion monthly, but it isn't responding much.
sorry this is rotated -- I tried to fix it but failed.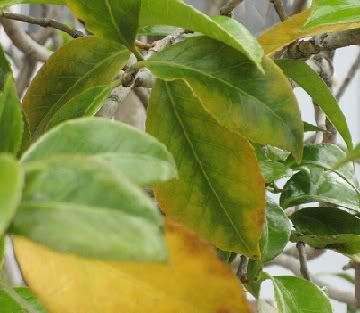 3. Gardenia
Yes, I did read the suicidal gardenia thread on GW but was seduced by it nonetheless. The gardenia was newly planted last year and it appeared happy in its part sun spot and almost doubled in size since. But this spring, some of its branches started turning yellow, then brown, and dying out. Many buds, but none of them bloomed. It used to be a nice symmetrical round shape, but now 1/4 of it has died out.
Thanks very much for any advice you can offer!