Old Timey Cornfield Pumpkin (w/ photos)
Hey folks,
We're harvesting Old Timey Cornfield Pumpkins now, and so far, we're impressed! Just have to cut one and learn about the flavor and texture. But the harvest is truly impressive. The first three squash we picked weighed 15 lb each, on the dot. I picked three more this morning, and they may weigh in a hair lighter.
We received this seed from Rodger Winn, a GW member and also member of The Southern Seeds Legacy with Univ. of GA. Rodger tells me that this is the traditional pumpkin, grown in or on the edges of cornfields, in that part of the Appalachians. He said that they come in all different shapes. Ours have all been different "pumpkin shapes," long or short. Some have more noticeable ridges than others. All ripen to a dark beige.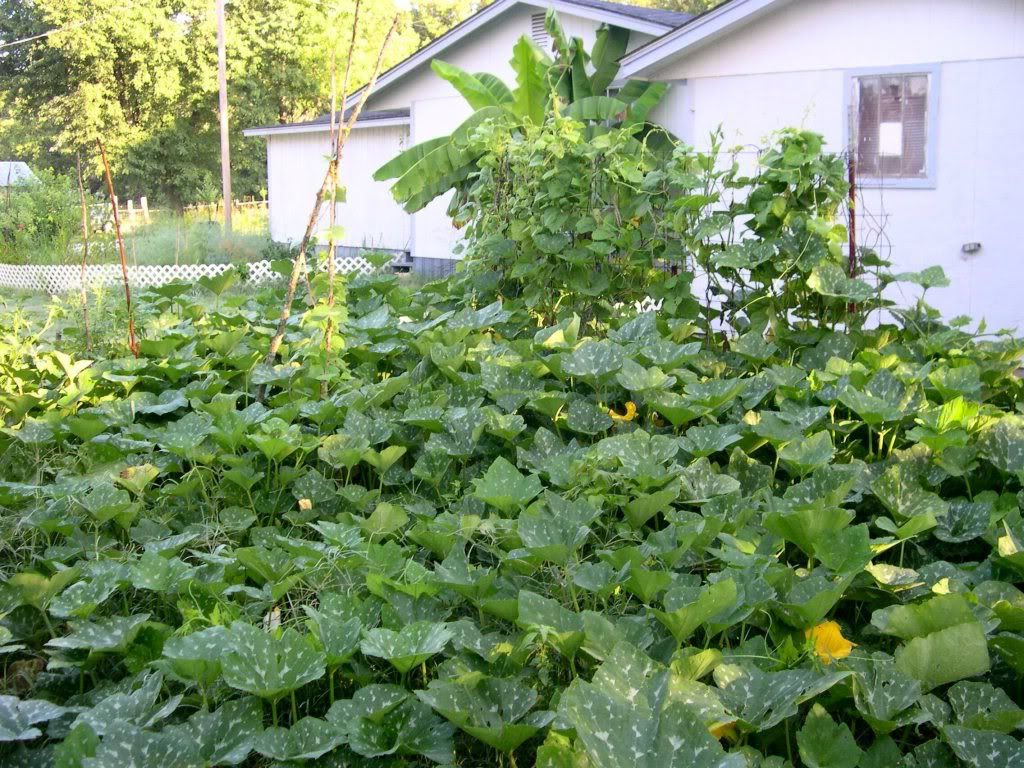 Picture taken in August
I planted about 8 plants, in four hills, and as you can see in the picture, they really took that garden over. But we're happy. They had no pest problems and never even hinted at wilting during our hottest and driest part of the summer. Unless they have terrible quality, this one is a definite keeper. I estimate that we will harvest a minimum of 12-15 large pumpkins.
Our old standby, Warsaw Buff Pie Pumpkin, didn't do nearly as well this year. But that may have had something to do with having planted it in a couple of feet of fairly rotten barn scrapings and manure. WBPP got hit big time with squash bugs, when the weather turned damp.
George
Tahlequah, OK
First two pumpkins harvested
Harvest from 9/22/09