Plant Exchange Mpls/St. Paul
brian6464
(4a)
April 14, 2014
Wondering if anyone local to Mpls/St. Paul would be interested in a hot pepper plant exchange?
I planted around 30 varieties of peppers. Many of the seeds came from Eric (LiefEricson) on this forum. Well, germination rate was very high and I ended up with way to many peppers.
I've picked out the ones I want and gotten rid of all the super hots already. Everything has been potted into red solo cups already.
Not sure what I want, but would be interested to hear what you might have. I'd might be willing to trade a couple of mine for one of yours or even consider some heirloom maters. I just need to make room and have less to care for.
Here is what I have left:
Paper Lantern Qty 7
Orange Scotch Bonnet Qty 7
Hot Lemon Qty 5
Golden Hab Qty 3
Fatalli Qty 2
White Hab Qty 1
Hot Portugal Qty 1
Black Pearl Qty 3
Starfish Qty 3
Aji Cito Qty 3
Numex Twighlight Qty 3
Chimayo Qty 4
Orange Tea Pot Qty 1
Fish Qty 1
Chocolate Scotch Bonnet Qty 1
West Indian Red Qty 2
Bonda Ma Jacques Qty 3 (seedlings)
Devils Tongue Yellow Qty 3
Cumari Qty 3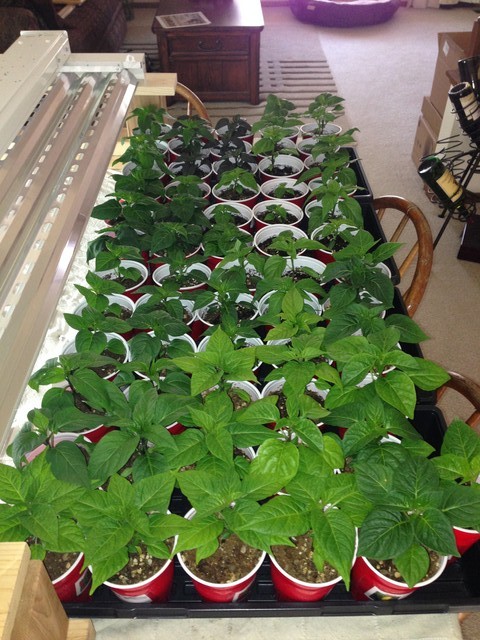 This post was edited by brian6464 on Mon, Apr 14, 14 at 20:23