Mid July update
bradleyo_gw
August 8, 2011
After a horrible winter in which I lost several plants including nearly all of my palms, Edith Bogue was killed back to the ground where it continues to languish, Osmanthus Goshikii never had a chance, an official low of -8F, although I never recorded lower than -5.5F and 3 straight months where the high rarely got above freezing, I had to redesign, replant and move many things.
As many of you already know, I am not computer saavy, so I had to wait a month for my wife to download some pics. I did take more today so hopefully I will post more soon, but then again I said that at the beginning of June. I need to update my pics again soon though as I didn't notice how much things grew until I looked at these pics.
A couple of surprises, I never did get a pic of the whole plant, but my 2nd year in the ground hardy agapanthus got 4 blooms this year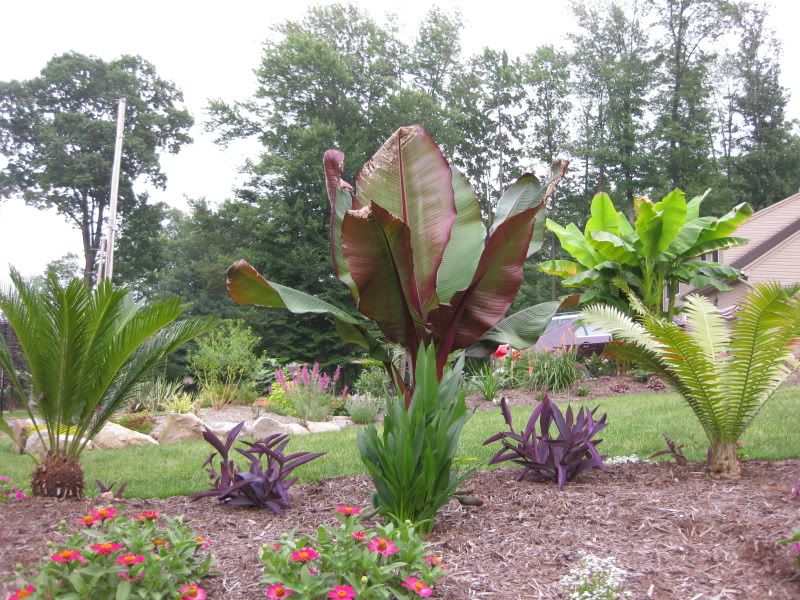 My palms took a beating this winter so I either moved or composted them all and turned it into a veggie garden. No collards for carl. I barely get enough sun here to be foolish enough to attempt one in this spot but all of my sun is inthe front yard and I don't feel like putting a veggie garden there..
I extended yet another bed this year
View from the front porch, looks a lot different now.
Fliementosa bloom well over 7 foot tall this year. My wife is 5'10" for scale.
Thanks for looking.