Something sucking on sugar pumpkin leaves (I think)
I have a large, self-watering container on my balcony which is currently home to three young sugar pumpkin plants and, I believe, something else. The first thing I noticed was the bottom leaves turning yellow and eventually dying. These were the seed leaves and I didn't think it was a big deal because the plants seemed otherwise healthy. But now this yellowing and dying pattern is traveling up the plants. Upon closer examination, I've found tiny spots, which actually seem to be punctures, on the affected leaves. The bottom buds, where the leaves are affected, are also brown and dried out. The upper leaves and buds are okay right now.
I haven't seen any bugs on the plants, but I've seen little things crawling in/on the soil now and again. I'm new to gardening, but I understand there are various sucking insects that enjoy pumpkin. Are there any that tend to be invisible? Is it necessary to identify the exact culprit in order to know how to treat this condition?
I have actually sprayed these plants with Fertilome Triple Action Plus. A couple of weeks ago, my balcony was attracting flying insects of some sort. They seemed to be feasting mainly on the arugula, but I wanted to protect my other plants, too.
Image link: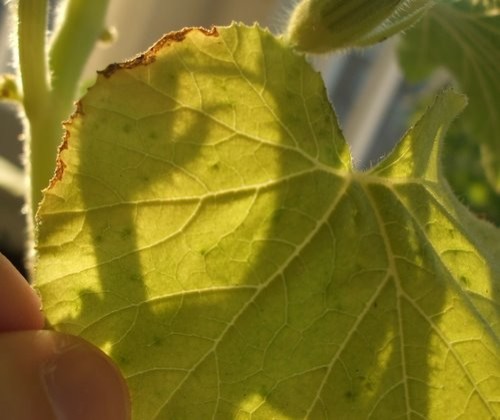 Here is a link that might be useful: More pictures