First Inflos in Cool Weather.
freak4plumeria
(So CA zone 10)
June 27, 2013
Finally got to my patch on Tues, needed to get a present for a B Day present and meet a contractor. I keep the weather on my computer set to my patch so I can check every couple hours, also have one of my cities on my Iphone Weather set to the patch. For the past 2 weeks there has been off and on dense June Gloom, temps averaging from 68 to 75. When I went to my patch it stated that the weather was @ a high of 78 for that day, today it went down to 75 and sunny. Supposedly there is a heat wave this weekend where temps will be about 84 in my patch, cant wait as it should do wonders for my plumies.
Even though I have a ton of inflos many of the plants leaves have not really done a lot of growing, or filled out. There were some inflos full on blooming but most where spares.
I had my cousin who is my property manager go up the ladder to take pics as some of the flowers were 8ft to 9ft plus high and I have a bad knee. I noticed this season the early inflos are shorter and stiff/brittle so many of the infos that were high up, even with the ladder snapped off.
My Musk Rainbow and Ca Sally inflo did not look that good so I did not bother to take a pic of them for now.
My Aurora Borealis with her red streaks blooming. Because of the cold temps and gloom her colors are not correct, but she never stays consistent other than the red streaks every season:


The 3" tip with the inflo snapped off, so sad. Poked it in the pot and cut the inflo offf: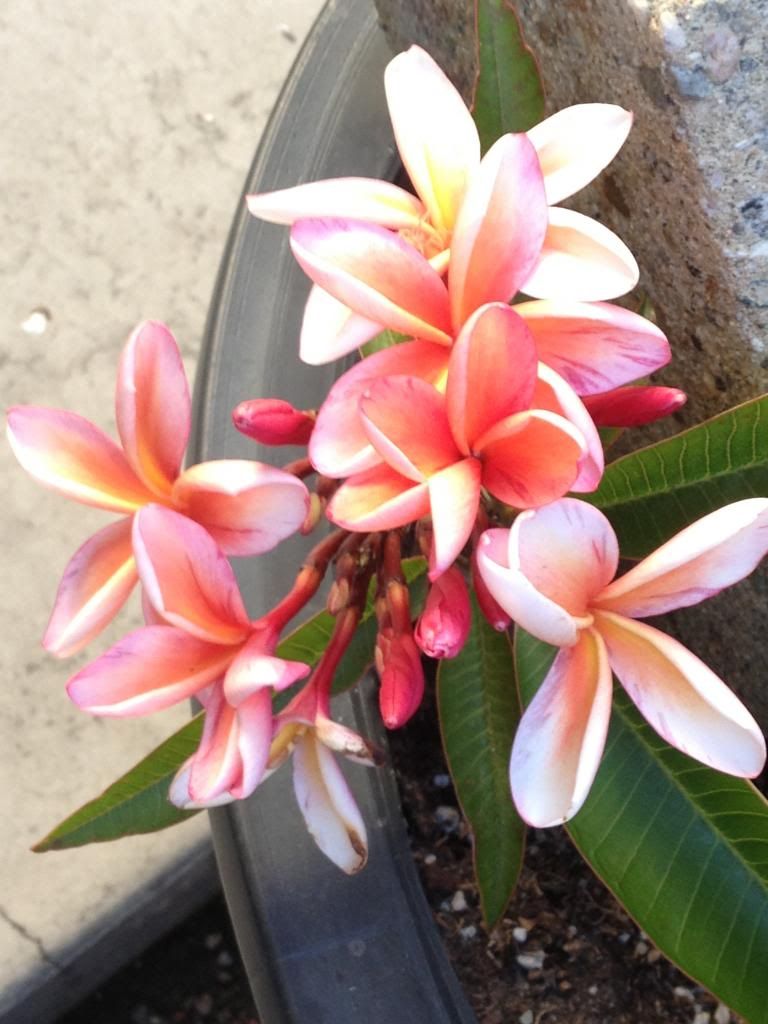 Lolo's Big Red...Flowers are true Blue based Red with almost a velvet like visual when you see her, can get up to 4 to 5":

Steopetalla just starting: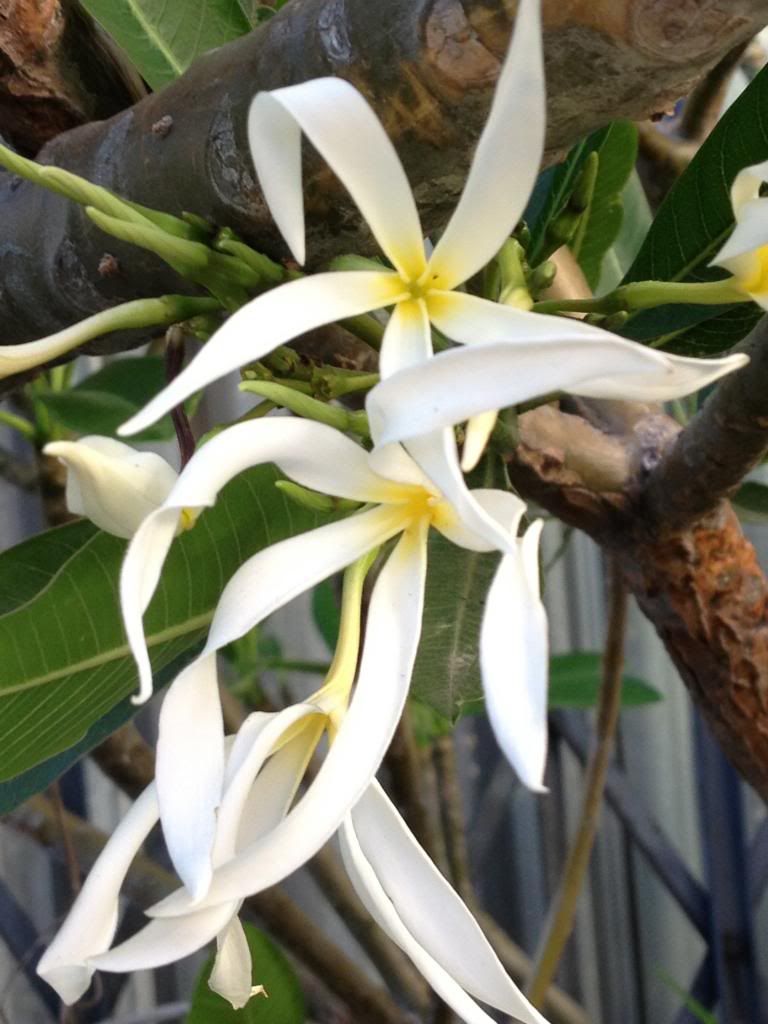 Guillots info on tree and snapped off: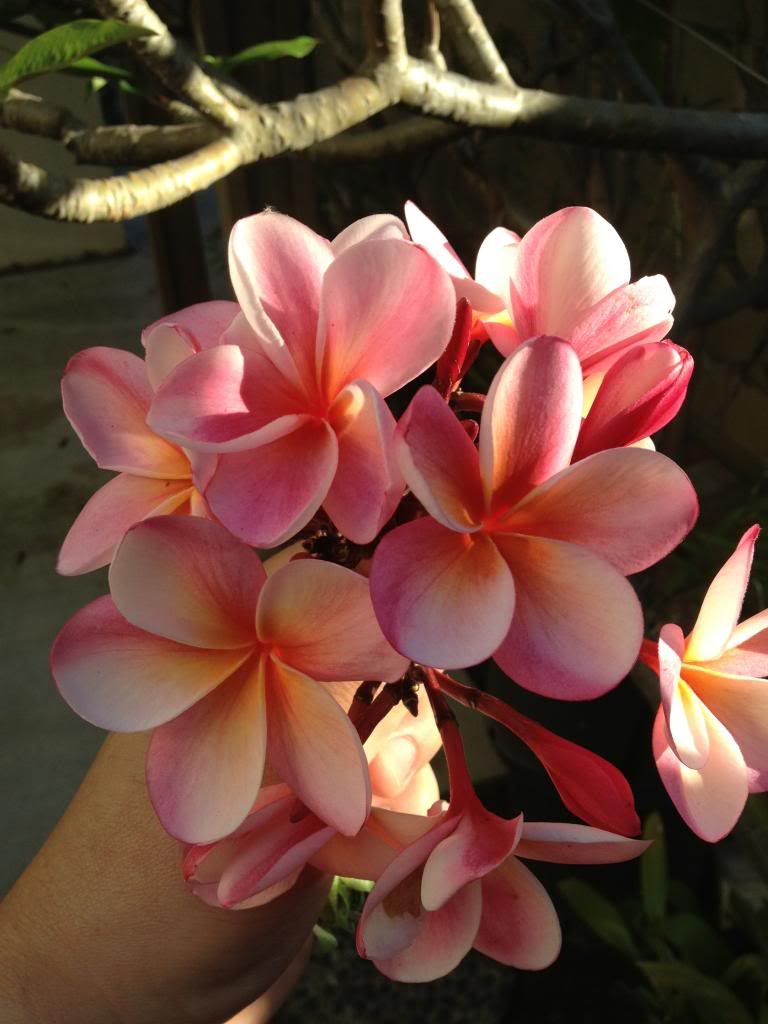 Purple Jack just starting: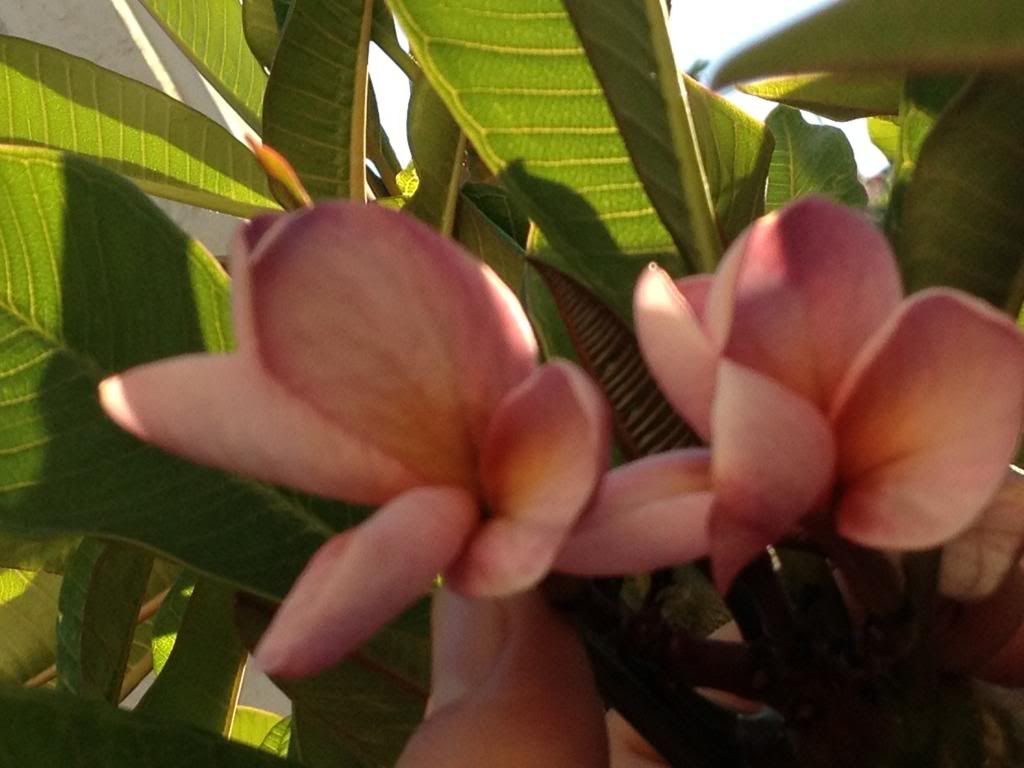 Puu Kahea firs flower: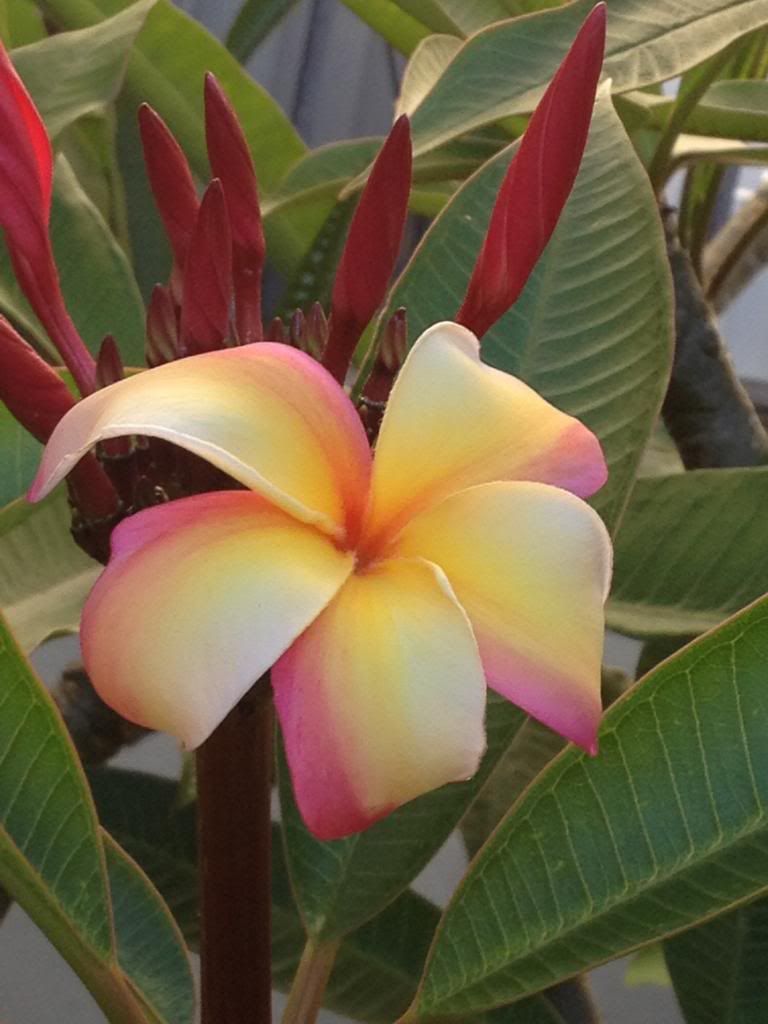 Sariah's Curly Pink Seed Pod:

University Hawaii Orange (looking yellow and leaves just starting) with Emmersons Pink Nova blowing up:


Close up of 1 of the UHO inflos: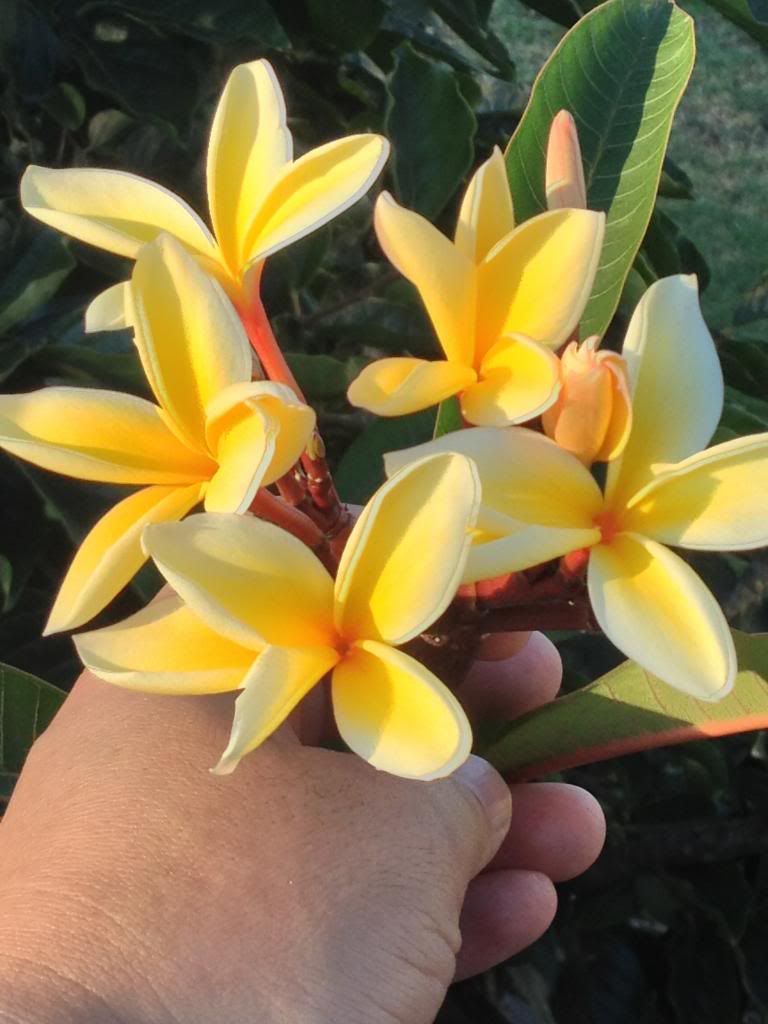 Close up of Emmersons P. N:

Sherbert Town from Thailand...Usually looks Orange/Red/Yellow and veiny/grainy:

Penang Peach..was the first to flower this year (taken at ground level with zoom):

San Miguel: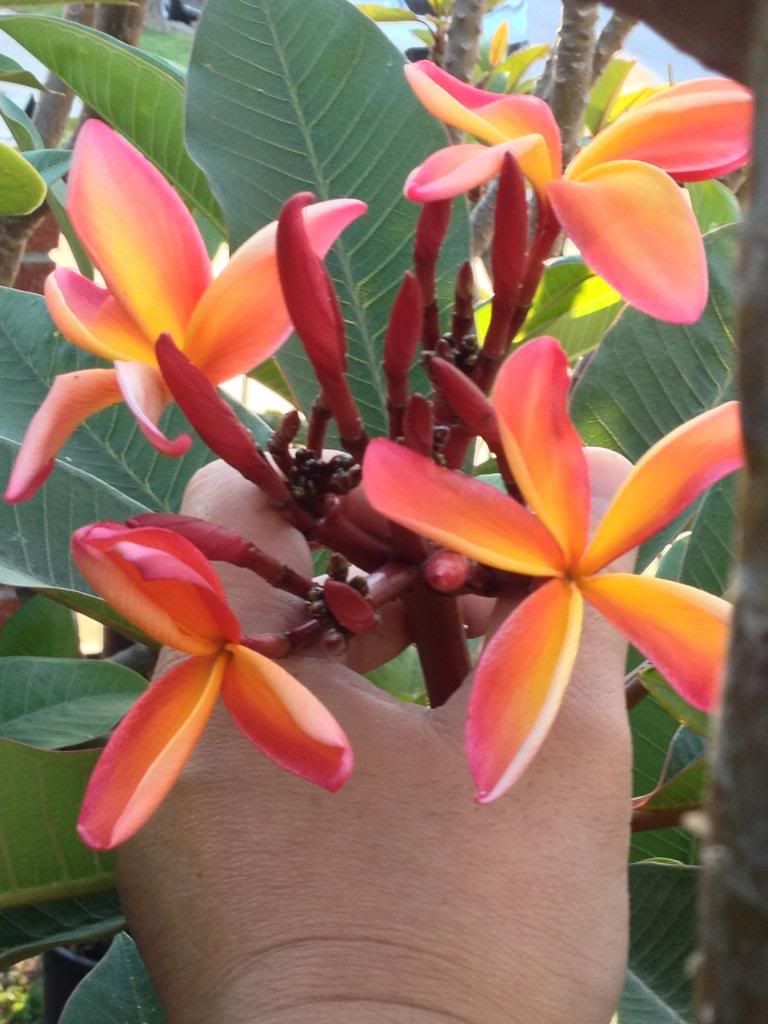 India...inflo snapped off:

Golden Pagoda on tree and snapped off:

Thortons Lemon Drop:

Bouquet of snapped off inflos... Aurora, Golden Pagoda, Guillots Sunset, India:

Also not plumie related, but I put a Manilla Mango aka Champagne Mango ree along with the plumies to act as a tree wall to add privacy between my 2 apartment complexes. Tons of Mangos all over the tree, they actually are not that large, but they are golden yellow and super sweet and not string.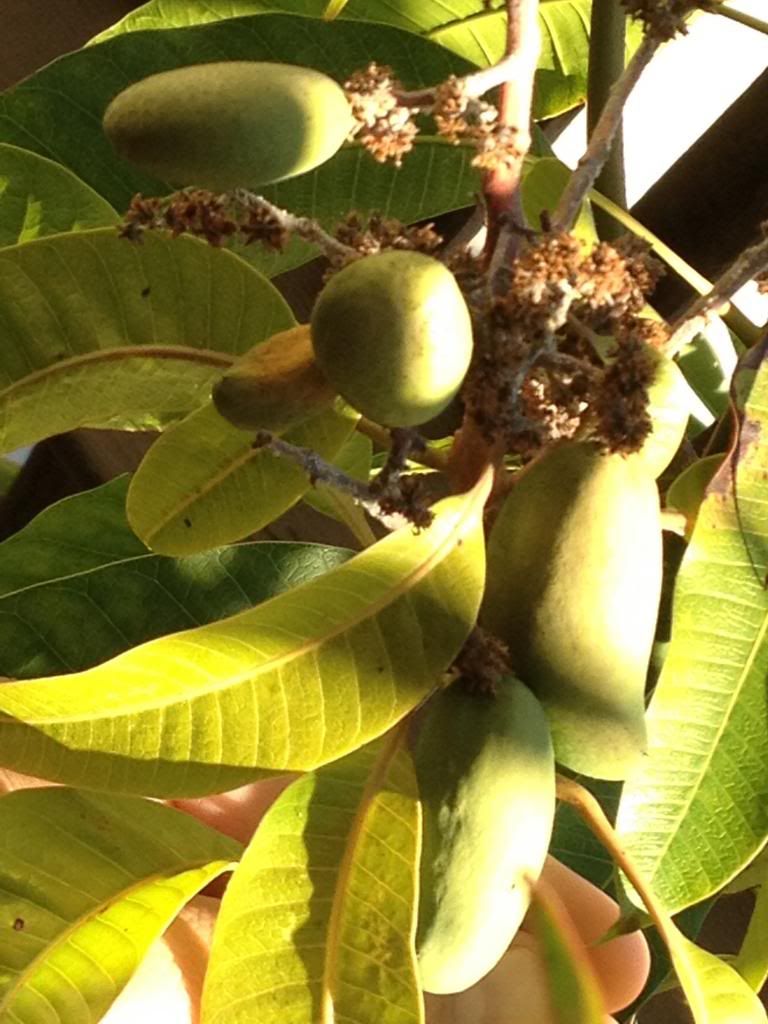 This post was edited by freak4plumeria on Thu, Jun 27, 13 at 17:09