Beans for Oklahoma
Hey folks, I thought Id start a thread on beans for Oklahoma (& surrounding areas). IÂd like to tell you my criteria for a great bean. There are many opinions out there. This is just mine. There are a couple of things I look for in a great bean. Some comments here are in response to IleneÂs in the "Another Frosty Night for Gardeners in NW OK" thread.
1) Dependability. I want a bean which will dependably produce under a wide range of conditions. For that reason both the Dragon's Tongue and our own family heirloom, yellow podded pole bean (Barksdale) don't make the cut. In my experience, though tasty, Dragon's Tongue is very prone weevil damage. Barksdale often won't set pods when it's hot.
2) Tender pods, even when old: Most modern beans become tough when the pods begin to mature. Most dry beans do this. Some dry beans' pods are simply tough from the get go. But there are some varieties out there which produce pods which are tender right down to when they start to yellow and dry. Many of those varieties also have strings. It seems almost to be indication that one has a tender pod variety, if it has strings. Anyway, my favorites have strings and stay tender for a LONG TIME. My absolute favorite green beans are these old timers when they have filled out shell beans on the inside. I string and snap them and cook them up. ItÂs like getting snaps and shell beans at the same time. Plus, with our busy life style, it's sometime difficult to process our beans soon after picking. These tender hull varieties last a long longer "on the shelf," before processing, than the tough hulled varieties.
3) Prodigious seed production: again, here is where Barksdale falls down. It is a struggle with this bean to produce much seed, and that which it does produce is often small and not very filled out. The best beans I know produce lots of nice, well developed seed. This is nice, not only because we like to eat the seeds, but we also like the ease of maintaining seed stocks, in order to share with others.
In the "Another Frosty Night for Gardeners in NW OK" thread I mentioned the three champions from this yearÂs garden (for me): Tennessee Cutshort, a mix of white greasy pole beans from NC which came to me with the label of "Long Cut Olde Timey Greasy Bean," and "Cherokee Striped Cornhill Bean." All three of these are pole varieties, which I prefer. But this is personal preference. A lot has to do with oneÂs style of food preservation. I do have to say that I enjoy standing while I pick!
Here are a couple other varieties which IÂve tried, which all seemed outstanding: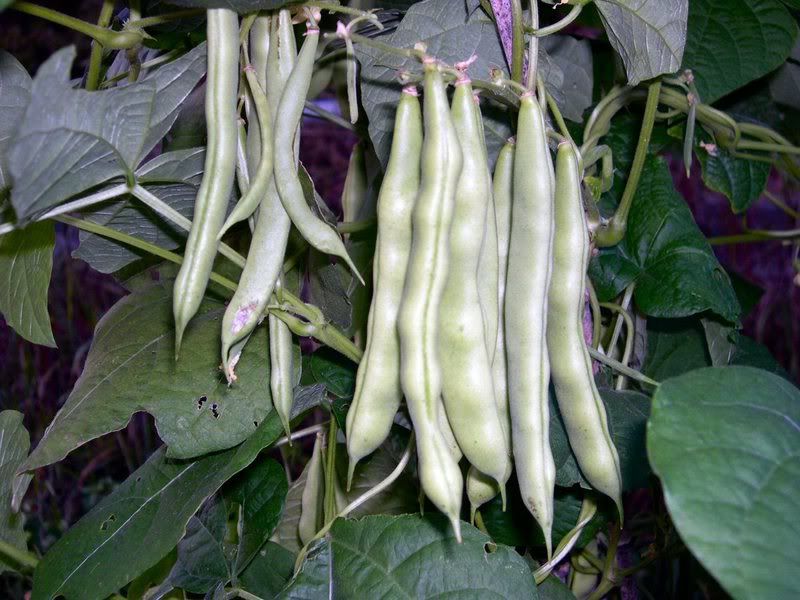 Tennessee Cutshort (pictured above): an heirloom we received from my wifeÂs great Aunt Clara and her Uncle Doy, back in 1985 (Salem, IL). They, in turn received their seed from a woman named Olive Stroup, who got her seed from her sister, who brought it home with her after a visit to TN around 1950. She told Olive that the variety was grown all over the South. JerrethÂs great aunt & uncle grew this bean exclusively until sometime in the 90Âs when their health no longer permitted. I get first snaps from this bean in 50 days and dry seed in about 87 days, though, this year I planted my first row on May 11 made my first picking in 56 days. I planted the last row on August 8 and not only managed to pick a good deal of beans from it, but even found some dry seed this last Saturday! I can actually plant this bean in the spring and replant, for a fall crop, using seed produce in the same summer. Pods are about 5" long and fill out to be pretty fat. They have heavy strings and stay tender almost to where one would rather save the seed for planting.
Cherokee Striped Cornhill Bean: I only just received this seed this year, from a Seed Savers Exchange member in OH. This is a true Cherokee heirloom, which is why I requested the seed. The seed looks identical to Genuine Cornfield Pole Bean, which is also a fine bean. Seed is beige with brown swirl patterns. Pods can reach up to 9" and have strings. The pods stay tender "to the end," like all my favorites; though they do have a bit stronger bean taste at this point. I only grew two hills of this bean, and that on corn. But I was super impressed with how productive it is. I intend to do a whole cattle panel of this one next year.
Long Cut Olde Timey Greasy Bean: I purchased this seed from a fellow on E-bay, back in 2006. He, in turn, purchased his seed from some old timers in NC, who raised and sold string beans in a farmers market. They were senior citizens who couldnÂt keep it up any longer. This is a mixture of white Greasy beans. All are vigorous climbers and prolific seed producers. They all have heavy strings. The Greasy bean has a little less substantial pod. It dries down faster than others. But it sure produces well. The seed is small, more round than long, and white.
Ruth Bible: An Appalachian heirloom with "Kentucky Wonder brown" colored seed. This heirloom dates back to at least 1832 and maintained for generations by the Boys family. Introduced to the Seed Savers Exchange by Jeff McCormick of the Southern Exposure Seed Exchange. Some descriptions say that this bean has 3.5" pods. But others say 5-6" pods, which is what I experienced. Ruth Bible has vigorous 10Â vines and white flowers. It produces pods a little later than our own Tennessee Cutshort, but apparently stands up to heat a little better. It seems to flower and set pods a little longer into the hottest part of the summer. I only grew this on in 2007 and it seemed to me that the pods might have toughened up a bit more than the Tennessee Cutshort. But with only one season to compare I cannot really say. I was however, extremely impressed with this bean. It is a true multipurpose bean (snap, shell or dry).
Childers Cutshort: This is a "look alike" to our own Tennessee Cutshort. I suspect that they are the same bean, having traveled through different families. I received this bean through Gardenweb member Gene Hosey, who I met in the Heirlooms forum. Gene got his seed from his mother in the fall of 2006, after she and his dad had raised the bean since around 1975. They received their seed from Eddie Childers of Merrimac, KY (Taylor County) around 1975. Like Tennessee Cutshort, Childers Cutshort has more round than long, tan/brown colored seed. Pods are up to 5" long and fat with strings.
IÂve heard great things about Jimenez, and intend to try it. But I hear it is prone to crossing and is difficult for seed production. Rattlesnake seems to bring rave reviews by many. But I think it has pods which toughen with age. RattlesnakeÂs claim to fame appears to be its extreme heat tolerance and productivity. Kentucky Wonder is a great bean. Its only disadvantage to me is that the pods get tough with age. There is no end to the variety available out there.
I hope this stimulates some discussion on varieties and preferences for beans in this region.