Photos... Ready for water yet?
eigdeh
(z6 NJ)
June 27, 2011
Howdy!!!
I have had these Plumeria's in the basement under a grow light since about the middle of April. They only got a "touch" of water the day I planted them to dilute and spread the rootone. Has not seen a drop since. Temp in basement can't be more than 75.
It is a hot day today and I thought that since there seems to be no real threat of rain that I would give them a dose of real sun and hotter temps. I would like to leave these outside so they get a chance to be in the summer sun and heat, are they ready to get some water yet? Otherwise they need to go in the cool basement and 150 watt bulb. :c(
One plant has 4 inch leaves, though they are still narrow and folded. One has 1 inch leaves and another perhaps 2 to 2 1/2 leaves.
Here are the photos. I put my hand in the frame for some sort of scale comparision.
4 inch leaf: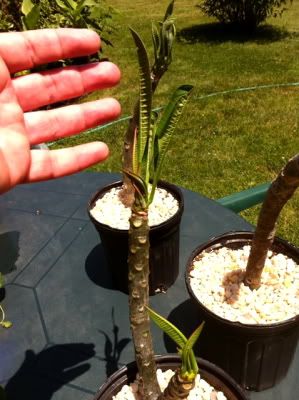 2+ inch leaf: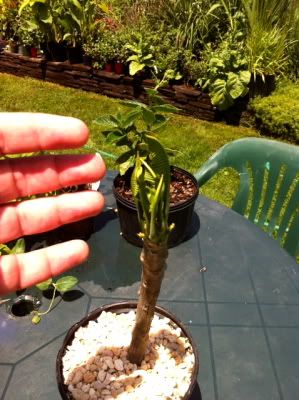 1 inch leaf:
Any or all of these ready to be left out?
Thanks!
Ken