Yellow Tent Caterpillars
marmie2
(7)
August 23, 2010
I am in Northern Virginia. I have just noticed several tents with caterpillars in them on a treelike bush in my yard. They don't look like the usual "tent caterpillars" we get in this area which are much larger and more black and gold. I see my neighbor's sourwood tree also has them.
These caterpillars are tiny, none appear to be larger than about 1/2 inch. They are pale yellow with black heads and two rows of tiny black spots down their backs. They have some long hairs, but are not bushy. It appears most of them have left the tents, but I did manage to snap some photos. I'm attaching one here, but the quality is not good due to the upload limitations. I'm also attaching a link to additional high resolution photos.
Ignore the photo of the green and purple gray hairstreak caterpillar that I asked about a couple of weeks ago.
Also, can anyone tell me what this plant is (you can see it in the other linked photos)? It is very similar to poison sumac except the branches aren't red/purple and the berries are in tiny clusters rather than large bunches. The leaves are in pairs of two up the branch with no top leaf at the end of the branch.
Thanks!
Mary
Image link: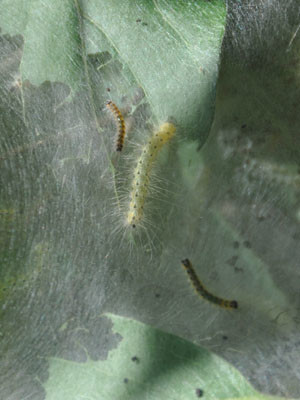 Here is a link that might be useful: Additional High Resolution Photos Here