I got it, now what do I do with it? (pics)
My first plumeria came from a little mom and pop garden shop. It was the one that my husband loved the scent of so much. A couple of years ago she had another one but didn't want to sell it, a different variety, I'm sure. Several times I've been back and she wouldn't part with it.
But, today, she sold it to me for $13. I'm happy with the purchase but unsure of how to go about bringing it to it's best.
In the pics you can see that it has 3 trunks. Or more like the smaller two may have been cuttings that she just stuck down into the pot with the mother plant. It would be my best guess, what do you think?
I would like to take cuttings. I could get a 4 tip, a 2 tip, and two single tip cuttings. The largest one I would like to cut above the Y but could I be sure of it branching from there? Nah? I didn't think so, but what are my chances? :)
It was kept in a not so sunny location and I'm figuring this is why it has not so many leaves. The poor thing just needs some help! Should I take cuttings or leave it for now?
Attached are some photos but I'm not the photographer in the family so no fair laughing at either my gangly plumeria or my photo taking abilities. :)
See the little nubbie on the left side of the far right trunk? What should I do about this little single-leaf nub? Anything?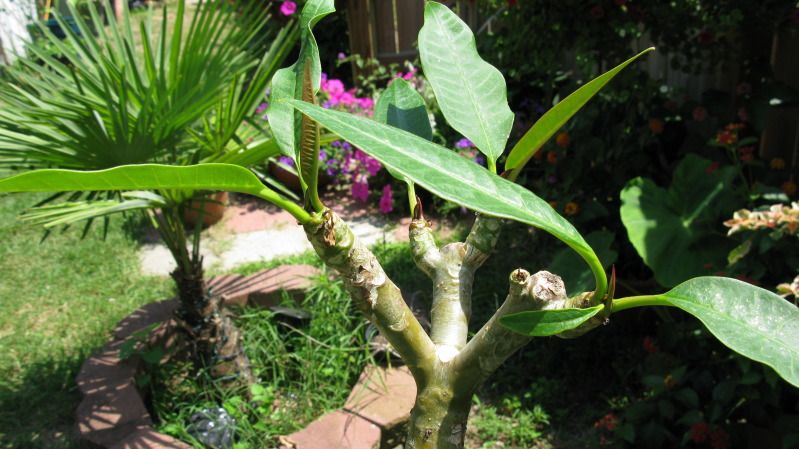 I await your wisdom! :)