Greenman's Peppers 2012 (pics)
greenman28 NorCal 7b/8a
May 7, 2012
Howdy, pepper growers!
Season's greetings to all those following along another year, and a warm welcome to the newcomers
this year! I hope to hear from everyone, and I certainly hope that you guys and gals will post Threads
on your season's progress, as well.
For reference, here's the link to my 2011 growth-Thread: Greenman's Peppers 2011 (pics)
Mix: this year, I used the same ingredients for my seedstarting mix - fir bark, coarse perlite,
turface MVP, and a small fraction of red lava rock and quartzite (left-over gritty mix in other pots).
The Fir Bark and the Perlite were screened 1/16 - 1/4 inch, and the Turface MVP was screened over
aluminum window screen to remove any particles less than 1/16 of an inch. The screening is essential to
creating aeration and drainage, and eliminating any "perched water" in the container.
Fertilizer: I use Dyna Grow Foliage Pro 9-3-6, which contains all macro and micro-nutrients
that are so often lacking in other fertilizers. I begin fertilizing when the seedlings have their first
set of true leaves - using 1/4 strength dose (1/4 Teaspoon per gallon). Once outside, the seedlings are
given a 1/2 strength dose of fertilizer, until they are moved into their final containers and given a
full strength dose of fertilizer at least once a week.
Varieties: Red and Yellow Bhut Jolokia, Trinidad Scorpion Moruga, 7-Pod Jonah,
Chocolate Habanero, Tabasco, Indian Jwala, Ethiopian Brown Berbere, Datil, Manzano, Hungarian Wax,
Thai Chile, and Black Pearl. Many thanks to my pepper friends for again hooking me up with
interesting seeds to grow: Jaime and Bill in particular.
This is a fairly recent update video of my seedlings, from April 28th: Hot Pepper Seedlings - video
Now, the pics! Click the Thumbnails for a larger view :-)
1. I started seeds near the middle of March this year. Filled my 6-cell containers with mix,
sowed my seeds, added some Turface to cover the seeds, put plastic wrap over the seed-cells and
commenced waiting. By March 25th, I had germination.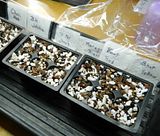 2. As soon as the seeds sprouted, I removed the plastic wrap. In the pic below, you can see
the superhots have germinated before the rest because I started them a week earlier, knowing
how much more slowly the Capsicum chinenses grow.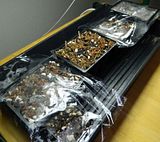 3. The first of the superhots to sprout...a Yellow Bhut Jolokia, courtesy of Romy, I believe.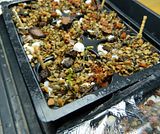 4. More superhots popping up! Oh, and you'll notice a Purple Russian tomato seedling
that I started....the same young woman who sent me the Indian Jwala and Manzano seed
also sent me this tomato variety (which quickly outgrew the peppers and is now planted
in the garden properly!).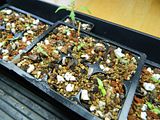 5. Manzano seedlings that I planted on April 7th.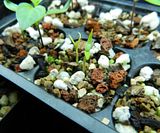 6. Superhots as they grudgingly grow larger...I think I'll start them two weeks earlier than the others
next season...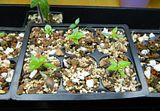 7. Some of the Capsicum annuums - Black Pearl, Hungarian Wax, and Thai Chile. The Thai Chiles
always perform the best.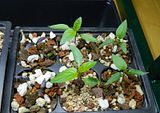 8. The first family portrait....a few days before I started re-potting in 4-inch containers.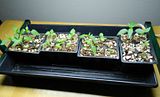 9. Another family portrait, after some of the seedlings have been re-potted. I took a Thai
and a Black Pearl to my sister...making room under the lights.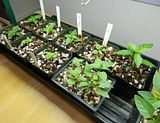 10. And here's one of the 4 Thai Chiles that I sprouted - this one I took to my brother yesterday.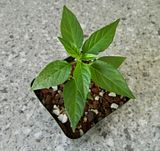 Last but not least...an update on the old Lady! ;-)
She barely made it through the Winter, due to a Spider Mite attack....but now she's on the mend
and putting out a few pods (which I will remove). Hungarian Hot Wax Pepper, 4 year's old - my first pepper plant :-)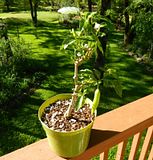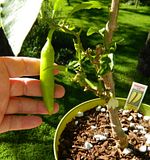 Josh