What's eating my herbs? :(
wisteareia
(7)
September 3, 2012
I first discovered this on my sweet marjoram plant. Now I've noticed it on my lemon balm as well. What in this world would nest in those!
Can't tell what it is. Saw orange dots, and the small black slick winged bug in the photo. And all the icky looking black dots (eggs I guess) in the webs. I couldn't stay too long to investigate as ants are setting in and I had an awful allergic reaction to their bites the past few weeks ago.
Really need to eradicate these without pesticides if possible to keep it organic in my garden. But willing to do whatever it takes, even if it means disposing of the infected plants. Sigh. I am afraid they will take over. Just when I was getting good at harvesting my plants for culinary and medicinal uses. I am really disheartened I didn't see this sooner before it got THIS bad, but I'd tied up the marjoram to keep it under control, and didn't see this all up inside it until this weekend.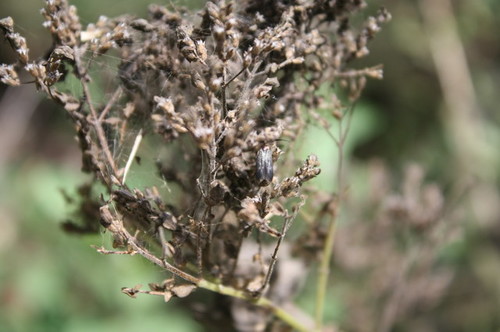 Here is a link that might be useful: more images