Canela Tree - scale insects??
I have a Canela tree I keep in my living room. Its got the bigger, thicker leaves - not like Cinnamon trees I've been finding more info on.
I've had it for a little over a year, and I've noticed between some clusters of leaves there is clear, sticky sap-like liquid on them. And mostly on the underside of the leaves there are hard, white, flat spore-like things as well. (The spores look similar to the pepper flakes you sprinkle on pizza, but white-ish). The darker specs on the image are spots on the other side of the leaf.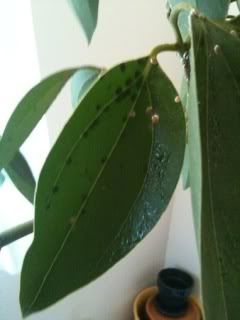 I've taken a wet paper towel to wipe down the leaves, but the spores and sap come back. To the point that I have plastic bags under the tree as to not ruin my hard wood floors.
I wiped it down with a wet paper towel, but not sure this well end this oddity. What can I use to rid of these things?
Thanks!