Sabal Palmettos at DE and MD beaches
wetsuiter
(7b/8a)
November 2, 2011
This particular hurricane-cut Sabal Palmetto at a Garden Center outside of Bethany Beach, Delaware has been discussed on this forum two or three times before. It was planted three or four years ago by the original owner of the Garden Center. I believe it was winter protected that first year, but the new owners of the Center haven't protected it.
When I first learned about it when I joined this forum, I went down to see it in person back in March and it didn't look very happy. Most of the exposed fronds were brown; the only green was from one of the hurricane cut leaves and a tiny bit of green emerging from the center. But I checked on it a few times this summer and it in did show slow signs of growth, which is encouraging. Hopefully, it's putting more energy into its root system (severely cropped during hurricane cutting) and it'll push out more fronds next summer, provided it survives.
While extensively researching Sabal Palmettos on line, I read that hurricane-cut palms are not a good choice for planting in marginal areas (like here). This Sabal kinda illustrates that. Palm Growers in NC and SC say that smaller pot-grown palmettos with healthy roots and crowns make a better plantings in areas like this (or say, inland NC).
This palmetto has three things working against it in our area: 1.) Being hurricane cut, 2.) being about three miles inland from moderating effects of the ocean in winter, and 3.) being out in the open (no buildings or trees or fence anywhere near it). All things considered, this palm is showing some promising signs of recovery since I first started visiting it. This winter may make or break it, but I honestly believe it has a better chance of survival down here, than the ones that were up in Washington, DC at the Scottish Rite Temple.
Alex asked me to take some photos of it: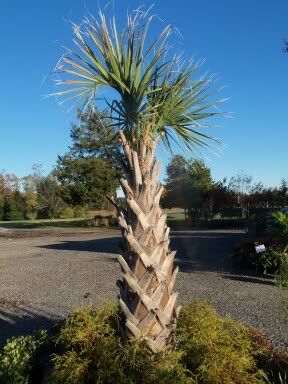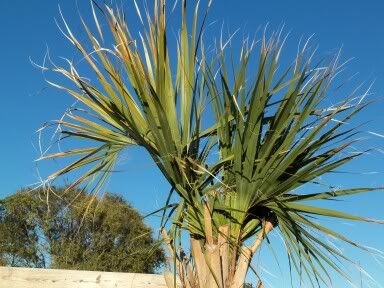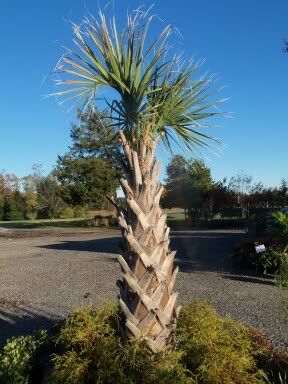 After visiting the garden center, I stumbled upon another Sabal Palmetto at a miniature golf course in Ocean City, Maryland--literally a few feet south of the DE/MD state line. The mini golf is typical of the ones around our beach resorts, with lots of big tropical palms planted to attract the tourists. But I did notice a few hardier varieties at this course too--notably, medium Windmills and a Washy. One good-sized "Sabal Minor" caught my eye and I stopped the car and got out. Closer inspection showed that the leaves were Costa-Palmate, a dead giveaway that this was a young Sabal Palmetto, not a Minor. The palm looked like it had wintered over a year or two as there were some brown tips. It is much better protected (than the one at the garden center) by a short wall, it is closer to the moderating effects of the ocean and is not hurricane cut. I was pretty glad to see this, as I'm interested in trying some larger Palmettos in my garden. The relative good health of this small sabal also supports what I've read on palm growers' websites stating that smaller, pot raised palmettos with healthy roots and crown are a better choice for marginal areas.
The first and last photo below really show the Costa-Palmate nature of the top left and right-most fronds.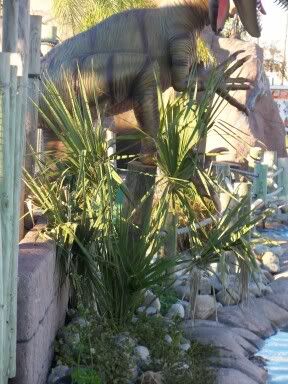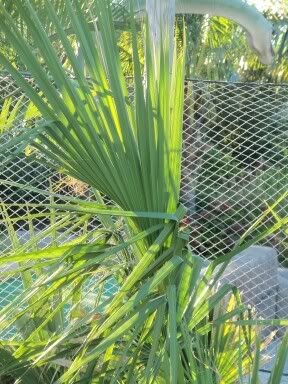 And just for grins, here are some of the two dozen or so Sabal Palmettos sprouting all over my garden beds. After a gathering trip south, I carefully planted some in palmetto seeds in pots and broadcast the rest into my garden beds back in March. Every time I do some gardening, I'm finding another one or two. It'll be very interesting to see if they make it through winter this year.
Some potted Palmetto seedlings next to ones coming up in the garden for comparison. The pot-raised ones are smaller and greener, but the garden sprouted ones grew faster and taller.
This past weekend's weather really illustrated how our location on the DelMarVa coast really protects us from much winter precip. While just an hour north of me they were seeing snow with temps in the low 30s, it was in the low 50s here at the beach most of that day and it never dropped below 42 that night (pretty much like what was happening in VB temperature-wise). Hope everyone further north has their power on and the snow is melted.