Orange cutie floating in my pond today: Potato Bug
Oscarmatic
(CA z10/23)
November 14, 2013
This orange six-legged cutie was floating in the pond today, playing dead. When I poked him with a leaf, he tried to grasp it, so I manoeuvred him over to the shallow edge. He crawled out a bit and sunned a while. Later in the day, he was again doing the dead-man float in the pond; when the floating flower island came near, he climbed on and sunned himself a while there.
In the photo below, you can see the honeybee who has come to have a drink at the pond and provide a scale. I first thought this orange guy was a nearly mature dragonfly nymph, but a subsequent look at online photos shows my mystery bug has legs too long and abdomen too short.
My online search tells me it is a Jerusalem cricket (or "potato bug"). Some people love them; some people loathe them. So, friend? foe? Where do you fall?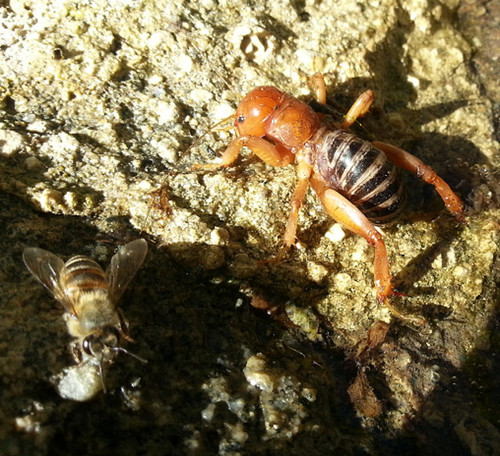 Here is a link that might be useful: Some people REALLY don't like potato bugs.