Whats wrong with jalapeno plants?
Hello im growing jelapeno plants everything been alright with the plants till now. Im growing them in pots. I dont khow whats wrong with them.
First problem is that some leaves curl down and when touched feels like they are too soft not like other healthy leaves.
Second problem is that some leaves starting to turn brown and some having yellow spots on the edge of the leaves.
They are now flowering and producting jalapenos, Im growing them in 2 galon pots, At the moment im using fertilizer for tomatoes NPK 06-10-32 fertilizing every second watering.
Some of the roots are growing outside the pot should i repot them? And maybe that can couse listed problems? Because i dont khow they are 1 year plant, or i can keep them for longer period?
I will upload photos soon.
Thank you for the help:)
Thats how some of the plants look right now.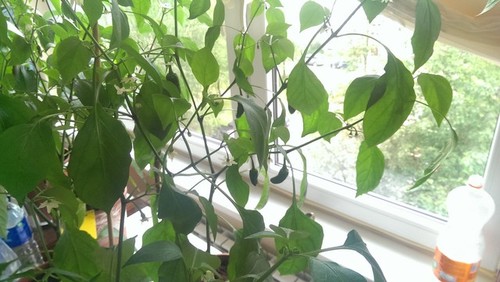 This post was edited by Cera3 on Mon, Jun 30, 14 at 10:56