nasty bugs on Hibiscus and ???? plant
I've recently bought some Hibiscus and ????( If anyone knows the name of this plant,thank you very much).I live in Phuket Thailand. The Hibiscus that are standing on the drive way are healthy looking and have no problems. But the Hibiscus and the ??? all have nasty white bugs on them. The leaves drop of, the plant gets bold and dead looking, and some of the leaves curl up with fine white threads of stuff around them and tiny little black bug (or white bugs eggs) inside them. See the pictures.
I do not want them around anymore!!!!! Everytime my Hibiscus makes a flower it drops off the next day. Thank god it still makes them. I suppose that is a good sign. I've tried blasting them of with the waterhoze, but thet seem to like it and come back for more( it is very hot here now!). Also my mother is here and recomended some green soap with water, but I've also have to find something that is easily found here. I've read somewhere to put banana leaves in the soil. And I've done that 4 days ago. I suppose that still has to rot but I see up untill now no improvement.
Does anyone have a good idea?
PLease keep in mind that going to the nursery and having a long conversation with someone there is out of the question as I do not speak Thai yet, and they don't really speak english (yet)
Please throw all kind of advice my way, I'll try them all or at least the ones that seem to make sence.
Thank you all
These are on my Hibiscus: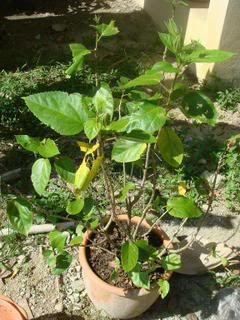 And these on the plant I do not know the name from: