Hoo Boy
This is a cry for help. I just got "volunteered" to design a 150' long "wildflower garden" for my kids' school. By Saturday. A local nursery donated about 200 plants -- 76 plugs of junegrass, and 8-10 each of a number of local wildflowers.
I'm not at all sure that this is going to be enough to fill the site.
The site where we are planting is an incredibly long and thin median strip in a parking lot (it's about 144' long, 4' wide). Here's a view from Google Maps: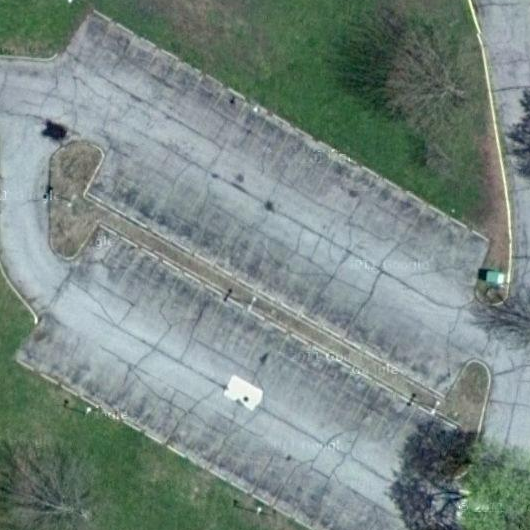 We are also planting up the two "lobes" at either end.
I would be incredibly grateful for any help at all, but let me give you my top questions:
1. JUNEGRASS (koeleria pyramidata) -- how "substantial" a grass is this? The pictures I've seen online seem to show a shortish crown and then fairly spindly grass coming up at the height of the season. And how wide does it spread? One idea is to fill the 4x144 median with the junegrass. Would a single line of this work, or would that be too thin-looking? Would a single plant fill a 4' wide spot? Or should we stagger two rows? And what kind of spacing would you recommend? We have 76 plugs of this, but could get more if necessary.
2. WILDFLOWERS. We are getting 8-10 each of the following: aster laevis, baptista australis, coreopsis lanceolata, coreopsis tripteris, eryngium yuccifolium, pycnanthemum virginianum, rudbeckia fulgida sullivantii, silphium laciniatu, solidago juncea, solidago rigida, zizia aurea. My idea (as I said they are not giving me a whole lot of time to think this through!) is simply to plant the tallest plants in the center of each "lobe," around the lightpole that is already there, and then work out towards the margins with the shorter plants. The lobes are hard to measure but about 19'x11'.
Question #1: will 88-100 plants fill even ONE of these lobes?
Question #2: are these wildflowers going to look OK by themselves, or would you recommend mixing tall grasses in to anchor the bed and give us something to look at before the wildflowers bloom?
Question #3: do you see anything in this list that will be prickly, poisonous, or rash-producing for kids?
Question #4: these are all summer-blooming plants, right? And we are a school that takes the summers off. So can anyone tell me what this particular donor was thinking???????
Question #5: how awful is this bed going to look out of season/how much maintenance (deadheading, cutting back, etc.) would you say it will need?
Sorry to sound frustrated. I am a bit overwhelmed by this prospect. Have been given a lot of responsibility and very little control. I actually really like the idea of a prairie/wildflower garden and have one of my own at home but I do get to see it and tend it all summer...
Oh, one more thing. The school also just cut own two enormous fir trees and the person in charge of this project wants me to use the shredded up branches and needles to mulch this wildflower bed. Are pine branches and needles a good mulch for wildflowers? I think I know the answer to this but would be glad for some expert opinions.
PS I get three volunteers for three hours on Saturday morning to dig up the existing weeds and install and mulch this beauty. Waah!