'Potting Shed' painted and potager planted (pics)
lisa33
(6b Bucks County PA)
May 15, 2010
Big leap forward this week as far as my new potager is concerned. I finished the beds last Saturday and planted (sorta) this week. The herb bed is all planted and the other beds are half planted. I was waiting for the compost to settle in the beds.
Yesterday I pressure washed the little garage/shed and today I painted and hung accessories. What a difference. Not sure how I feel about the colors I chose. I really am a little challenged when it comes to color. I have pretty much confidence in other elements of my decisions, but color always gets me. I had been agonizing about a shade of grayish moss green for the main color and got sick of the mental debate and made a spur of the moment choice of a shade of blue. Go figure. The purple shutters were an impulse choice, too. Unfortunately, the blue color seems to photograph as electric blue when it is really a gray blue (somewhere between slate blue and maybe denim). Not loving that!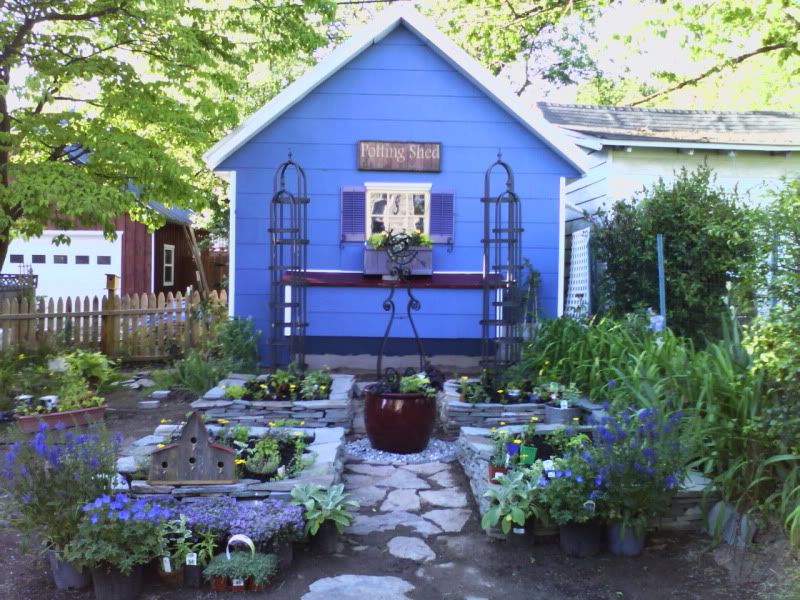 And here is a close up of the window. The plants in the flower box aren't staying there in that combination. I just grabbed a few things in pots to put in temporarily for the photo. Also, please ignore the brick holding the window box up. Still haven't installed that permanently!
Thanks for the advice about the obelisks. I think when the fence is installed (30" outside of the stone beds) the width will balance the height of the obelisks nicely.
I'm so excited about it. Can't wait for the fence to go in so I can plant the perimeter beds. Next on the agenda is to find a bench that fits so that I can sit and enjoy it!
Lisa