Anyone planning out next year's improvements?
nathan1991
November 9, 2012
Hey everyone!
I have been thinking this week about how to really give my potager that finishing touch that will make it look less like a construction zone and more of an asset in the yard. here is what i have been coming up with for the past few days and thought that i would share it with you.
My garden is technically in its third year, but wasn't planted last year and i
have been struggling to finish it for the past two years, but time and money are in short supply so i have been making due, but now we are finally nearing the last stages of construction!!!
The diagram is an idealistic view of what is actually out there right at the moment. the gravel paths, arbor, and staining on the fence still need to be done, along with the other raised bed in the middle. which will be finish shortly. any thoughts or ideas about the extension part of the garden with the blackberries? Right now nothing is there, but the blackberries and i need to set raised beds out somewhere for strawberries. i think a couple of blueberries would be fun too. and i need some space to plant some gourds. this is what i came up with. any ideas for water?? currently i have a drip system that has proved insufficient so i have also turned the sprinkler to hit it as well which has helped immensely. any input is much appreciated.
photos to come!! (despite it being unfinished.) btw sorry for the upside down pic. the best i could do for now.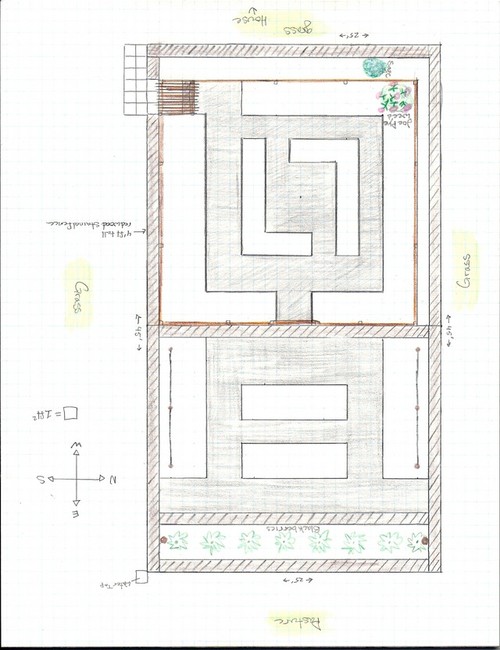 Here is a link that might be useful: My garden plan 2012