Butterfly Bushes from Cuttings-Photos
wyndyacre
(z6B SW Ont.)
January 28, 2008
Recently, on a couple different forums, there have been some threads where we talked about how to propagate Butterfly bushes from cuttings. Since I recently did a bunch and took photos of the process, I offered to post them here with some directions.
BBs are fairly easy to start from cuttings. Even right now, in the middle of winter, most zones will probably still have some viable branches on their BBs. I've taken some cuttings this week from 'Nanho Purple' in the garden but also found a potted 'White Profusion' in the bargain bin at a local nursery that had been stored outside but still had lots of live branches and leaves. That is the plant that I took photos of as I cut it up for propagation.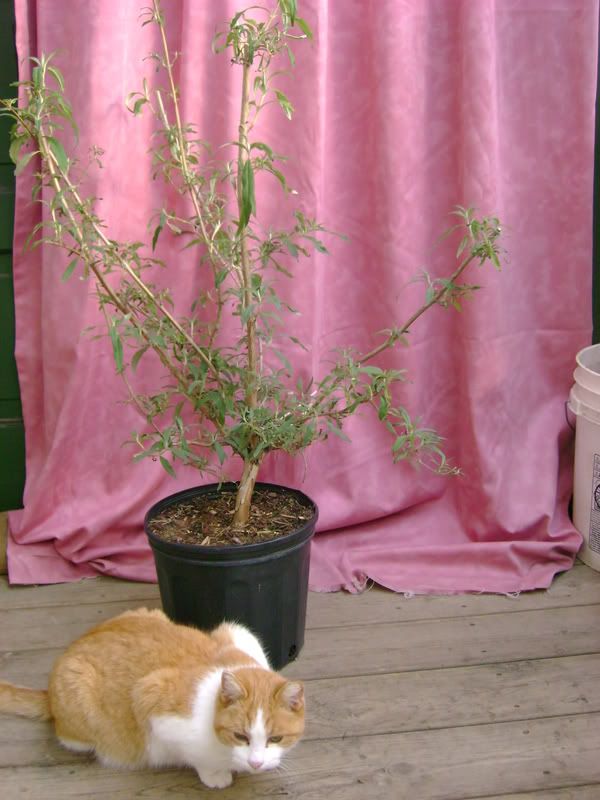 After I cut all the branches off, it looked like this. I have put it back outside into a cold frame for the rest of the winter and will have a nice 3 qt. size plant to plant out in the spring.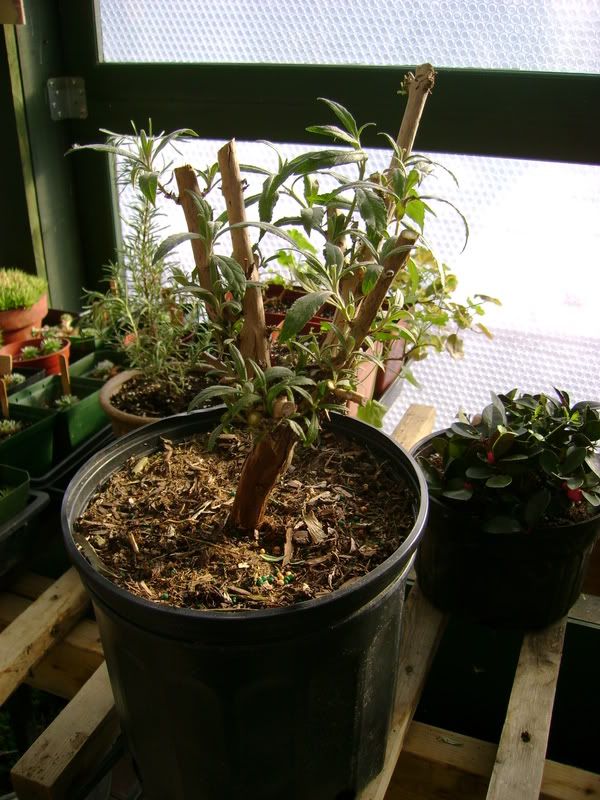 I trimmed all the skinny bits off the main branches and further cut the branch into 6" pieces. Make your bottom cut just below a leaf nodule and your top cut just above a leaf nodule. Pull any leaves off the bottom 2/3 of the cutting and if the top leaves are large, cut them in half. You want enough leaf material left to provide photosynthesis but not so much that the cutting will transpire quickly and wilt. As you lay your cuttings down, make sure you maintain polarity....that is, make sure the UP end of the cutting still faces up and DOWN end faces down. You don't want to stick them in the mix upside down. :)
The top row of cuttings in the photo haven't been stripped of their leaves yet. The bottom row has. There are some uncut branches still laying across the flat of ProMix.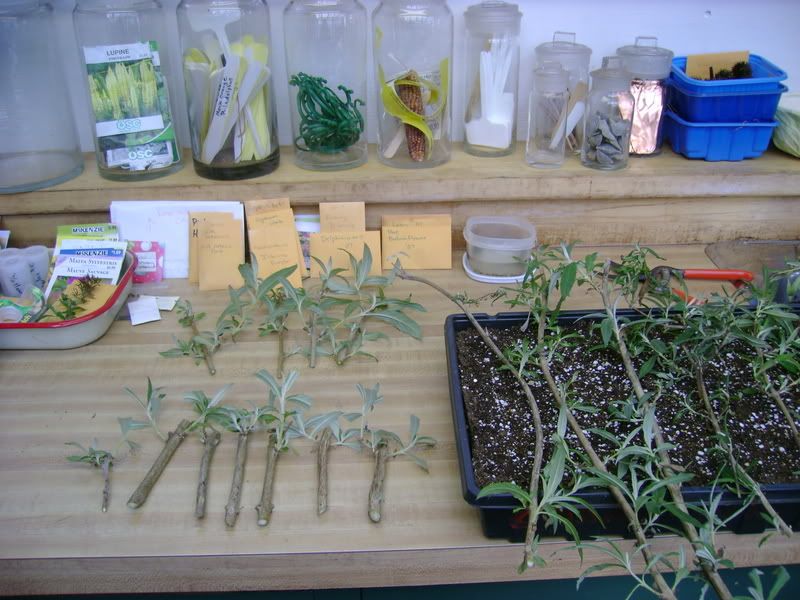 I chose to stick my cuttings in a flat filled with ProMix. It is a sterile, soiless mix of peat, perlite, vermiculite and a shot of fertilizer ideal for cuttings and starting seeds. There are other brands but the main point is that it is soiless and sterile.
In a greenhouse with a misting system I have used straight Perlite but it doesn't hold moisture as long and I don't have a misting system in my own GH.
After your cuttings are prepared, dip the bottom end in some rooting hormone. If using the powdered type, you can first dip the cutting in water to help the powder stick.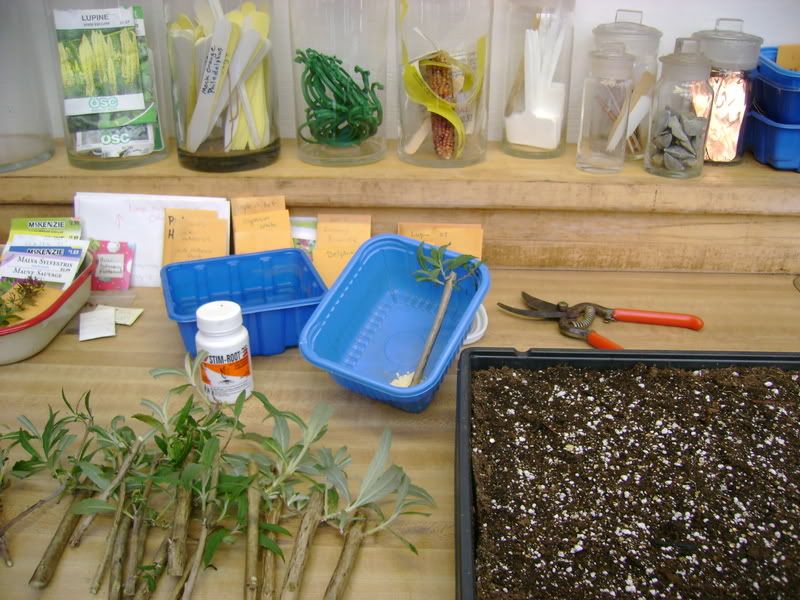 Then push the cuttings into the container of ProMix. I use the clear, plastic domes over my flat to help retain humidity or you can use a clear, plastic bag over your container. Place your container in a warm spot, out of direct sunlight. I have placed mine on a heat mat. They are also on a light table but the since the table in my GH, I don't use the lights.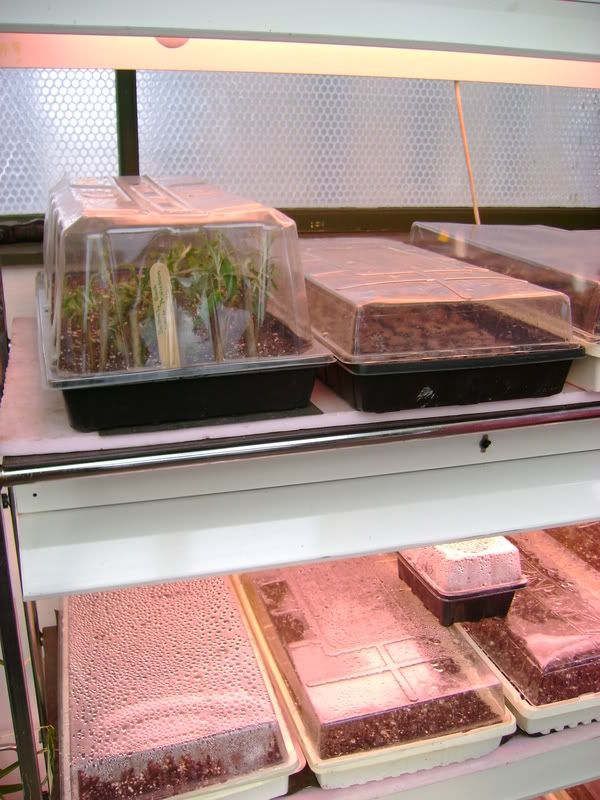 In ideal conditions, the cuttings will begin to root in a week but will take about a month in our conditions at home. Resist the temptation to pull them out to look every day! You can gently pull on them after a week or so. If you see swellings on the ends, that is roots beginning to develop. Try not to pull them out too often or you may damage fragile little roots. When you have a nice little ball of roots, gently dig them out and separate to pot up into 3" pots and continue to grow on until they can be planted outdoors.
Don't forget to harden them off-they need to be gradually exposed to outdoor conditions like sun, wind and rain.