Back yard Photos (LOTS) 8/10 - Del Ray Tropics / King-James Key
NoVaPlantGuy_Z7b_8a
(Alexandria, VA 7B/8A)
August 26, 2010
I figured I would post this in a few forums, as there are a few different plants I enjoy / collect in them. Sorry for the poor quality of Photos, and that they are so large. They are iPhone photos which I uploaded directly to Photobucket Via the photobucket app for iPhone.
Well I finally got around to taking some photos of the back yard at our new place. It isn't much but it's our own small tropical paradise here in Northern Virginia. Don't think we can quite compare to many gardens here, but it's still fairly nice. We rent our home so we aren't too keen on spending lots of money actually landscaping the grounds so we make do. The real garden will come when we move to Florida.
We call it the "Del Ray Tropics" and / or "King-James Key". The neighborhood we live in in Old Town Alexandria, VA along the western shores of the Potomac River is called Del Ray. Yes I know its cheesy we named it, but what the heck! =o) It's actually had this name for a few few years now, but now that its grown and we entertain, others have starting calling it by its name too. I suppose it could have been cheesier though. LOL! I'm a Jimmy Buffet fan and thought of naming it "Parrot Head Key". LOL!
Hope you enjoy the photos of our little piece of Tropical Paradise.
View when you first walk around back from the front of the house.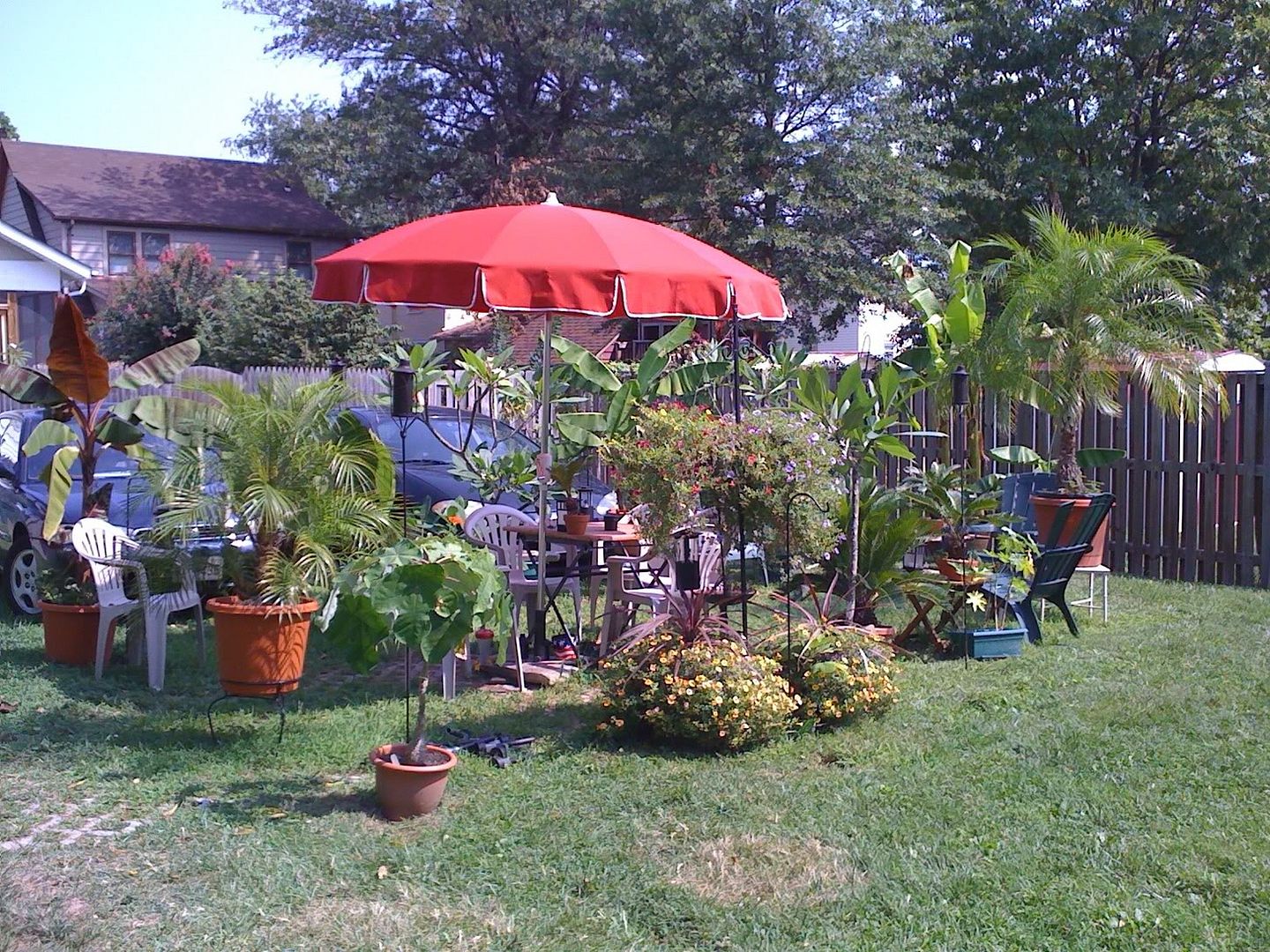 Just one of many views sitting at the main table.
View looking into the "entrance" to the "outdoor room".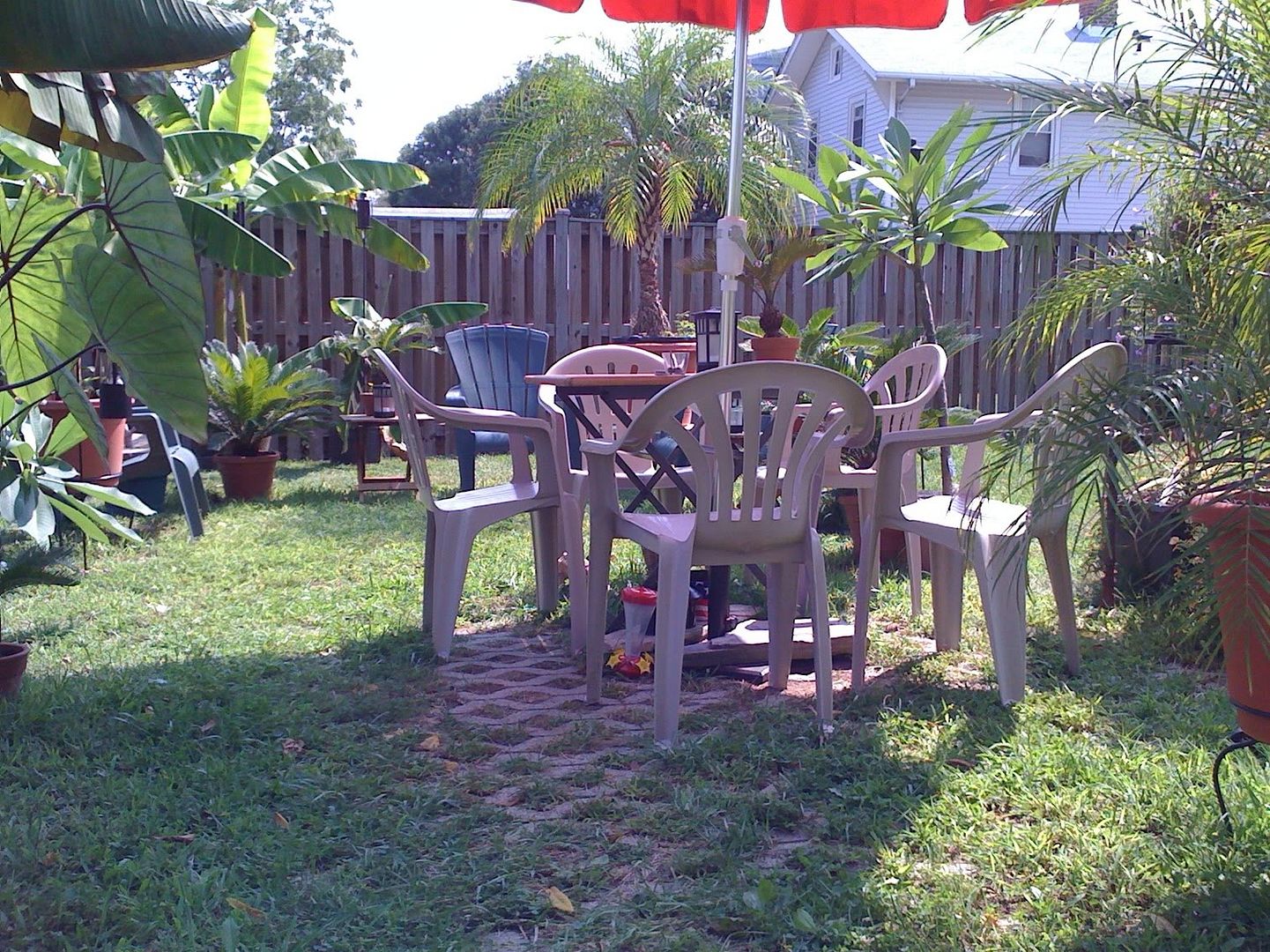 7 foot Phoenix Roebelenii. It sits up on a small iron table which gives it another 2 feet or so of height.
Another.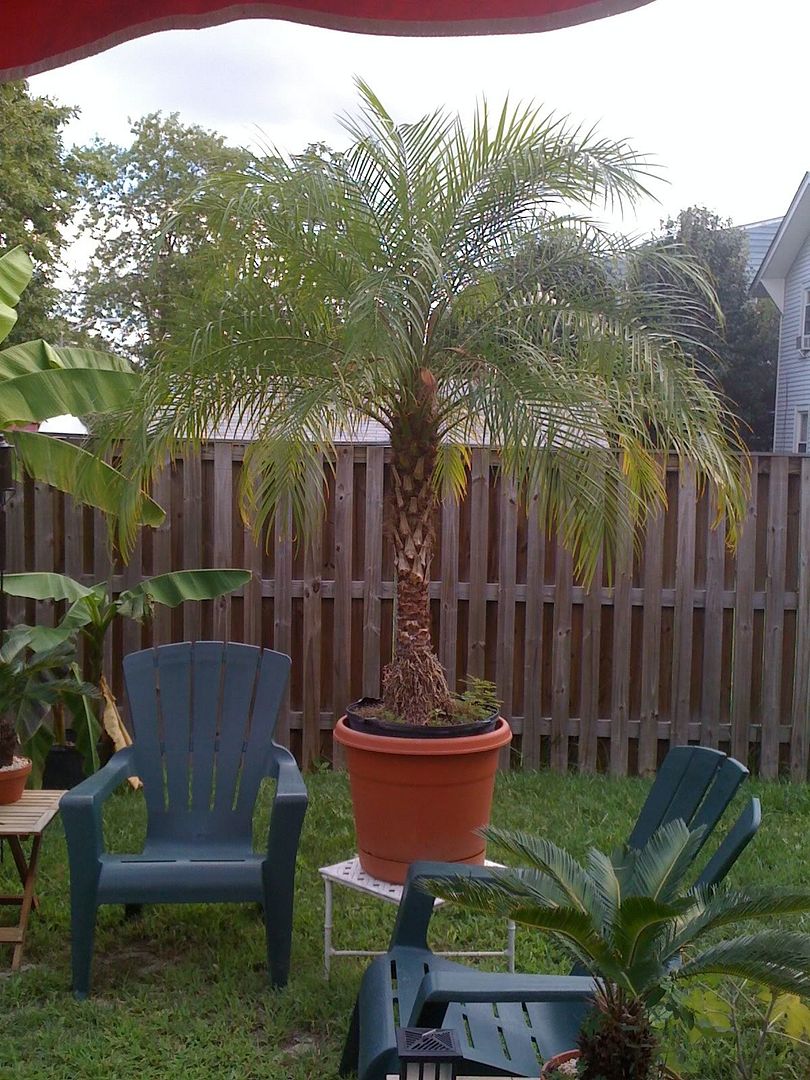 Smaller P. Roebelenii 3 trunk. This one has added about 8" of trunk in the last year. Both the big one and this one are growing like CRAZY!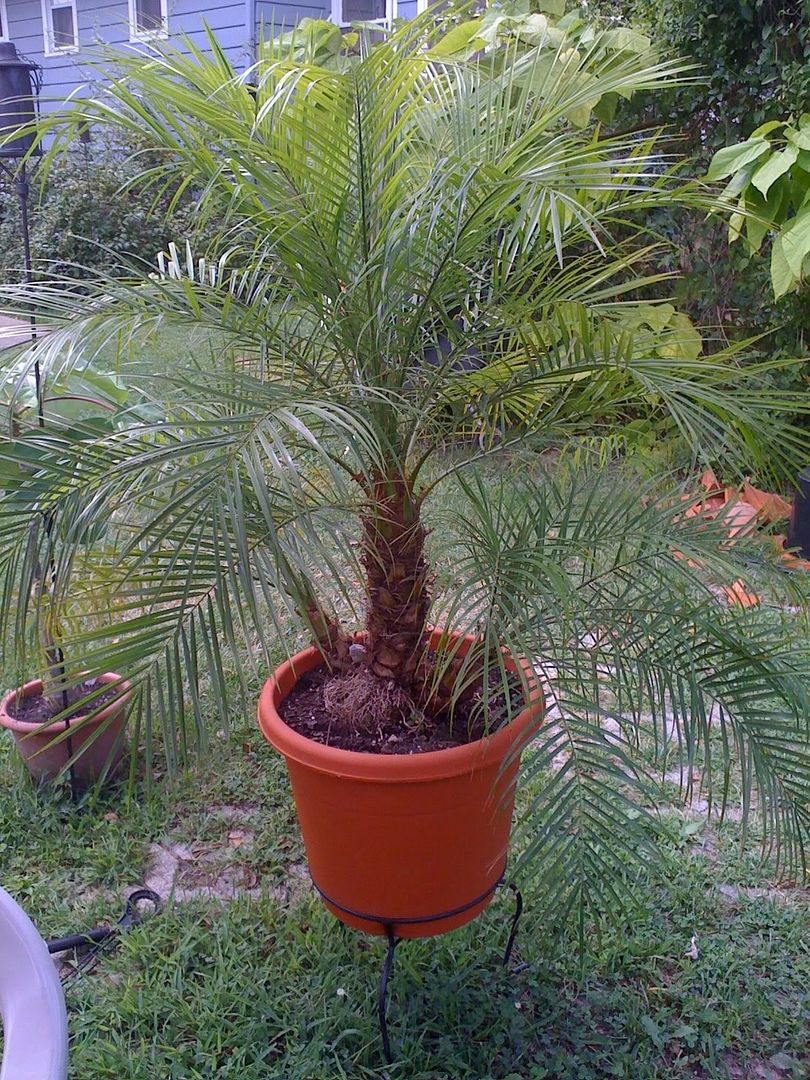 6 foot yellow no name Plumeria. More blooms coming and this thing is INCREDIBLY fragrant! Citrus like, hint of frootloops, very sweet. Windmill Palm and Sago also in the shot.
Close up of yellow Plumie blooms. Beautiful!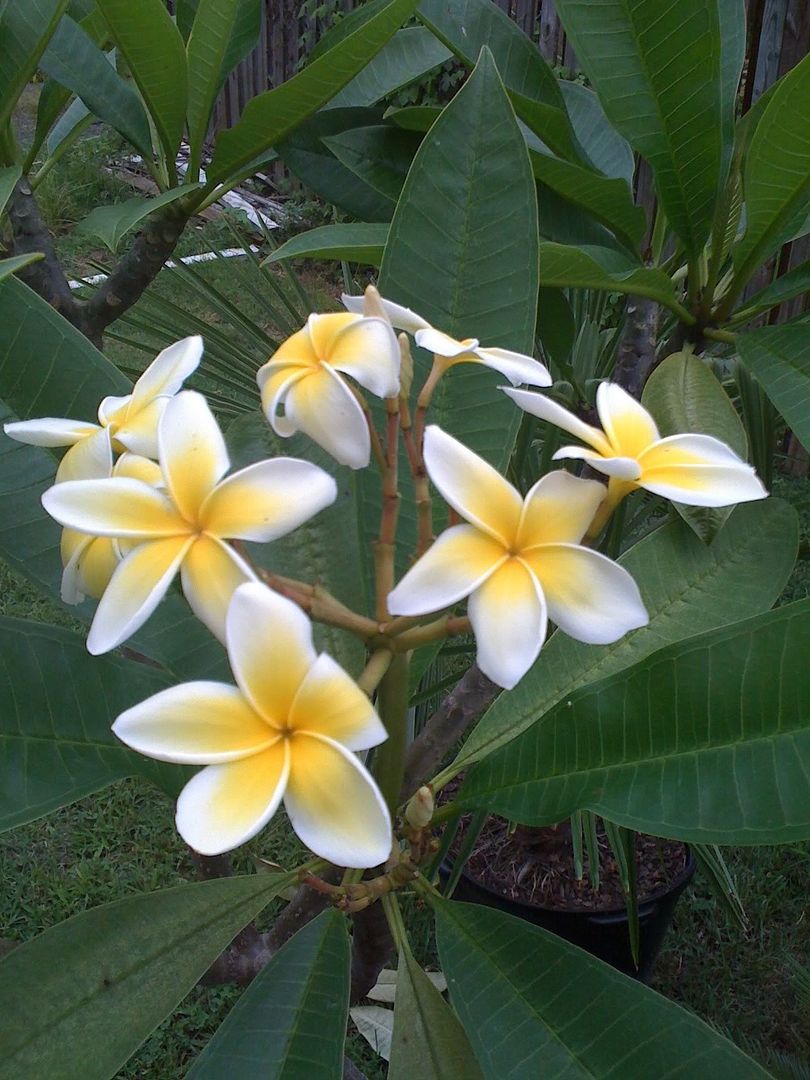 6 foot white no name Plumeria. Two smaller ones under it. The smaller one to the right is Nebel's Rainbow.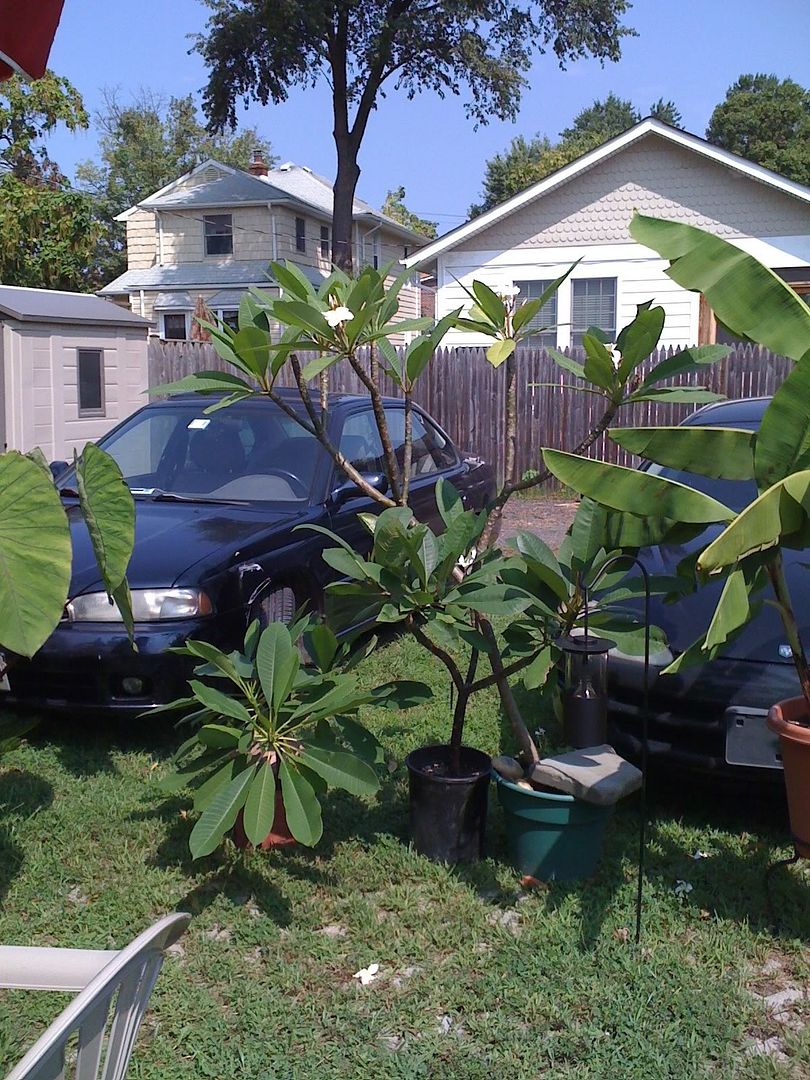 Close up of blooms of no name white Plumie. Also very fragrant, but not as much so as the yellow. Also blooms alot.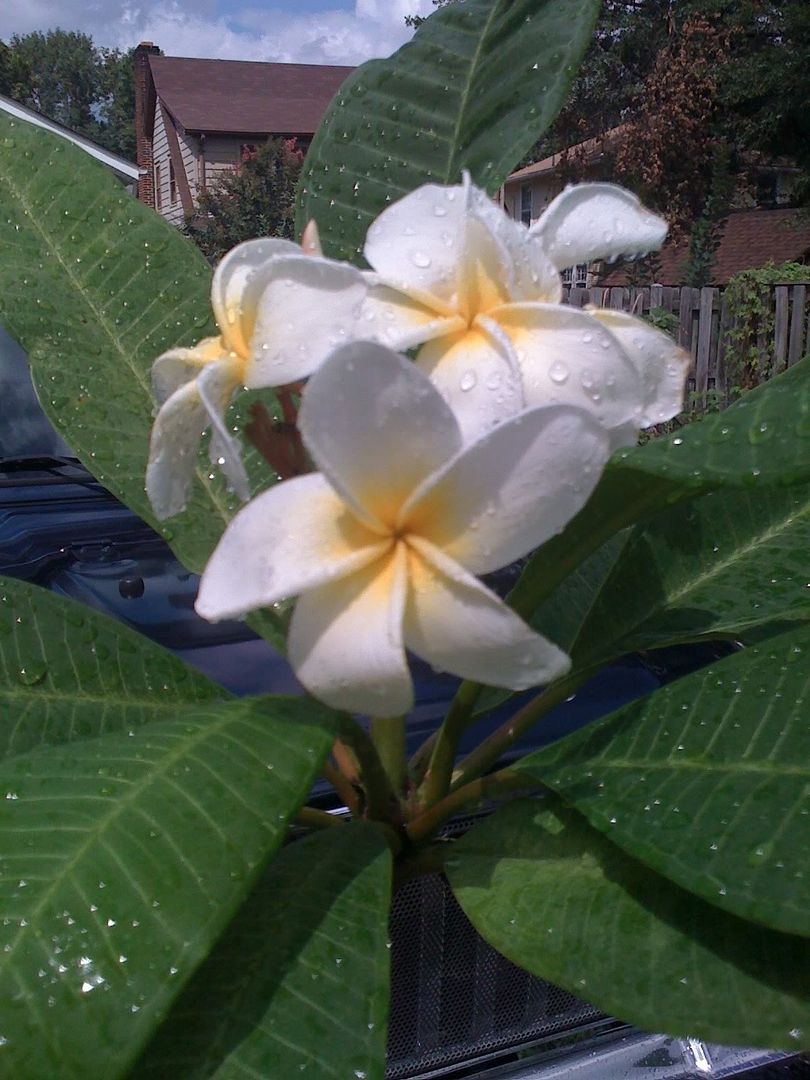 A 4 foot, no name Plumeria that was grown from seed. Color is not yet known.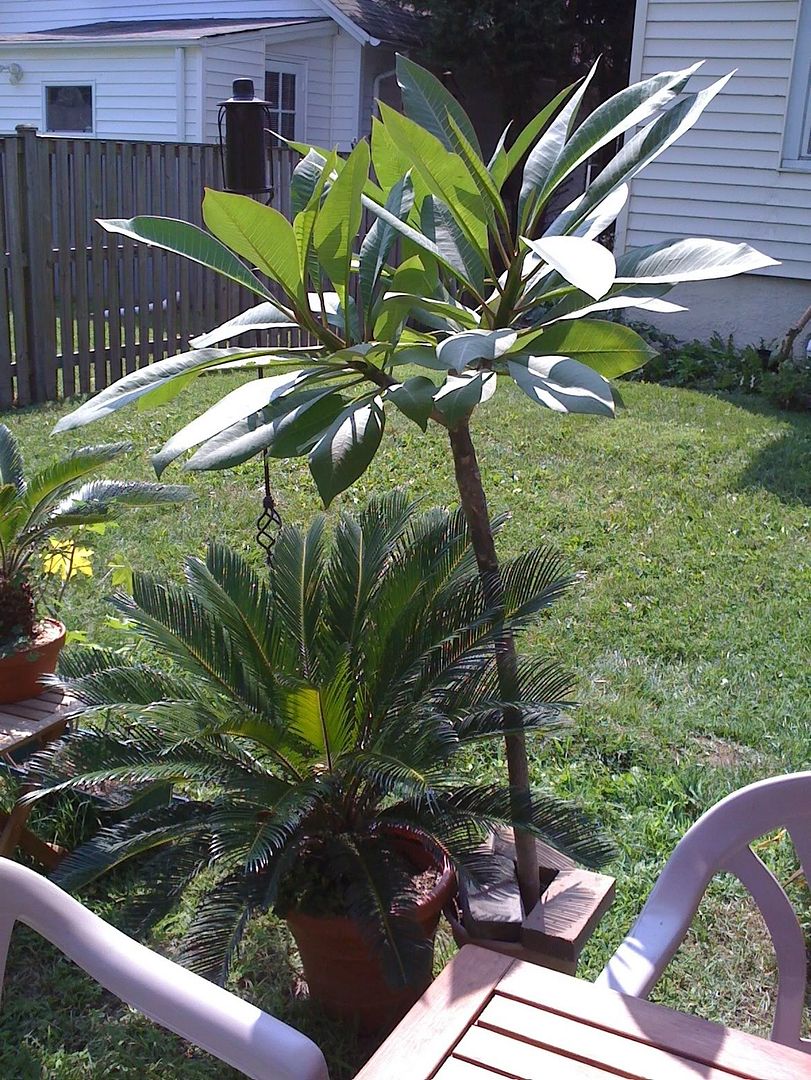 Plumeria Singapore Dwarf. (Obtusa) Not sure what color it is yet though.
Colocasia "Blue Hawaii". It is blooming, but the flowers seem to be fairly small and insignificant.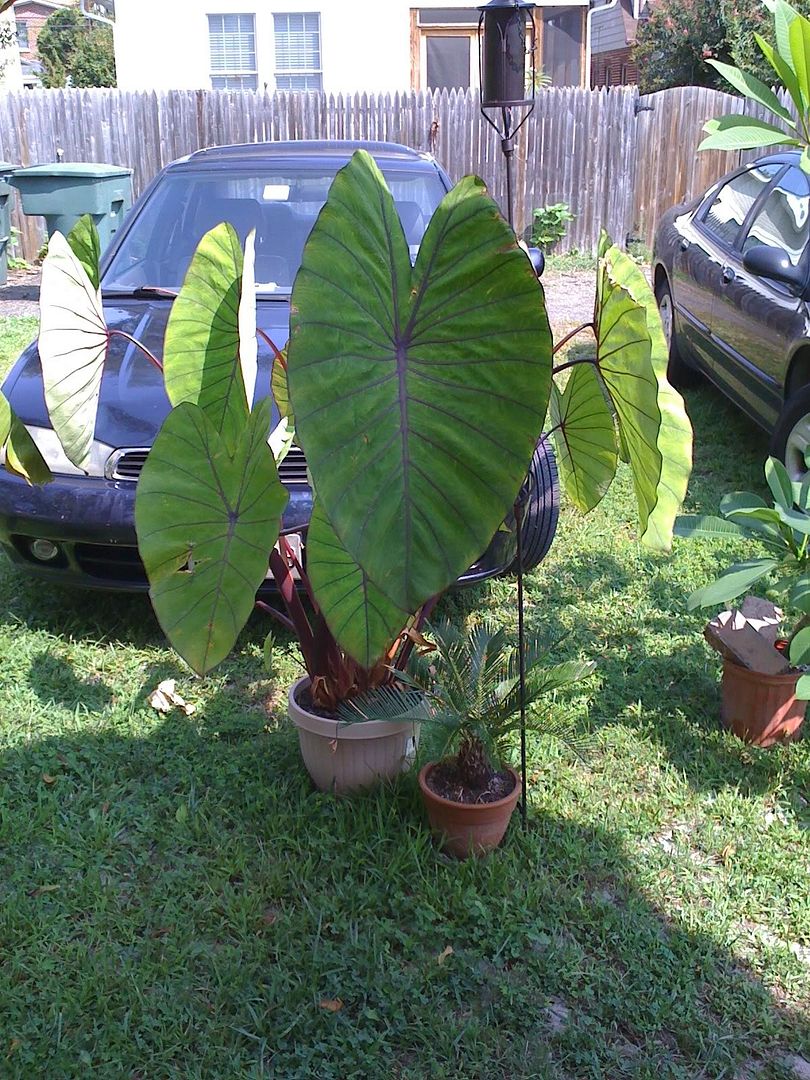 Jatropha Podagrica (Budda Belly) which I have had for over 5 years now. Constantly blooms, even in winter when it loses most or all of its leaves.
Thank you all for looking! =o)