Need help with rooting Purple Leaf Sand Cherry cuttings
Pharaohness
(6a)
May 15, 2013
Hello, I just got some cuttings of a shrub I REALLY want to have (Purple Leaf Sand Cherry), and I'm wondering how to proceed with them. I have the actual cuttings in the photo, as well as ONE of the ends from which I removed the outer layer of bark. I did that to see which worked better. Another cutting I just "scarred" slightly at the end.
I'm wondering if I should be doing this differently? Should they all be "scarred" or will they take root without that just fine? Are there too many leaves on the cuttings (I removed many)? I also removed the blossoms from all the cuttings I have.
I have a rooting hormone powder called STIM-ROOT, No. 1. It is a little old (I got it a few years ago) so I'm wondering if I should buy a different one?
I'm planning to put them in a clean sterile sand I have, because I don't have peat moss or perlite on hand. The cuttings are currently sitting in water to keep fresh. I will likely proceed with the "sand" as the medium, but am willing to purchase peat moss and perlite if need be.
I am also aware that I should be placing a clear bag on top of the pots I use for rooting the cuttings. Are these bags to have holes in them for breathing?
Any help with what I should do further would be great. I live in Toronto (which is why I chose zone 6a as my zone). Thank you very much in advance!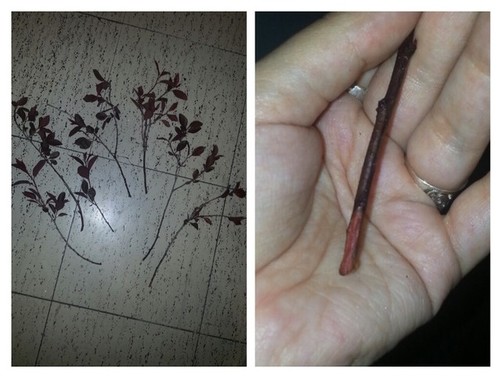 This post was edited by Pharaohness on Wed, May 15, 13 at 16:56