DaMonkey's Pepper Log 2012-2013
DaMonkey007
(10b - Miami)
July 29, 2012
Well, my season is now offically underway! I've picked my seeds for the year, and I've started building my mediums. For those of you who care to follow on the journey...welcome! I'll start at the beginning....
My pepper lineup is much less about scoville units and much more about usage and application. I mean, don't get me wrong...I like a blazing hot face melter as much as the next guy, but the reality is, my friends and family are not so tolerant - so I'm going for crowd pleasers as well! I will be growing:
De Arbol Blood - for powder, flakes, and dried pods
Ping - for pickling
Bulgarian Carrot - for chutneys and such
Corno di Torro - for roasting and stuffing
Red Cayenne - for everyday hot sauce
Yellow 7 Pod - for pain and suffering
There's also a rumor that I'll be growing a Chocolate Hab...but that's yet to be seen....
(jk, dude...LOL!!)
My seed starting mix will be:
3 parts pine park (1/8" to 1/4")
3 parts perlite (1/8" to 1/4")
1 part pine bark (1/16" to 1/8")
Here are some pics:
This is the lot. I've got plenty of time, and I hate the thought of needlessly killing the little guys who don't quite make the cut...lol....so I'm putting out 2 seeds for each intended pot, may the best man win. I'll start new ones if needed, but I've been having really outstanding results in my outdoor summertime germination and growth trials....so I'm pretty confident at this point that 2 will do.....famous last words, right?!?!?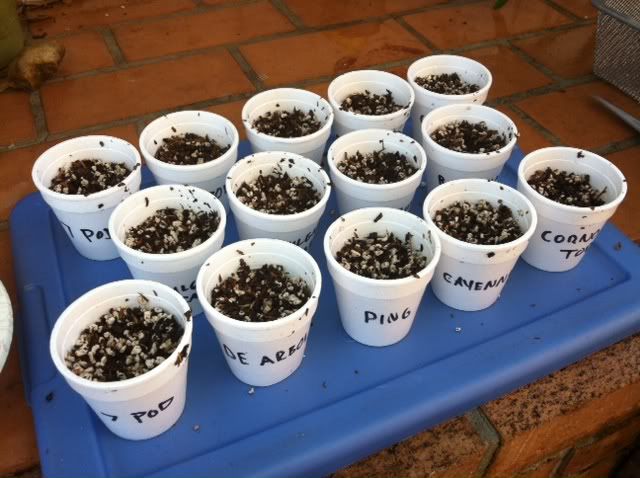 FYI, these cups are not exactly what they seem. They are common here in Miami, as they are used in Cuban Cafe's. They are meant for Cortadito's and Colada's, and are less than half the size of the cups your probably use too.
A close up. I lay down a layer of fine (1/16" - 1/8") turface as a bed for the seed.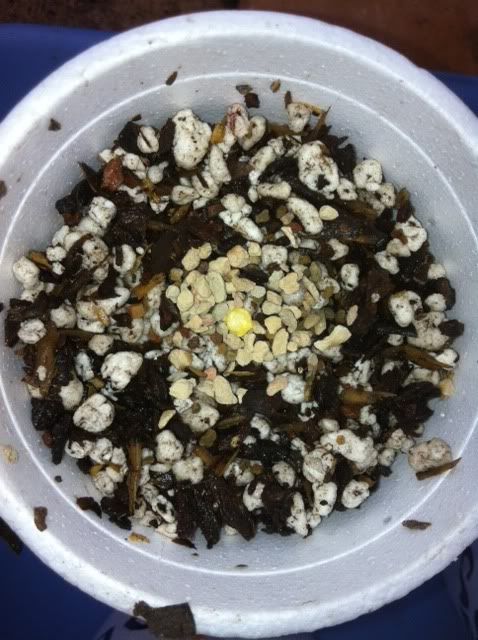 Then cover it with another thin layer. This keeps a tight fitting, evenly moist blanket around the seed.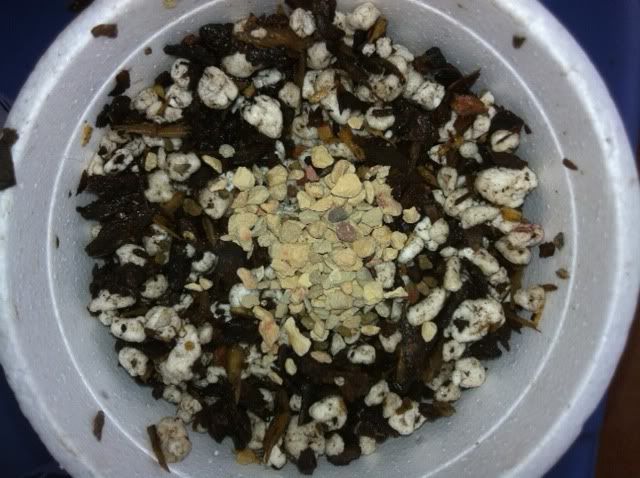 Then water in, cover with plastic wrap, and into the seedling hut. It's a el cheapo storage bin with some cut outs covered with insect screen. This contraption will protect the little guys from the torrential south florida summer rain and act and a jungle bug deflector shield.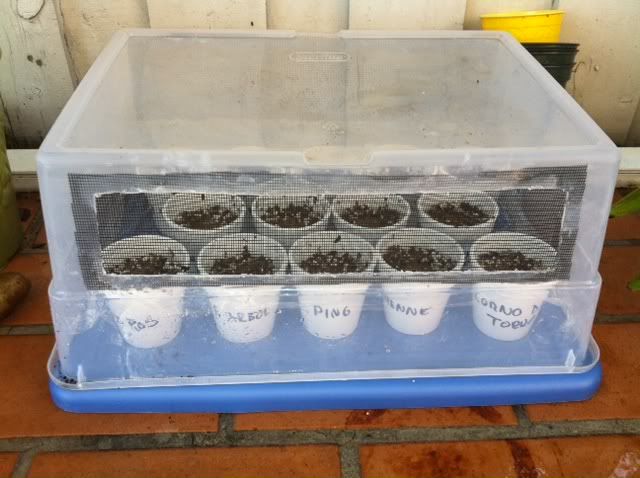 The final pot mix will be as follows.
5 parts pine bark (1/8" - 1/2")
1 part pine bark (1/16" - 1/8")
1 part perlite (1/8" - 1/4")
I'm changing strategies a bit on this, partly because of my previously mentioned turface scandal, and partly because I found some retention deficiencies in my previous mix. The high humidity, coupled with the constant summer rain actually causes more hassle than the extra retention during the dry months is worth...so I'm gonna move to a little chunkier mix this time around. It may require more watering in the dry months, but the extra drainage will be beneficial next summer.
Final mix looks like this. FYI, the first bag of bark was not very good. It was way heavy on sapwood. I'm glad I only bought one bag off that pallet. Hopefully the next one will be of better quality.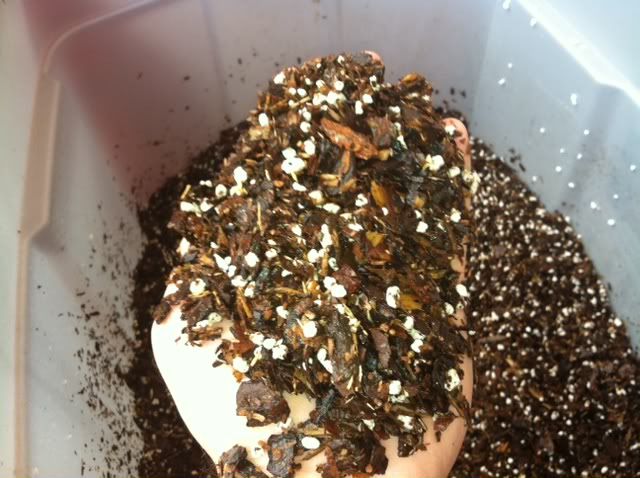 I had a great idea that I'll share with you re: screening. I used my homemade 1/2" screen and ghetto rigged it to a "Container Store" bin that I use as my 1/8" screen.
It starts with the 1/8" screen and a bungie cord.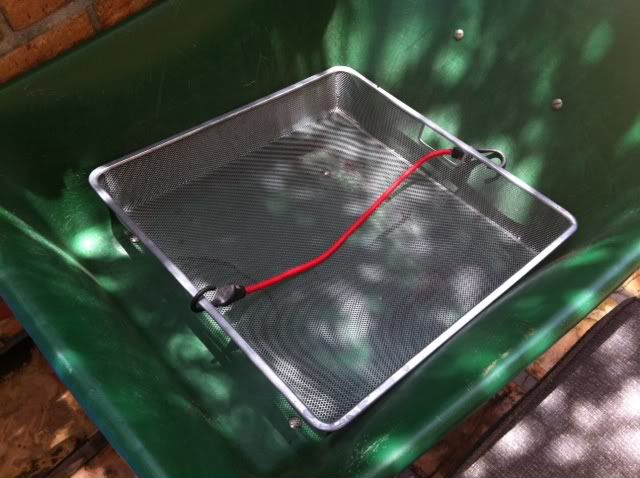 Then I strap the 1/8" to the bottom of the 1/2".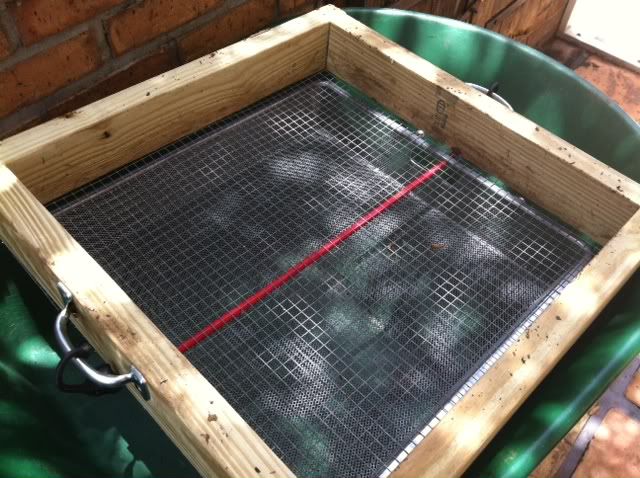 Side angle.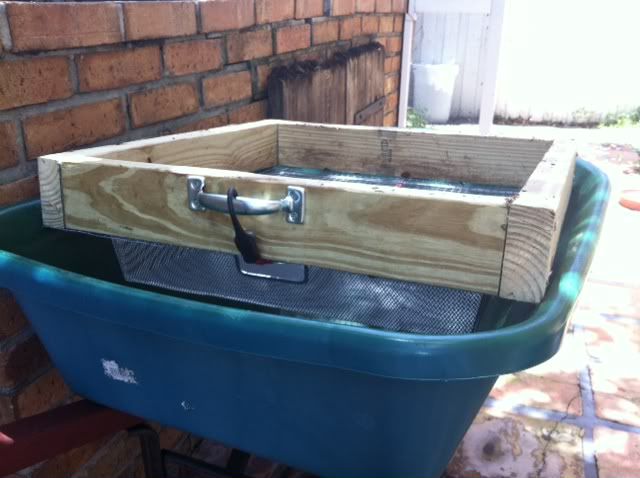 Worked great!! It really cut down on the number of steps required to generate the desired particle range of the product. I was contemplating a third level, but I thought that would be like a dream within a dream within a dream...and I was starting to run the risk of getting stuck in limbo.....anywho....
LOL!
Back to reality....with my travel schedule, I'm hoping that my wife doesn't kill everything - lol - she's doing good so far though, so I've got some hope. I'll keep you posted!
I hope my year goes as well as yours are going (very impressive stuff going on out there!).....good luck and happy plantings y'all!!
PJ