Greenman's Peppers 2010 (pics)
greenman28 NorCal 7b/8a
July 9, 2010
Now that the plants in the garden are beginning to show progress,
I thought I'd start a Thread documenting my third season growing peppers!
I've included a link to a Thread from my first year. I grew Hungarian Wax in 2008.
Then, in 2009, I grew a couple Thai peppers, in addition to Hungarian Wax.
As several of you predicted, I've expanded my selection yet again...
this year, I'm growing Thai peppers, Hungarian Wax, Poblano, Arbol, Tobasco,
Chocolate Habaro, and of course Bhut Jolokia.
I've opted for the clickable thumbs, as I imagine this Thread will be quite pic-heavy.
I started all seeds the last week of February, and most had germinated by March 4th.
On with the images!
1 - It all starts here: orchid bark, perlite, pumice...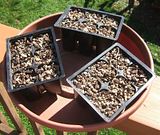 2 - I put seeds on a moist paper towel in an open zip-lock in the 'fridge for 2 - 4 days, then I plant.
I leave the plastic wrap over the seed-cells until I see green cotyledons emerging...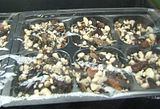 3 - Very simple set-up. Two cool 40's, lowered about an inch above the seed-cells.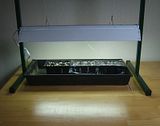 4 - Some seedlings: Arbol, Tobasco, Poblano.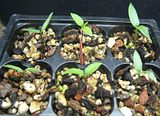 5 - Progress...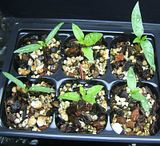 6 - More progress...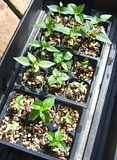 7 - Moved into square 4-inch pots in a mostly bark-based mix. Slowly hardening off...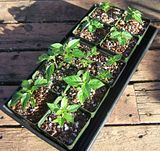 8 - One of the Chocolate Hab. seedlings up close.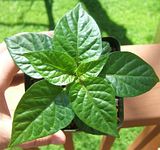 9 - May Day! May 1st, I planted all peppers in the garden.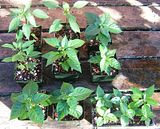 10 - My two year-old Thai chili hybrid, overwintered: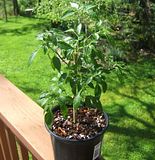 11 - My very first pepper - three year-old Hungarian Wax, twice overwintered: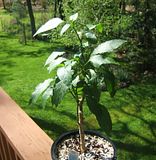 Now phase two, in-ground gardening:
I probably should have waited until June to plant my peppers. Rain and cool weather and slugs
really set back progress.
12 - Setting pond-baskets into the ground to defend the roots from gophers.
This also makes removing plants easier in the Autumn, in preparation for overwintering: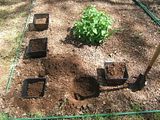 13 - A look at the roots of an Arbol seedling: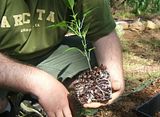 14 - A look at the roots of a Poblano seedling: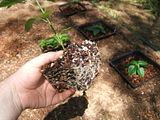 15 - The Pepper Plot planted: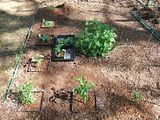 16 - Using old waterjugs to cloche my peppers overnight:
17 - A few good days of heat toward the Summer Solstice:
18 - First week of July - Update on the Pepper Plot:
19 - A very bad picture of my Arbol chili:
20 - Two year-old hybrid Thai chili, in full production:
21 - A first year Thai chili, small upright peppers (from pods I harvested last year):
22 - Poblano - the tallest of the peppers this year! It is just now setting fruit:
23 - A compact, slow-growing Bhut. This plant was very nearly wiped out by slugs in May:
24 - A compact, yet somewhat faster-growing, Chocolate Habañero:
Well, let's see if GardenWeb will allow a message this long!
I'll have to update on the Tobasco and Hungarian Wax when I get decent pics.
I hope these pics are helpful and enjoyable!
Josh
Here is a link that might be useful: My pepper season (garden pics)