photos to accompany 'can I share a small victory?'
jkw7aj
(z8a (Sunset 5))
August 9, 2004
Well I finally got the pictures. Now, bear in mind when you look at them that I never said I had a big yard, but trust me, handpulling weeds can take 4 years in a yard this size, I know.
The first photos show the front yard from a few angles. The big cluster of yellow-green at the curb is sedum, and the two grey patches are blue fescue. These are the positions I grouped them into (they were previously scattered all over the yard in little clumps, like green and grey measles). The fescue was at least half the weeding work. It was so overrun with vetch when I started that the fescue was hard to see. And it had been that way for some time, so there were plenty of dormant vetch seeds just waiting for a clear spot. The brown is all dirt, with a thin layer of bark. There is no grass anywhere in this yard (anymore), and as far as I'm concerned, there never will be. The brown dirt areas will be planted with xeric plants starting early next year. I'll have a purple/burgundy/orange theme going (my SO loves orange and the established trees have burgundy foliage ... and I needed a cooler color that would go with them so I picked purple). There will be 4 distinct large groups of plantings with walking space between.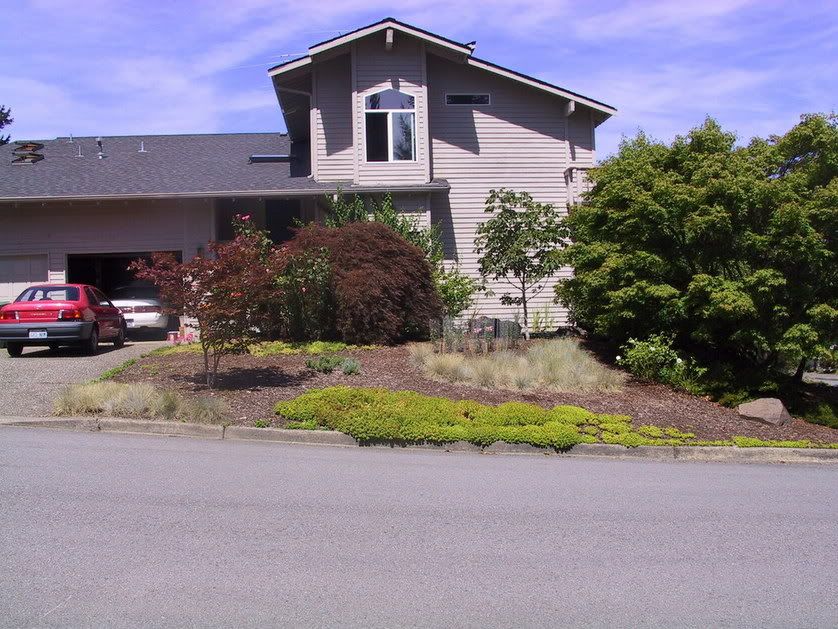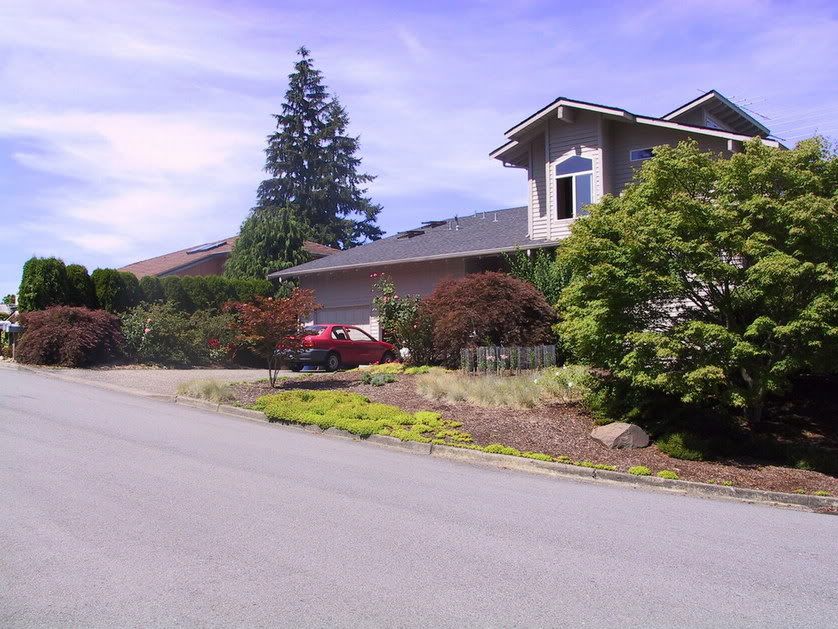 The new, xeric plants will be Agastache rupestris, Liatris, Sutherlandia, Eschscholzia californica, Kniphofia caulescens, Verbena bonariensis, Helianthemum 'Ben Moore', Artemisia abrotanum, Cistus, Penstemon, Salvia, Lavender, and a handful of other grey-foliaged or orange, purple or burgundy flowering plants.
If you think you see roses, you're not hallucinating. They're hanging out from under tree and shrub canopies at precarious angles, trying desperately to catch some sun (look closely, there are *13* of them!). They were planted when the shrubs and trees were tiny and have been crowded out. This winter, I'm moving them into the back yard (which will soon be turned into a cottage-style garden with drip irrigation installed).
This is the corner, which is the beginning of the (shudder) side yard. The second photo is a closer look at the area on the other side of the Japanese Maple on the corner.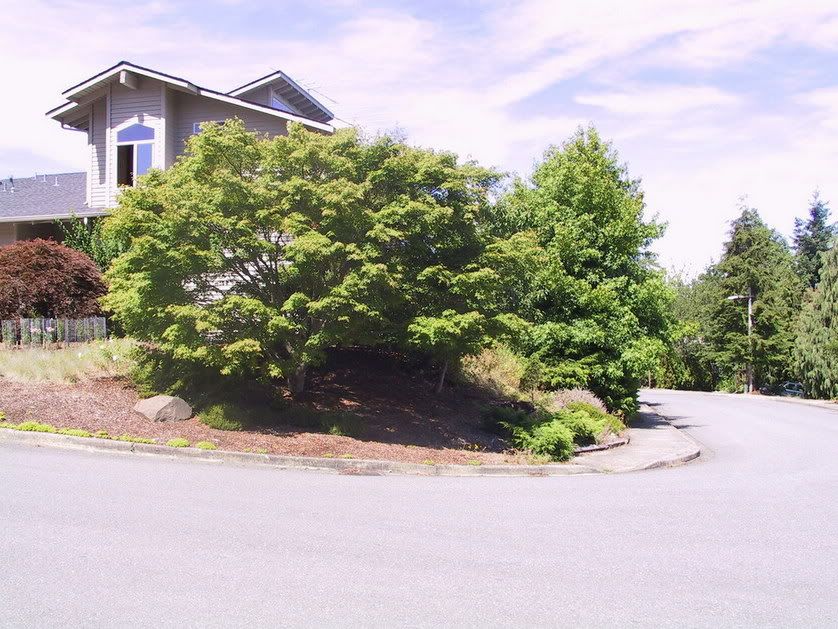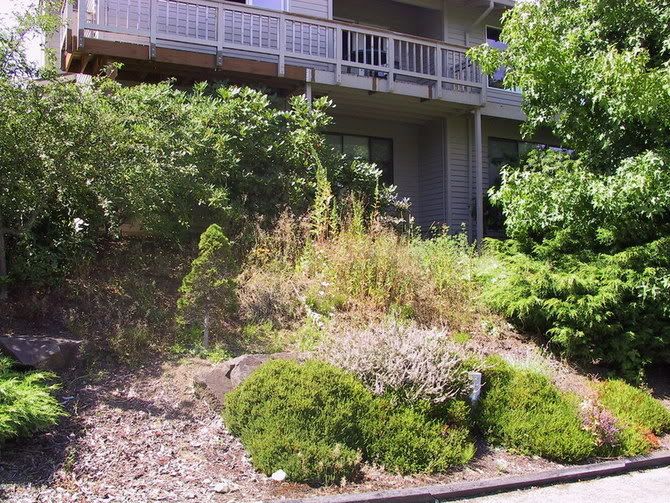 Everything after this corner is overgrown with weeds and junipers. The junipers have gotten so massive that, with the exception of one small break, they run solidly down to the end of the property line. If there were no weeds, it would be the very definition of a monoculture.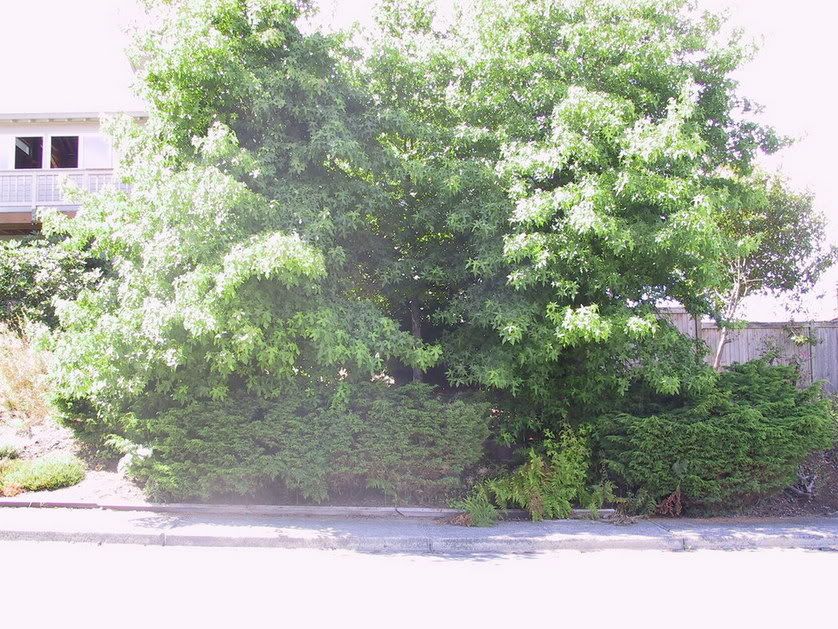 Break in junipers (populated by weeds).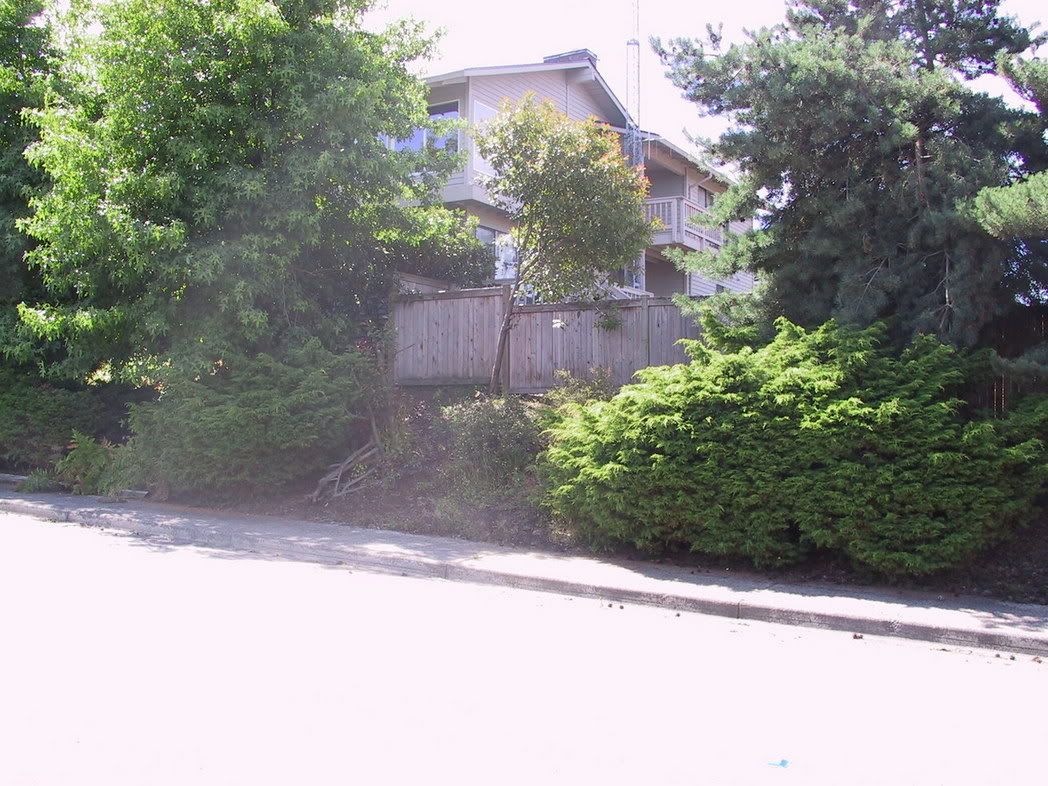 View from across the street from the property line (marked by the big juniper this side of the pine tree), back down toward the weedy corner. You can see now what I mean by a mass of junipers.
A close-up of the "wild" side yard. There are a few plants there that I will collect the seeds of and restart (Oenothera, Clarkia, Dianthus), but everything else -- along with all the junipers and the sad photinia in the 7th photo -- will be ripped out and the area will be replanted with natives in a tiered fashion (Gaultheria, Holodiscus, Ceanothus, Mahonia, Cinquefoil, Arctostaphylos, Lonicera, Salix, Ribes, Rosa woodsii, Vaccinium, etc.).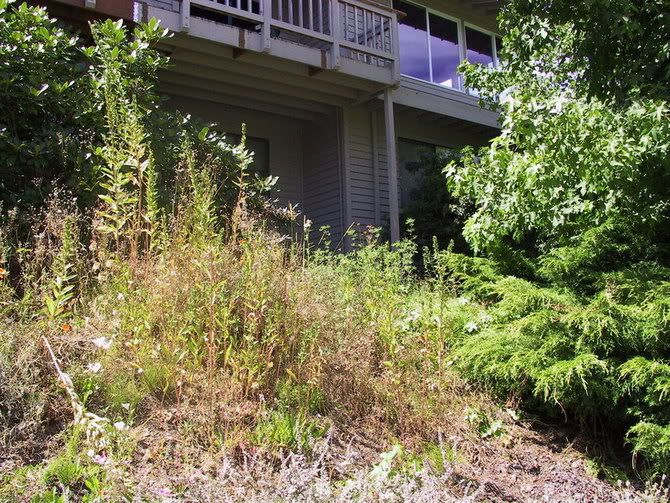 Anyway, if you look at the side yard photos, you'll get some idea of how the front yard used to be (minus the junipers). Once I get all the new plantings in, I'll *really* feel like I've accomplished something.
Sorry about all the gushing, but I'm not sure my neighbors care about what I'm doing in this yard, and even my SO has taken some convincing (as far as ripping out and clearing the side yard for native plantings). It's been kind of like running uphill for 4 years, but now I've had people stop and say that they like the front yard (of course, after having to look at the mass of weeds for years, they'd be happy with bare dirt -- which most of it still is, come to think of it). I wanted to share with some people that have some idea how much work this has been so far, and how much work it will continue to be over the next couple of years.
I know it's not what a lot of people think of when they say "garden", but it will be a lush, grass-free, drought-resistant, creature-friendly, brightly colored yard when it's done, and I'm finally pleased with my progress. (When I finish my formal, lush, moist, cottage-style, primadonna plant garden in the back yard, that will be the subject of another posting.) :) Thanks for 'listening'.