Had a good show today!
seil zone 6b MI
June 11, 2011
The Detroit Rose Society show was today. Weather's been awful all week, of course. 3 days of record temps in the high 90's early in the week and then, in 24 hours, Thursday our high was 56, a record low! Which caused storms with high winds and hail, etc, and played havoc on my roses. Never the less at 5:00 am I went out and gleaned the few things that were even half way presentable to take to the show.
I've been emailing the show chair since May for a copy of the show schedule so I could find out what the themes were for the arrangement classes...she finally emailed it to me last night! Ha, I guess she figured better late than never. Well I'd managed to horn swaggle a copy on Wed. night from another member of my society who was going to be judging the show so I was already working on ideas for my arrangement. I've done Oriental and Traditional arrangements before so I wanted to try a Modern one this time. The theme was "Pink...is my new obsession!" and this is what I came up with.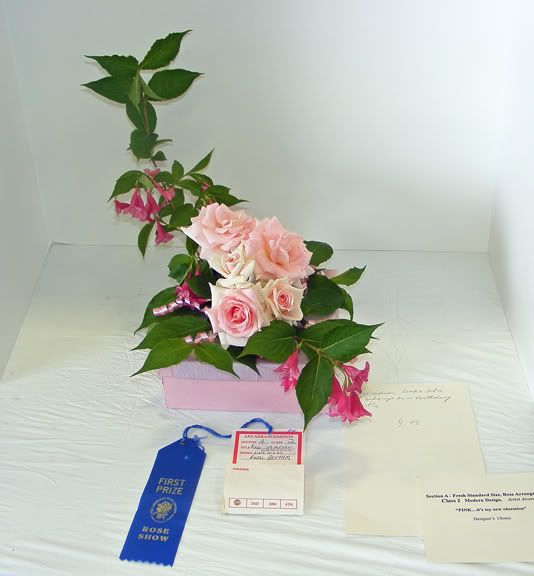 I got a Blue ribbon! 91 out of 100 pts. and only missed the Artist Award by 2 pts.! I need to work on my scale. The niches are 36 inches tall and I can never seem to make something big enough to fill all that space.
I also won my first Dowager Queen!
With Honorine de Brabant.
I had 14 horticultural entries and the arrangement and I had 6 blue, 4 red, and 4 yellow ribbons! I'm very pleased with those results considering how dismal I felt this morning looking at the hodge podge of wet roses I'd cut.
Next week, Friday (yes Friday, an odd day to start a show) is our Grosse Pointe/Metro show. Metro's show is usually that Saturday after ours and makes for a very long tiring weekend. But they lost their venue this year so we decided to do a joint show. Should be a really good turn out...weather permitting...