Prepping for the 2013 Gardens!
digit
(ID/WA)
February 17, 2013
Building that shed and attached greenhouse is coming along. I began last week!
"Building a Small Shed" Here is the drawing from that thread: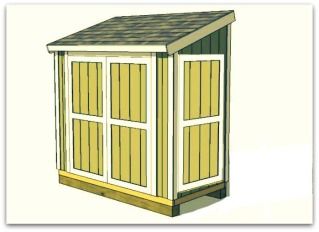 I will cut the studs for the 4th wall today as soon as my neighbor is off to work this afternoon. Remember? I'm building the shed & greenhouse in his garden. Some of the fence boards that I've removed for access will be included in the shed construction
. He doesn't leave for work until early afternoon so I can wait for the freshly fallen snow to melt before climbing thru the fence - give him a little more time to sleep.
It isn't that I raise so much dust over there (more like mud - I'm still wading thru December snow in the corner of my yard to get there). It is kind of lucky that I've only got a couple of hours to work on it - my left thumb is soooo sore! No, I didn't hit it with the hammer . . . yet. Let's just say that this is a good project to get me in shape for the gardening season!
Taking the new polycarbonate greenhouse out of boxes and attaching it to the shed is no longer in the plans. It turns out there isn't enuf room over there! So, I'll go with another hoophouse and this one with a little more "engineering" to it from what I've learned by using the hoophouse in my own yard for about 10 years. I hope neighbor Ken is happy with being able to visit it thru the season.
He is a single guy and claims that he is in his last 10 years before retirement. His grandkids show up in his backyard every now and then and he seemed to just be growing a garden for them before abandoning the use of the ground the last 2 years. Yeah, I've gotta a lot of weeds over there to contend with!
There are several flats of soil with onion seed sprinkled in them in my still unheated greenhouse. Other garden seeds arrive in my mailbox almost on a daily basis. More will go in the starting mix next week! Where are you in the preparations for your 2013 garden??
Steve