Wintersowing '12
highalttransplant
(z 5 Western CO)
February 16, 2012
Well, now that all the peppers are sown indoors, it's time to get started on the outdoor sowing. I prepped a dozen containers, but ran out of seed starting mix after filling nine of them.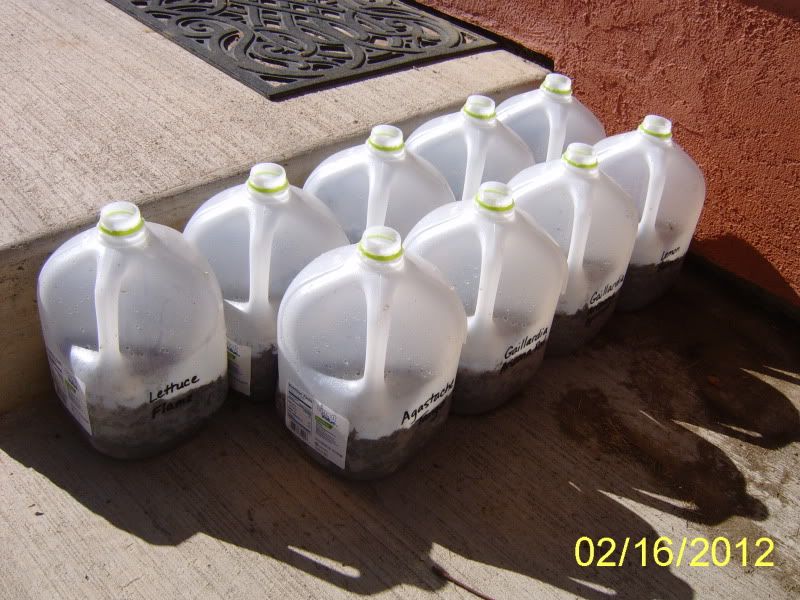 Here is what I wintersowed today:
Lettuce, Flame
Lettuce, Four Seasons
Lettuce, Rouge de Grenoblouse
Lettuce, Simpson Elite
Lettuce, Thai Green
Lemon Balm - this makes my 3rd or 4th year to sow. Have yet to keep it alive a whole year.
Agastache, Tango - supposed to be more cold hardy than 'Apricot Sprite'
Gaillardia, Arizona Apricot
Gaillardia, Arizona Red Shades
As soon as I can pick up some more potting mix, I plan to sow some poppies, and petunias.
Has anyone else gotten started with their wintersowing? I usually get started in late January or early February, but this winter has been so mild, that I thought a later start would be a good idea.
I've included a link at the bottom for those new to wintersowing, that want to learn more about it.
Bonnie
Here is a link that might be useful: WinterSown.org